Trade between Canada and South Korea (ROK) will continue to grow as Canadian and Korean firms benefit from the Korean-Canadian Free Trade Agreement (CKFTA). This free trade agreement eliminates virtually all duty on Canadian goods sent to Korea. Canadian companies rely on low cost parcel delivery from Canada to South Korea in order to reach their customers and suppliers.
The Republic of Korea (ROK) is a promising country for Canadian exporters with an economy focusing more on technology-intensive industries to drive growth.
Canadian-Korean Free Trade Agreement
Since January 2019, 95% of Canada's exports to Korea have benefited from duty-free access.
For many products still subject to duties in Korea, preferential tariff treatment is offered in the form of reduced tariffs. Tariffs are reduced on January 1st of each year until remaining duties for goods covered under the CKFTA are eliminated.
Full implementation of CKFTA is scheduled for 2032 when Korean tariffs will be eliminated on over 99% of Canada's exports.
---
A few quick points to consider when shipping between Canada and South Korea
Canada Post is the preferred option for individuals shipping small parcels and personal items to South Korea: See Canada Post international shipping options below.
Market dominant carriers, such as UPS, FedEx have crazy high base pricing. Discounted shipping can be obtained via "comparison quotes reseller sites" but discounted retail can still be expensive and such sites lack support, logistics expertise and ability to import.
Jet's logistics professionals will personally respond to your inquiry within 1 business day sharing our expertise and helping you find the right solution. Ask Jet.
Ecommerce shippers usually need a much lower cost than can be provided by traditional shipping methods and need direct shipping solutions (visit our ecommerce page).
---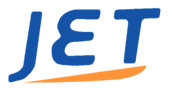 This post provides a deeper dive and explores of the main elements of international shipping between Canada and South Korea / ROK.
Carrier options for shipping to South Korea from Canada
Korean Customs processes and costs for goods shipped from Canada
Carrier options for shipping TO Canada from South Korea
Common Canadian import fees for goods imported from Korea
Possibilities for duty free import to South Korea via CKFTA
Canadian customs assessment and revenue management system (CARM)


---
Disclaimer: The information in this blog is for general information only and is not intended to, constitute legal and/or tax advice. Producers, shippers, exporters, importers should confirm their processes with their customs brokers, carriers and regulating authorities. All liability with respect to actions taken or not taken based on the contents of this site are hereby expressly disclaimed. The content on this posting is provided "as is"; no representations are made that the content is error-free.
---
Carrier Shipping Options To Korea From Canada

Shipping to South Korea via Canada Post
Canada Post offers low cost delivery for individuals shipping small non-urgent packages to the Republic of Korea. Packages sent via Canada Post are imported to South Korea and delivered by Korea Post (the state owned provider of postal services in South Korea).
Canada Post delivery services to South Korea Include:

Packet: Canada Post Small Packet: Surface, Air and "Tracked Packet"
Parcel Surface: Canada Post International Parcel Surface to South Korea
Parcel Post: Canada Post International Parcel to South Korea
Express: Canada Post Xpresspost to South Korea: Delivery within 2 weeks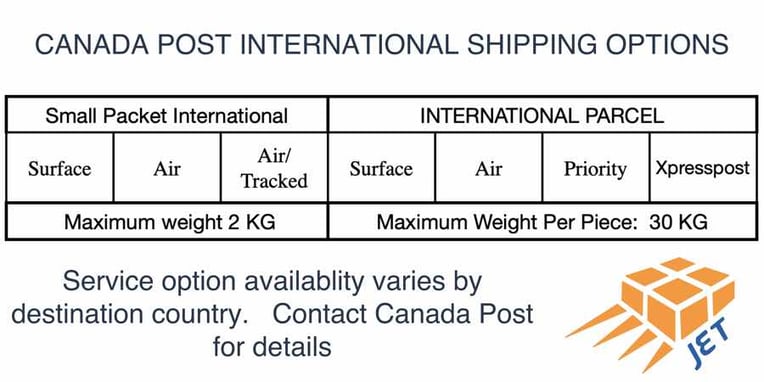 ---
Shipping to South Korea via Purolator Courier
Purolator Courier, a subsidiary of Canada Post, offers international parcel delivery from Canada to South Korea via partners, such as UPS. Purolator is a division of Canada Post.
---

Shipping to South Korea via FedEx and UPS Canada
FedEx and UPS are the largest carriers in North America and, along with DHL, offer dependable international express shipping from Canada to South Korea
FedEx and UPS Canada offer 2 basic parcel options to Korea:
Due to capacity restraints, carriers are suspending economy shipping options from Korea - and other Asia Pacific Countries - to Canada.
---

Shipping between South Korea and Canada via Jet Worldwide
Jet Worldwide is a trusted brand that has been providing international shipping solutions for over 35 years

Jet Worldwide offers options for shipping between Canada and Korea for parcels, pallets and online orders

Jet Worldwide offers transparency, logistics support and we are not shy about recommending alternative solutions as necessary. CONTACT JET'S LOGISTICS TEAM FOR RATES, INFORMATION AND SUPPORT.

---

Shipping Shopify parcels from Canada to South Korea
South Korea is a growing shipping destination for Canadian e-commerce merchants using on-line shopping platforms including Shopify, Big Commerce and Wix. Canada Post offers discounts for shipments under 4 pounds / 2 kilograms via such e-commerce shipping platforms and is the lowest cost choice for small parcels.
Jet Worldwide offers low cost parcel delivery from Canada to South Korea for larger parcels shipped from Canadian e-commerce parcels. Contact our Canadian team for prices on shipping heavy and multilot / multi parcel international shipments from Canada.
---
Parcel Customs Clearance for Goods sent from Canada
South Korea customs assessed duty and taxes on the CIF value (Cost of the goods being imported plus the cost for transportation and insurance). South Korea uses the Harmonized System HS codes to assess the rate of duty.
---

Clearance of International Courier Shipments to Korea
As is the case for all international shipments, Korean Customs requires a clear commercial invoice. Most import aspects include the complete address of the receiver, a correct phone number and exact description and value of each item being sent.
Customs tariff applicable on imported goods depend on HS Codes, Customs duties are levied on CIF value. The standard rate of tax (VAT) is 10%.
---
Shipping Terms to Consider When Shipping to Korea
The default option for shipping internationally from Canada is Delivery Duty Unpaid (DDU). Common carriers use the term Ex Works (EXW) which essentially assigns all import related costs (duty, taxes and other fees) to the receiver/importer. Shippers from Canada can choose to pay the import fees on behalf of the receiver via a Delivery Duty Paid (DDP) options that many carriers offer.

Incoterms and shipping terms for packages and online orders.
The disadvantage of paying import fees on behalf of the receiver is that the bulk of the import fees are often from Korea's value added tax (mentioned above) that the importing business may otherwise be able to claim back.
---
International Shipments to Korea valued under KRW 150 000
In South Korea, the "De minimis Value" or the value of shipments that can enter the country free of duty and tax – is 150 000 KRW (around 170 CAD).
Korean customs are very strict about screening such shipments. International shipments sent to Korea must have an accurate consignee address (including telephone number and email) and a concise description of the item being imported.
Duties are assessed on a Cost-Insurance-Freight (CIF) basis. The main mode of customs value assessment is the transaction value method. Other methods under the WTO appraisement hierarchy may be used if there are doubts about Korean Customs valuation methods on the stated value.
A Value Added Tax rate of 10 percent is applied on imports based on customs value plus duties.
---
Duty Free Clearance Canadian Parcels to Korea under CKFTA
To benefit from tariff preferences in South Korea under CKFTA, Canadian exporters must ensure goods meet applicable rules of origin. The importer must have a valid certificate of origin in her or his possession at the time of importation.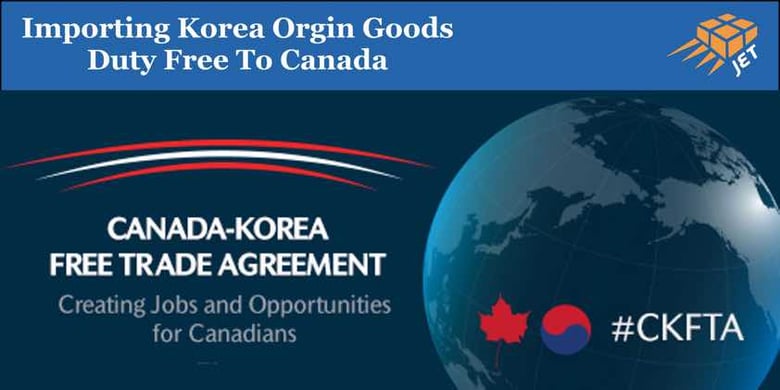 Helpful Link: CKFTA Certificate of Origin
---

Options for shipping Canada from South Korea
The options for shipping from South Korea to Canada include the Korean Post services (such as Airmail International Parcel and EMS) and common carriers such as DHL, UPS and FedEx
UPS and FedEx Shipping Options from Korea to Canada Include
International air express to Canada from Korea

International economy air from Korea to Canada (this option has been restricted by some carriers)
---
Duty and taxes in Canada for shipments sent from Korea
Parcels imported from Korea to Canada are subject to Canadian duty and taxes. Most parcels valued under CAD 20 can be imported free of duty and taxes. Parcels valued under CAD 3,300 from Korea can be imported via Canadian customs Low Value Shipment (LVS) express clearance processes. Carriers charge a disbursement fee that usually averages around CAD 20.
Up to CAD 20 and under: duty- and tax-free when imported from South Korea
Duty and taxes apply when importing goods valued over CAD 20
Common import fees for consignments shipped via air to Canada can include duty, taxes, and carrier fees.
---

Proof of origin requirements under Canada's free trade agreements
For imports not exceeding $3,300 to Canada, the requirement for proof of origin is waived. The requirement on the importer to maintain records (for example, commercial invoice and B3) applies even if the CBSA does not require a certification of origin or if a requirement for a certification of origin has been waived.
Contact Jet's team for a quote for economy air shipping from South Korea and the APAC Region to Canada and North America.
We advise our Canadian customers to first send small test shipments to South Korea to verify that the requirements certificate or origin and other supporting paperwork are met. Following successful duty free import, then larger shipments can then be more securely shipped from Canada for import to South Korea.
---
CARM for Importing to Canada
The Canada Border Services Agency (CBSA) Assessment and Revenue Management (CARM) portal streamlines the process of importing commercial goods.

Read more about CARM
---
Get a Quote Shipping between Korea and Canada
Jet Worldwide makes it easy for companies seeking for spot quotes for economy air shipping between Canada and South Korea
The information required for a quote includes:
Your company name and contact details

Ship from Address

Ship To Address

Weight and dimensions of each piece

Item(s) being sent

Value
If you are seeking pricing for regular shipping volumes, helpful details include actual and projected volume of shipments, item(s) commonly shipped, common shipment weight and dimensions, origin of shipments and and common destinations.
---
CONTACT JETS LOGISTICS TEAM
Reminder: The information in this blog is for general information only. Producers, shippers, exporters, importers should confirm their processes with their customs brokers, carriers and regulating authorities.