Ocean Freight: Ocean & Sea Freight Shipping to and from Canada
Ocean freight refers to the transport of large quantities of products via ocean vessels. Over 80% of global trade transits via sea. The start of Cargo shipped from export ports received by the ocean freight company you've chosen, marking the beginning of ocean freight transportation. Then, it then readied for vessel loading.
Ocean freight is in increments of 20-foot containers, known as twenty-foot equivalent units (TEUs). Standard containers are typically twenty- or 40-foot in length.
In addition to these, tank containers serve the need of bulk commodities like petroleum and coal.
Generally, air shipping is for parcel shipping, high value products and high value commodities.

For small, light, or high value products, many importers choose to ship by air, as ocean freight is not the only transportation option. More expensive, but faster and more secure, air cargo is the preferred choice. Also, it's important to note that regulations for air cargo are stricter compared to those for ocean freight.
Compared to sea transport, air transport can be over 10 times more expensive. But this differential really only applies for palletized shipments over 500 to 1,000 kilograms.

---
A better transportation alternative to a slow boat or an expensive plane.
Time, money, shipping... and logistics. Consider economy air freight combined with ocean services. Maximize ocean freight which can bee too slow. And minimize air freight which can be too costly. Find a greater balance between road freight networks, air and ocean transportation options.
Ocean freight typically takes how long?
Ocean freight transportation time varies based on the location and destination of your goods. In general, allow for between 1 to 3 months.
A rough estimate for end-to-end shipping from Southwest Asia to Canada is usually within 2 months. The "on the ocean time" is usually less than 20 days. The total transit includes waiting time at the origin port, arrival port, inland warehousing, and inland transit.
Most delays for ocean freight do not occur on the ocean. The congestion at ports has resulted in slower sailing speeds for ocean lines. This is done to minimize waiting time at the port.
How can I send my package via low cost ocean?
Generally speaking, the only option for shipping single packages via ocean is via the post office. This is especially true of overseas shipments. Low cost surface (i.e. ground) option is more readily available between Canada and the USA.
How can I lower my shipping costs by using ocean?
The best way to lower total shipping costs is to place an order large enough to ship via ocean. The cost to ship 2 pallets via air, for example, may be not much more than shipping 10 pallets via ocean. Of course, there are lot of other variables to consider. Sometimes, timely airfreight can be a better solutions despite the cost.
What is the difference between ground, ocean and surface.
The term "surface" refers to shipments not sent via air. Surface options include truck, rail, ocean. Surface shipments between Canada and USA refer mostly to ground courier, less than truck loads and full truck load.
How can ocean shipping cost more than air shipping?
Ocean shipping is not cost effective for smaller shipments. The myriad of additional fees and minimum charges are especially significant for smaller packages.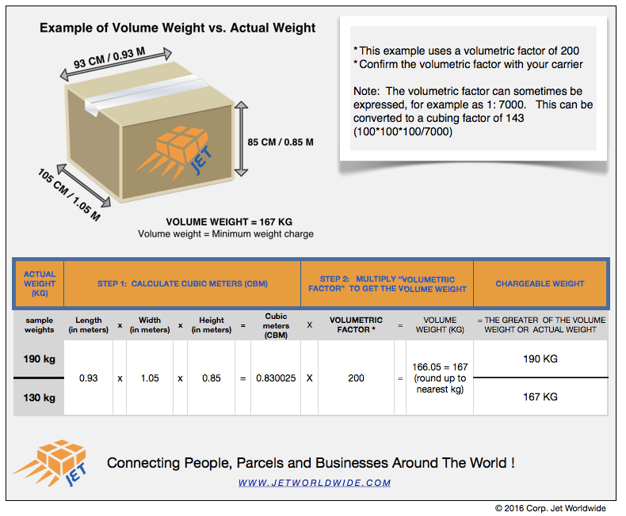 What size of shipment is best to ship ocean?
Local Post surface options are available to most international destinations for shipments less than 30 kilograms. Some destinations have a lower weight limit.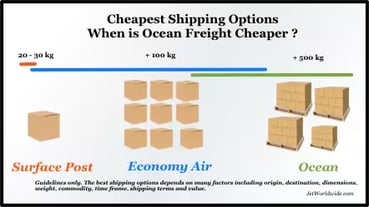 General guidelines for lowest cost shipping options:
Less than 20-30 kilograms: Canada Post Surface
More than 30 kilograms but less than 100 kilograms: economy air
Over 100 kilograms: Economy air or less than container load ocean
Over 500 kilograms: Ocean
As a general guideline, any shipment that exceeds 500 kg in weight is too costly for air freight. Over 100 kilograms chargeable weight is when shippers may consider looking at ocean as an alternative to air freight.
In brief, parcel post surface options are best for small packages up to 30 kilograms to most destinations. Shipments over 100 kilograms can be considered for ocean. But shipments less than 500 kilograms are not necessarily less expensive than via air. High volume trade lanes, for example from Canada to Europe, often are more cost effective for lower weights.

Not very heavy weight but very large shipments best via ocean
Bulky shipments are often cheaper via ocean even for lower weights. Air freight shipments more stringent volume weight calculation. Read more about chargeable weight.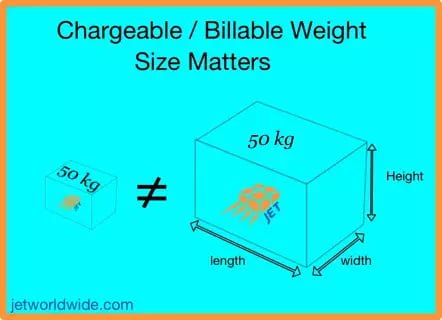 By ocean, what is possible to Ship?
Size, expense, and speed are the three factors that typically determine when ocean is best, although nearly anything can ship using this method.
What items are not eligible for shipping by ocean?
There are fewer restrictions compared to air freight. Ocean liners have different policies regarding what they will and will not accept, including extreme oversized shipments and some dangerous goods.
Ocean: More ecological than air freight
CO2 freight emissions from ocean freight are a fraction of equivalent air freight. According to research, 2 tonnes transported 5,000 kilometers via ocean results in less than 200 kg of CO2 emissions. In contrast, the same shipment via air generates over 6,000 kg of CO2 emissions.
The downsides of Ocean Freight are worth considering.
No surprise that the biggest downside of ocean shipping is transit times. Slow port handling, customs and all ocean processes are slower than air. De-consolidation for less than container loads result in significantly longer transit times.
Tracking technology in ocean is not as advanced as for air freight.
Ocean freight is more prone to damage in large part due to the much longer transit time.
Unexpected Surcharges: Shippers often report unexpected surcharges. Even a small delay can result in incredibly expensive storage fees. See section below on common ocean freight charges and surcharges.
Ocean shipping is a competitive low margin business. Some carriers and forwarders profits come solely from additional fees, surcharges and other non-core costs.
Common Ocean Freight Shipping Charges
The charges for ocean freight can vary depending on various factors. Some common charges associated with ocean freight may include:
Freight Rate: This is the cost of transporting goods from one port to another and is usually low in relation to other fees.
Terminal Handling Charges (THC): Both import and export charges and are typically based on the container size.
Documentation Fees: There are various documentation fees involved in ocean freight, such as the Bill of Lading (B/L) fee, documentation handling fee, and customs documentation.
Customs Clearance Fees: Costs associated with customs declarations and import fees. Confirming the best Canadian customs brokers.
Fuel Surcharge: Typically calculated as a percentage of the base freight rate.
Container Freight Station (CFS) Charges: Services such as warehousing, container stuffing or de-stuffing, cargo consolidation, and handling. Mostly associated with LCL shipping.
Storage Fee: Even a small delay can result in exorbitant storage fees.
Security Charges: Security charges have become very common.
Equipment Charges if specialized equipment is required.
The specific charges and amounts will vary depending on the shipping line, freight forwarder, and the terms of the contract or agreement.
With respect to storage fees, confirm the necessary approvals and entry information prior to shipping. The most common reason storage fees is delays related to delayed customs clearance.
---
Understanding LCL and FCL Sea Freight
When you choose ocean shipping, you'll likely come across LCL and FCL freight. The two main options when shipping cargo across the ocean are as follows:
LCL sea freight refers to Less than Container Load sea freight.
LCL stands for Less than Container Load. Using this option, your goods will share a shipping container's capacity with others. LCL freight is a great shipping option if you need to transport smaller volumes of cargo. A "smaller ocean volume" can be very costly air freight option.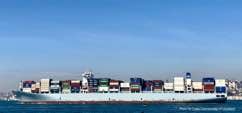 FCL sea freight refers to Full Container Load sea freight.
FCL stands for Full Container Load. This is a good option if you have enough cargo to fill all or most of entire shipping container. The size of the shipping container will also determine the best option. For instance, you may have the capacity to fill a 20-foot shipping container but not a 40-foot one. Shipping a full container (FCL sea freight) is always preferable whenever possible.
When choosing between FCL and LCL sea freight, there are some key considerations to keep in mind.
You shouldn't just choose LCL or FCL freight based on the cost or size of your shipment, with that said. When deciding, here are some important considerations you should remember.
Less than Container loads take more time: Sharing a container with multiple shipments requires additional processing days.
Flexibility is key in today's fast-paced world: LCL sea freight offers more flexibility in routing than FCL. Often is is more efficient to divide your shipments to different destinations or regions.
Countering the additional cost of multiple bill of ladings are the lowering of other costs. LCL can reduce the cost of additional warehousing, unloading, and sorting. Organize your cargo into containers for specific cities and regions. By not having to do this at the first port saves time and money.
A partially filled full container can cost less than LCL
FCL freight doesn't always cost more, as LCL freight charged per cubic meter (CBM). It might be better to pay for an entire shipping container, depending on the the cost per CBM.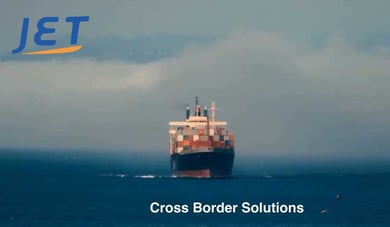 FCL Shipping is a popular choice for businesses looking to transport large quantities of goods.
Jet Worldwide's FCL (full container load) shipping services cater to the transport of large bulk cargo. Our team helps businesses with their FCL shipping requirements by offering fast feedback, quotes and direct access to one of our team members.
Our Ocean Freight Shipping Service is dedicated to providing reliable and efficient shipping solutions.
Jet Worldwide provides a wide range of ocean freight shipping services. Get comparison quotes, booking, customs clearance, cargo insurance, and shipment tracking.
Importers and exporters benefit from the ability to choose from a variety of shipping options. Our team makes it easy for small and large businesses to efficiently and cost-effectively manage their shipments.
Jet Worldwide provides businesses with LCL (less-than-container load) for shipping smaller quantities of cargo.
We provide quotes for LCL shipments to enable businesses to compare rates. Select the most suitable option according to their needs. Our conversational approach communicates beyond a technology automated sites. We help importers and exporters comply with all necessary regulations. And, we freely recommend alternatives that may be better suited to your needs.
We collaborate with NVOCC's to offer your business a more diverse selection of shipping options. Our experts collaborate with our partners to ensure you receive best in class shipping service.
Once the ship arrives at the destination port, customs releases after clearance and payment of duties and taxes. At this point, your goods move to a warehouse for delivery to the final customer.
Choosing a Freight Forwarder for Ocean Shipping
Virtually all shippers access ocean vessels and shipping via a freight forwarder. Read more: Useful information about freight forwarders.

Shipping Terms to Understand When Shipping via Ocean
Read more: Important things to know about shipping terms.
FOB (Free On Board) is a term used in international trade: Both parties (you and the freight forwarder) share responsibility for the delivery process with the FOB agreement. Shippers have the responsibility to ensure that securely packed goods and proper labeling. Before loading the cargo onto a shipping vessel, this happens. Once it arrives at your location, it then becomes yours.
EXW (Ex Works) is a trade term that signifies the seller's responsibility for making the goods available at their premises: The majority of the responsibility falls on you with an EXW contract. You are responsible for picking up goods at the sellers location and transporting them to the final destination.
DDP (Delivered Duty Paid) is a term used in international trade: DDP is a great way to ensure hassle-free delivery of your items. If sent DDP, the seller is responsible for duty, taxes and import fees. Read. more: Verified benefits of delivery duty paid.

CIF, or Cost, Insurance and Ocean Freight
There are three main elements of a shipments value. The cost of the goods, plus insurance and shipping. Read more: Confirming CIF and correct value for import
Canadian Amazon Removal Orders and Retail Returns via Ocean
Jet has solutions to receive Amazon removal orders and other returns for forwarding via ocean freight. Minimum volumes are required. Read more: Managing Cross Border Canadian Amazon Removal Orders.
Support and Rate Request Form