Fulfillment by Amazon (FBA) is the most popular fulfillment option for Amazon Sellers and Vendors in Canada. Jet Canada provides an additional level of convenience by serving as a receiving center for your Canadian Amazon returns. Get assistance with managing your Canadian Amazon Returns.
---
In Amazon Canada's business agreement gives sellers two methods when customers return their product: either pay a fee to have it shipped back , or pay Amazon for disposal. Having Jet Canada gives you the option to send goods shipped to our Canadian facilities.
Benefit from Amazon's scale and Jet's Returns
Amazon huge scale makes them the best choice for selling across Canada. Amazon Prime offers adds more benefits. Having a "small scale" solution for returns makes best in class return solution. Our solution is meant to complement the use of Amazon by giving a Canadian address to send your Amazon removal orders.
For information for shipping to Canada, contact our team.
---
A Canadian Warehouse to Receive Amazon Removal Orders
There is clearly a trend toward a greater percentage of returns. Estimates of over all returns have increased from less than 10% to over 15%. The overall rate of returns vary by category, but the rate of Canadian returns have also grown.
Finding the right shipping service is similar to the USA and includes accounts with FedEx and UPS. In addition, there are dedicated Canadian carriers to shop against such as Loomis, Purolator, Nationex and Canada Post. Even with those choices, the best delivery option for most sellers is via FBA.
If you wish, Jet Worldwide can manage the returns by providing a shipping label to your customer's home. But, usually, the best option is to deal with Amazon Fulfillment for the return. Once you have a group of returns, have your removal order sent to an address in Canada.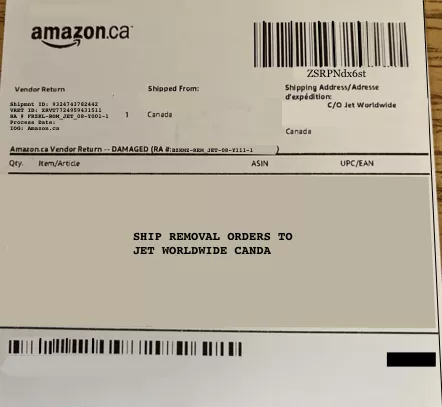 ---
Growing Rate of Returns
Often-cited surveys of online shoppers confirm the importance good returns experience. Amazon returns enable sellers to deal easy free return processes. Jet provides a way to receive a consolidated return order. Customized handling of the returns can include disposal, parts replacement, and return to the seller. We help strengthen your return policy with Canadian customer service.
---
Support for Canadian Removal Orders from Amazon
Having a new local return option in Canada helps sellers defend the self from buyers with suspicious intentions. Jet can receive a refunded package and include photographs to help managing your Canadian Amazon returns. We also can provide support services in French.
Even though Amazon Canada handles order & shipping notifications, it is important to work with your Canadian buyer directly to resolve their issues. Having a quick point of contact and email support provides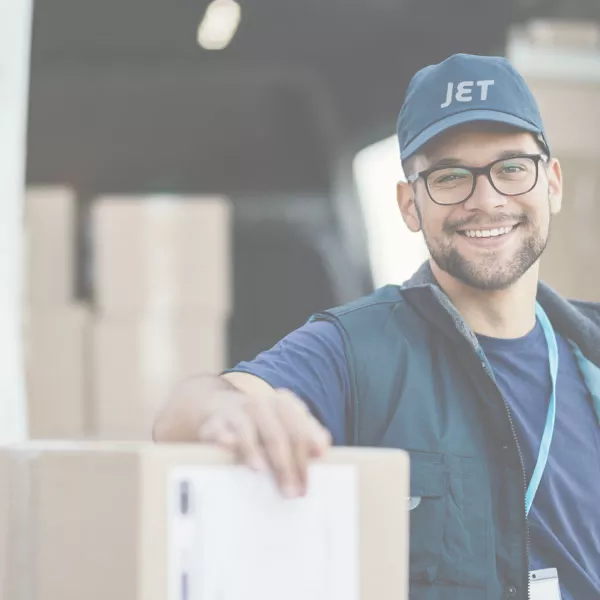 ---
Shipping – have your consolidated items shipped to our Canadian address.
Companies who expand globally can easily serve the Canadian Market. Starting with Canada. American companies often choose Canada as their first international market. International sellers consider Canada after establishing their goods in the American market.
Unlike the US, Canada is much less densely populated. Shipping costs in Canada are comparatively higher in the USA. Shipping to Canada with Amazon FBA comes with its own set of considerations you need to think about.
Jet offers a low monthly rate to manage items returned to Amazon. Individual return item to Amazon. Consolidated removal order to a Canadian address. Goods can then be exchanged, view them via photos and video, confirm the content, and review your options.
So if shipping to Canada, contact our team if you need logistics support.
Get daily return forecasts that let you know how many returns you can expect. Return orders have been frustratingly slow from Amazon. Benefit from actually seeing the conditions of the items being returned. Our team help you track each consolidated return from Amazon through our email notifications.
Jet Worldwide offers simple intuitive solutions with photos. Your goods can then be designated as to the next steps. Merchants can track the status of returns with a confirmation of receipt in Canada.
Upon payment, you can start by subscribing to with a low monthly fee. You can cancel your Jet Return subscription with only a 30 days notice. Before enrolling your business into our Canadian returns program, you must first understand what it is and how it will benefit your business. Fulfillment by Amazon helps sellers scale their business to Canada. Jet helps you manage the scale of volume with a local returns solution.