Many Canadian companies depend on Mexican suppliers. Jet Worldwide helps connect Canadian and Mexican companies via our low cost economy air for parcels and pallets.
Jet Worldwide provides low-cost shipping of samples between Mexico and Canada. The samples to Canada can often be cleared duty-free via the CPTPP or CUSMA/ T-MEC/ New NAFTA agreements and/or if the goods are of low value.
In this post, we review things to consider when shipping to Canada from Mexico
Carrier delivery options shipping Canada from Mexico
Canadian customs clearance for Mexican-origin goods
Mexican cross border shipping beyond Laredo
Managing shipment returns for Canadian online orders from Mexico
CBSA Assessment and Revenue Management project (CARM)
Shipping personal effects Canada from Mexico
CUSMA T-MEC (i.e. new NAFTA) shipping Canada from Mexico
CPTPP trade agreement for duty-free import from Mexico to Canada
Complemento Carta Porte
Simplified origin statement for duty-free import of Mexican-origin Goods

JetWorldwide.com/contact
Disclaimer: The information in Jet Worldwide online content, including this post, is for general information only and is not intended to, constitute legal and/or tax advice. All liability with respect to actions taken or not taken based on the contents of this site are hereby expressly disclaimed. The content on this posting is provided "as is"; no representations are made that the content is error-free.
...
---

New duty-free shipping to Canada from Mexico
As part of the CUSMA (T-MEC), Canada has raised their low-value duty threshold (de minimis threshold) to CAD 150 CAD (around USD 110). Local sales taxes will still apply (but often times, businesses can claim this charge back). This higher duty-free threshold helps businesses and e-commerce merchants in the Mexico and Canada.
The Most Favoured Nation (MFN) tariff rates of Canada are generally applicable for imports from Mexico to Canada valued over CA$150. Goods that meet CUSMA (or CPTPP)* rules of origin can qualify for preferential duty free import to Canada. The MFN tariff rates of Canada apply to goods imported to Canada that do not meet the rules of origin (non-originating goods) under the CUSMA (or CPTPP).;
*Goods from Mexico can benefit from CPTPP -OR- CUSMA - but not both.

---

Common Canadian Import Fees for Shipments from Mexico
We get many questions regarding import fee's for shipments from Mexico to Canada. The factors affecting the fees are outlined below but the common fees include:
Duty: Duty is applied based on country of origin, value, and commodity. Duty rates to Canada can average 20% for some popular consumer items. Many goods from Mexico qualify for preferential duty entry for reasons outlined below.
Taxes: Most goods imported to Canada - even those that otherwise qualify for duty free - are subject to both Canadian federal and provincial taxes.
Entry Preparation Fee: For goods shipped via ground carriers, importers are often charged an "entry preparation fee." This fee is determined by each carrier and often based on the shipment value.
Disbursement Fee: Carriers charge a fee for pre-payment of duty and/or taxes. This fee averages between 2-3% with a minimum fee of between $10 to $20.
Jet Worldwide works with companies to help understand, estimate and manage their import fees.
Other things to consider when shipping to Canada from Mexico include:
Importer of record: The importer of record includes having to obtain an importer number. If to direct to consumers, the consumer can be the importer of record
Provincial licenses may be required even if selling direct to consumers.
Health Canada approvals for related products
Safe Foods for Canadians Act certifications for some food items
Federal and provincial sales taxes (read about Canadian import fees)
Tariff classification for all imports (read more about HS Codes)
Country of Origin must be declared for all imports.
Valuation is an important part of the declaration to the CBSA (read more about valuation).
Labeling for goods to Canada may require both French and English.
Certification of origin if preferential duty free import requested under CUSMA or CPTPP.
---
Shipping from Mexico to Canada via Mexican Post

Shipping to Canada via Correos de México/Parcel Post : Low-cost for shipping for small parcels from Mexico to Canada but limited tracking and support. Shipments sent via Correos Mexican Post to Canada imported via Canada Post.
Different duty assessment for goods shipped via Mexican Post versus Courier (see above regarding new USMCA/CUSMA duty free thresholds).
CAD 20 (around USD 14.75) and under: duty- and tax-free
Above CAD 20 duties and taxes apply
Shipping from Mexico to Canada via FedEx UPS Mexico
UPS and FedEx Freight
UPS and FedEx Express: 2-3 day day delivery from Mexico to Canada
Economy express via FedEx and UPS from Mexico
See section below regarding information required for a spot quote
Shipping from Mexico via UPS and FedEx can be expensive for small businesses who ship parcels Mexico to Canada.
---

Delivery from Mexico To Canada via Jet Worldwide
Jet Worldwide: A trusted brand offering international shipping for over 40 years!

Jet Worldwide offers best low cost shipping options between Mexico and Canada for parcels, pallets, and online orders.
---
Managing Canadian returns for Mexican online orders
Simplified processing for your customer:
Contact Jet's Canadian logistics team to manage returns for your Canadian orders.
---
Duty and taxes in Canada for parcels shipped from Mexico
Parcels imported from Mexico to Canada are subject to Canadian duty and taxes. Most parcels valued under CAD 40 can be imported free of duty and taxes. Parcels valued under CAD 3,300 from Mexico can be imported via Canadian customs low-value shipment / LVS express clearance processes. Carriers charge a disbursement fee that usually averages around CAD 15.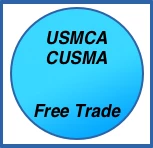 Read more about CUSMA T-MEC
---

Efficient Mexico USA Border Crossings Besides Laredo
Laredo is the largest inland port on theMexican border with all major transportation companies having facilities in Laredo. The city is on the southern end ofI-35, which makes it close to the manufacturers in northern Mexico. However, with the incredible growth of cross border trade has strained the resources causing delays. Contact Jet's logistics team for Mexico, USA, Canada cross border solutions.
---
Shipping terms to consider when shipping Canada from Mexico
The default option for shipping internationally from Canada is Delivery Duty Unpaid (DDU). Common carriers use the term Ex Works (EXW) which essentially assigns all import related costs (duty, taxes and other fees) to the receiver/importer. Shippers from Canada can choose to pay the import fees on behalf of the receiver via a Delivery Duty Paid (DDP) options that many carriers offer.

The disadvantage of paying import fees on behalf of the receiver is that the bulk of the import fees are often from provincial sales tax that the importing business may otherwise be able to claim back.
---
Ground / LTL options
There are many ground options that work best for heavier shipments. The ground options from Mexico include FedEx, UPS, and LTL carriers. Most shippers of individual parcels prefer using express delivery from Mexico as ground service to Canada is a long transit time and does not include Canadian customs clearance for Mexican parcels.
Jet Worldwide can arrange for express transport from Texas for Mexican-origin goods that are needed prior to the arrival of truck transport.
---
Shipping from Mexico, to Texas and then to Canada
Common shipping Routes from Mexico:
CDMX - Laredo, Texas - to Canada
Puebla - Laredo, Texas - to Canada
Guadalajara - Laredo, Texas to Canada
León - Laredo, Texas to Canada

Get an LTL quote shipping from Texas to Canada
See section below : Information required for a shipping quote from Mexico to Canada

---
CUSMA/T-MEC duty-free shipping for low-value parcels from Mexico to Canada
While the new NAFTA is primarily written to accommodate major commodity trading - such as auto parts, energy, and agriculture - it also can be a great benefit for smaller specialty or boutique orders for parts, and other equipment.
---
CUSMA/T-MEC shipping to Canada from Mexico
The key parcel provisions of CUSMA T-MEC (i.e. new NAFTA) include:
Duty-free and tax-free entry for most Mexican parcels shipped courier valued under CAD 40
Duty-free entry for most Mexican parcels shipped courier valued under CAD 150
Simplified "Certification of Origin" for shipments shipped courier valued under CAD 3,300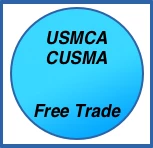 Read about USMCA/CUSMA/T-MEC
Goods shipped to Canada that the qualify to be of Mexican origin that are valued under CAD 3,300 can be cleared duty-free with a statement / certification of origin on the invoice.
For commercial goods valued at less than (CAND 3,300) the exporter may provide a statement certifying that the goods qualify as originating goods.
Shipments valued at less than the above amounts require only a "certification of origin" which can be included on the customs invoice. Here is a sample statement:
"I hereby certify that the good covered by this shipment qualifies as an originating good of ____________ for purposes of preferential tariff treatment under the USMCA/CUSMA/T-MEC."
Although the rules of origin can be complex, parcels shipped from Mexico often contain orders for goods that easily qualify as being Mexican origin. We advise Canadian companies to work with Canada customs CBSA to get a definitive determination prior to shipping.
In addition to NAFTA /USMCA/CUSMA many shippers from Mexico are taking advantage of the duty-free CPTPP opportunities to Canada.
---

CPTPP duty-free clearance of goods shipped from Mexico to Canada
Goods approved with proper proof-of-origin supporting paperwork can be exported from Mexico for duty-free clearance in Canada. Shippers from Mexico to Canada can request preferential duty treatment under either the CPTPP or the CUSMA T-MEC.
Some experts have expressed a preference for CPTPP-origin rules but both methods should be studied prior to shipping. Only one method of preferential duty treatment can be declared at the time of import.
---

Proof of Origin
The key part of all trade agreements is ensuring the goods qualify under the rules of origin. Many incorrectly assume that if goods are sent from a qualifying country, they should qualify for duty free status. Country of origin is not determined solely by where the goods are sent from.
The country of origin rules have been simplified under the CPTPP but can still get complex. The guidelines for country of origin qualification include:
Goods are considered originating if they are wholly obtained, such as goods that are grown, raised, caught, or extracted in Canada or a CPTPP country.

Goods are considered originating if they are produced in Canada or a CPTPP country entirely from originating materials.

Goods are originating if they are produced in Canada or a CPTPP country from non-originating materials that undergo production in Canada or a CPTPP country, such that the resulting good satisfies the applicable product-specific rule of origin. The value of the non-originating goods that are part of the originating product can be considered dutiable.
---

Duty-free import for parcels sent from Mexico to Canada under the CPTPP
Similar to CUSMA, parcels containing products valued less than CAD 3,300 require a simplified certification of origin to claim CPTPP preferential tariff treatment.
Parcels containing products under CAD 3,300 can be considered for duty-free status if the following conditions include:
A signed statement completed by the importer, exporter or producer certifying that the goods originated from a CPTPP country

This statement is required on the commercial invoice and we recommend adding an additional stand alone statement or supporting document.

The goods must meet the origin rules. For example, marks to indicate that the goods are not a product of a CPTPP country will disqualify the goods and have issues related to mis-declarations.
---

If you are importing to Canada, it is important to become familiar with Canadian Customs online portal which is designed to streamline processes. Read more about CBSA Assessment and Revenu Management (CARM)
---

Complemento Carta Porte: Additional Requirements for Mexico shipments
The main objective of issuing the Complmento Carta Porte is to prove the legal possession of merchandise during transport. Non compliant shipments are subject to penalties.
The Mexican Tax Authority (SAT), in an effort to increase compliance and cargo security, requires any entities sending goods through Mexico to modify their electronic invoices — known as CFDI in Spanish — with the Carta Porte supplement. All freight of any size traveling by road, rail, air or sea through Mexico and all types of commodities will be required to have the supplement.
Information required by Complemento Carta Porte can include:
Goods that will be moved throughout the Mexico
Shipper/receiver information.
Specific information about the shipper and receiver locations.
Information about the means of transportation.
Information about the driver (in case of road transportation)
Regulated parties affected by the Carta Porte supplement includes the owner of the goods being transferred, intermediaries and agents of transport, and hauling companies. The suppliers of transportation services should issue a CFDI of Revenues with the Carta Porte supplement.
Note that this information is based on public information and all parties should confirm compliance with Mexican Authorities prior to shipping.
Additional resources:
https://www.eleconomista.com.mx/el-empresario/Cuales-son-los-retos-y-las-multas-del-Complemento-Carta-Porte-20211202-0162.html
https://www.sat.gob.mx/consultas/68823/complemento-carta-porte-
---
Get a quote for shipping between Mexico and Canada
Jet Worldwide gives access to all companies seeking for spot quotes between Canada and Mexico for parcels, pallets, online orders.
Contact our team for special requests, reverse logistics or other ways we may be of assistance. As mentioned above, Jet offers transparency and expertise and we are not shy to recommend other options that best suite your needs. Need a quote and logistics support? Contact Jet.
---

---
Shipping personal effects from Mexico TO Canada
Requirements include copies of the importer's passport and specific list of contents with estimated unit and total value. Personal goods to Canada must be self cleared by the importer of the goods.
Personal goods are generally meant as being used, over 1 year old and for personal use only.
Shipping of excess baggage: Generally, it is simpler and easier to ship your personal effects as excess baggage when you travel. Carrier excess baggage fees for a couple of bags is most often less expensive than shipping separately without having to manage the entry requirements (discussed above).
Shipping a box or several boxes: Jet Worldwide provides solutions shipping of international personal effects to Canada via economy air.
Shipping a household / container level: For shipping a full household, it is best to contact a moving specialists to arrange for packing and ocean transport.
Jet Worldwide does not accept personal effects TO Mexico.
---
Reminder: The information provided in the blog is for general information purposes only. Importers, exports producers and sellers are advised to check with their local authorities, customs broker and official websites prior to shipping.
JetWorldwide.com/contact