Canada's export opportunities have expanded to the east with the European Canadian Free Trade and to the west with the Comprehensive and Progressive Agreement for Trans-Pacific Partnership.
The Comprehensive and Progressive Agreement for Trans-Pacific Partnership (CPTPP) is a free trade agreement that Canada shares with Australia, Brunei, Chile, Japan, Malaysia, Mexico, New Zealand, Peru, Singapore, and Vietnam. The agreement reduces barriers to trade and provides preferential duty free import between each other.
The CPTPP provides Canadian companies access to a growing region with a population representing over 13% of the global economy! CPTPP countries include large mature economies such as Japan and Canada as well as high growth economies like Malaysia and Vietnam.
Canada's Most Favoured Nation (MFN) tariff rates are generally applicable to imports between Canada and CPTPP members. Duty free preferential import under CPTPP apply to goods imported to Canada and other CPTPP countries that meet the rules of origin outlined in the agreement and accompanied by the necessary certification.
---
CPTPP Rules of Origin for Canadian exports and imports
Under CPTPP, rules of origin are used to determine whether a product qualifies for duty-free or reduced-tariff treatment when traded between the member countries.
The rules of origin for CPTPP are divided into two main categories: general rules and sector-specific rules.
General rules of origin: These apply to all products not covered by the sector-specific rules. The general rules of origin require that a product must meet a specific regional value content (RVC) percentage. The RVC percentage for CPTPP is 40%. This means that for a product to qualify for preferential treatment under CPTPP, it must contain at least 40% of value added from CPTPP countries.
Sector-specific rules: These apply to certain products that have special treatment under CPTPP, such as textiles and apparel, certain chemicals, and certain automotive products. These rules specify additional requirements that must be met in order for a product to qualify for preferential treatment.
For example, for textiles and apparel, the sector-specific rule requires that the yarns and fabrics used to produce the product must be produced in one of the CPTPP countries, and that the final product must be cut and sewn in one of the CPTPP countries. Additionally, for automotive products, it requires that they have at least 45% regional value content.
It's important to note that under CPTPP, the rules of origin requirements apply only to the products that are eligible for the preferential tariffs, meaning that products that are already duty-free under the agreement, do not need to meet the rules of origin requirements.

Read More: Country from where goods were shipped versus country of origin
In general, the rules of origin are easier to establish for agricultural goods or mined commodities. Some agricultural products, however, may be subject to tariffs or other trade barriers, even if they meet the rules of origin. Additionally, some goods may be subject to quotas or other restrictions on the amount that can be imported duty-free.
Useful information: CUSTOMS IMPORT DUTY EXPLAINED
Understanding CPTPP rules of origin for manufactured goods.
In general, qualifying goods must have undergone sufficient production or processing in one or more of the member countries and meet certain other criteria. The origin of the parts used in production within a product such as the use of certain materials or ingredients in their production.
For example, the rules of origin for textiles and apparel products under the CPTPP generally require that the product be made from fabrics and yarns that are produced in the member countries, and that a certain percentage of the value of the product be derived from processing or manufacturing that occurs in the member countries. The specific percentage required will depend on the product and the country of origin.
The rules of origin in the CPTPP are complex and can vary significantly depending on the product and regulatory interpretation.It is important for companies to confirm compliance with the rules of origin with the consignee/ importer and regulatory authorities prior to shipping.
In this Shipping Guide between Canada and CPTPP Countries, we review:
CPTPP country of origin rules
Advantages of CPTPP
Clearance of parcels via express processes
Shipping options to and from CPTPP countries
Getting international shipping rates to/ from Canada
Links to shipping guides to specific CPTPP Countries
Certificate of origin explained and when it is needed
Proof of origin and when it is required
Import taxes to CPTPP Countries
Additional Resources
Disclaimer: The information in all Jet Worldwide online content, including this post, is for general information only.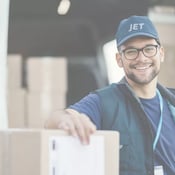 ---

Advantages of CPTPP include:
Increases competitiveness: Preferential duty rates - including duty free import for most goods
Provides access to new customers: Increased access to government procurement processes.
Makes trade with more predictable, transparent and accessible
Improves access for service‑providing companies
---

Express shipments
The CPTPP promotes the idea of easing customs procedures for express shipments. These procedures include the ability of carriers to submit single submissions that consolidate the entry of multiple individual online orders.
Under the CPTPP, the vast majority of customs duties have been eliminated or reduced for Canada-origin goods. Duties on some agricultural goods and on a few other products are being reduced or eliminated during this phase-out period.
The CPTPP eliminates duty on almost all commodities and lessens non-tariff barriers with the following countries.
---
Best Shipping Options between Canada and CPTPP Countries
There are several shipping options available for sending goods from Canada and CPTPP countries. The best option for you will depend on your specific needs and preferences, such as the type and size of the goods you are shipping, the speed of delivery you require, and your budget.
Here are some common shipping options that you might consider:
Air freight: This is the fastest shipping option with door to door integrated solutions.
Ocean freight: This is a slower but more economical option for shipping full container load (FCL) and less than container load (LCL).
Truck / Road Freight: Full truck load (FTL) and less than truck load (LTT) are a great option for shipping between Mexico and Canada.
Commercial carriers such as FedEx, DHL, UPS and their partners.
---


shipping from Canada to Australia

shipping from Canada to Brunei

shipping from Canada to Japan

shipping from Canada to Malaysia

shipping from Canada to New Zealand

shipping from Canada to Singapore

shipping from Canada to Vietnam

shipping from Canada to Chile

shipping from Canada to Mexico

shipping from Canada to Peru
---
Certificate of Origin
The goods news is that under the CPTPP a claim for preferential duty treatment does not require a separate Certificate of Origin (COO). Under the CPTPP, a statement of origin requesting preferential treatment can be made on any document, including the commercial invoice. We recommend using both a certification statement and including a separate certificate of origin.
Read More: Certificate of Origin explained
Canadian companies can take advantage of preferential duty free clearance shipping to and from CPTPP countries with a statement on the commercial invoice. We recommend including a certification of origin on a commercial invoice with reference to an included certificate of origin.
---
Proof of origin to CPTPP countries
In order to claim preferential tariff treatment, the imported goods must originate and be exported from a CPTPP ratified country.
Necessary data elements for a certification origin must be provided by the exporter, producer or importer of the goods by adding the information to any shipping document (most commonly on the Commercial Invoice).
Data elements required for a CPTPP certification of origin include:
Indicate the certifier (importer, exporter or producer)
Name, address and contact information of the certifier
Name, address and contact information of the exporter (if different from the certifier)
Name, address and contact information of the producer (if different from the certifier, or exporter)
Name, address and contact information of the importer
Description and HS tariff classification for the hoods
Origin criterion for the goods
Blanket period
Authorized signature and date
The certification of origin must be signed and dated by the certifier and accompanied by the following statement:
"I certify that the goods described in this document qualify as originating and the information contained in this document is true and accurate. I assume responsibility for proving such representations and agree to maintain and present upon request or to make available during a verification visit, documentation necessary to support this certification"
For full details regarding the minimum data requirements for the certification of origin, please refer to Annex 3-B of the CPTPP agreement.
---
Proof of origin requirements under Canada's free trade agreements
The requirement for proof of origin is waived for imports to Canada not exceeding CAN$3,300. This change was made in July 2020 to harmonize the regulations with the new NAFTA/CUSMA and applies to all of Canada's Free Trade Agreements (including the CPTPP). The requirement on the importer to maintain records (for example, a commercial invoice or B3) applies even if the CBSA does not require a certification of origin or if a requirement for a certification of origin has been waived.
---
Important Information Regarding CPTPP
Commercial goods: Products valued less than US$1,000 do not require a certification of origin to claim CPTPP preferential tariff treatment. Instead, only a signed statement completed by the importer, exporter or producer certifying that the goods originated from a CPTPP country is required on the commercial invoice or any other supporting document.
Casual goods: The country of origin for goods not for sale or commercial use, must be from a CPTPP country and clearly identified on any accompanying supporting documents (e.g., commercial invoice and air waybill) to benefit from the preferential tariff treatment. In addition, there must be no marks to indicate that the goods are not a product of a CPTPP country.
Tariff Rate Quotas (TRQ): Quota limits are still in effect for many agriculture products including personal importations.
Duty free ≠ Tax free: Import taxes (commonly known as VAT) will still be assessed for all imports, including those given preferential duty consideration. Here are some standard tax rates to CPTPP Countries:

Brunei: N/A
Mexico: 16%
Australia: 10%
Singapore: 7% (GST)
Japan: 10 % (consumption tax)
Peru: 18% (including 2% municipal tax)
New Zealand: 15% (GST)
Malaysia: 6% (SST)
Vietnam: 10%
Chile: 19%
Canada (see chart below)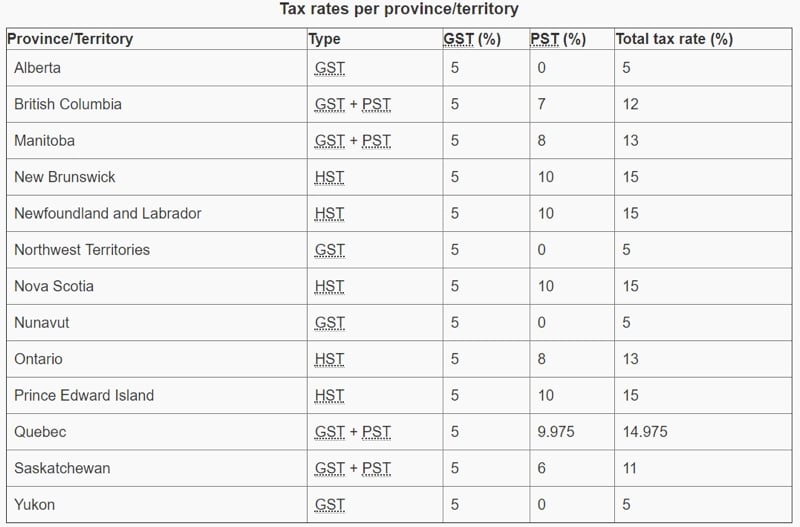 ---
CBSA and other CPTPP resources
information request form
---

Additional Resources