Having an efficient parcel delivery from Vancouver, Montreal, Toronto and the rest of Canada to Japan helps connect the two economies. Japan is strong in electronics and advanced manufacturing and has a need for Canada's goods, including oil and gas, agri-business, and seafood. Jet Worldwide offers low-cost parcel shipping to Japan with the option for duty-free clearance under the CPTPP.
What is the cheapest way to send a package to Japan?
Canada Post surface shipping options provide the cheapest way for individuals to send a package to Japan.
What is the cost to ship to Japan?
The cost to ship to Japan depends on the size and weight of your package. The cost can be as low as around $29 for a 2 pound / 1 kilogram package via Canada Post surface. The cost to ship a 10 pound package can average around $180. The final cost depends on the carrier, discount level, fuel cost and final address in Japan. Request a comparison shipping rate to Japan.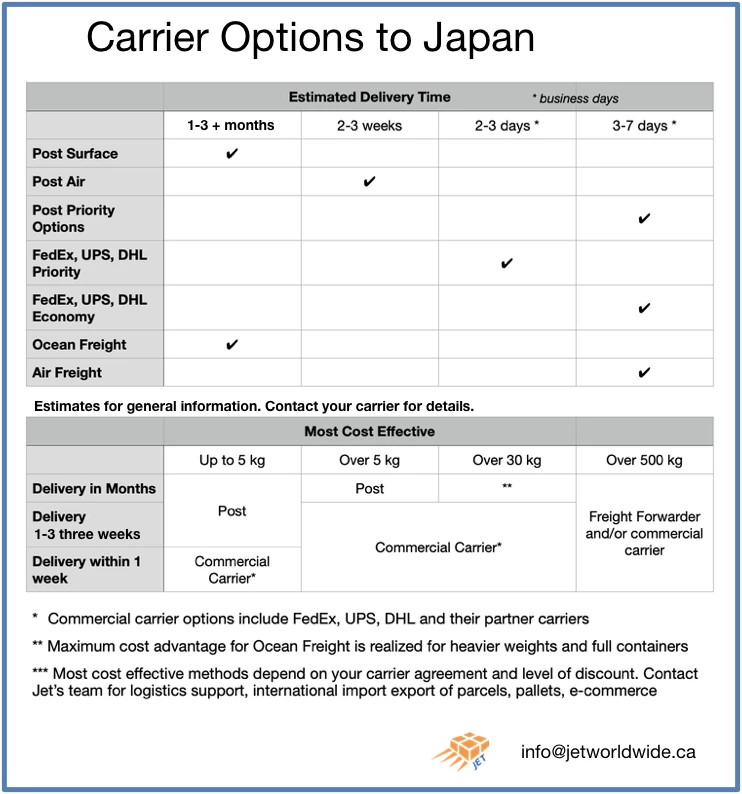 There are several shipping options available for sending goods from Canada to Japan. The best option for you will depend on your specific needs and preferences, such as the type and size of the goods you are shipping, the speed of delivery you require, and your budget. Here are some common shipping options that you might consider:
Air freight: This is the fastest shipping option with door to door integrated solutions.
Ocean freight: For large commercial orders and shipping a full container loads (FCL) with several months lead time.
Couriers: Courier companies, such as FedEx, DHL, and UPS are well known options
Postal services: Canada Post is generally the best option for sending personal items to Japan.
Contact Jet Worldwide for rates and logistics support.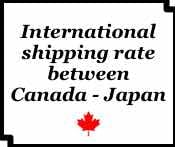 In this Shipping Guide to Japan, we explore key concepts to understand when shipping international to Japan.
Shipping online high-volume orders direct to Japan
Information needed for a spot quote shipping between Canada and Japan
Carrier options for shipping to Japan from Canada and
Understanding shipping terms delivery duty paid or unpaid to Japan
CERS B13-A Canadian export declaration
Japan customs processes and clearance notes for importing to Canada
Shipping shopify e-commerce orders direct to Japan from Canada
Shipping Canadian text books to international schools in Japan
Duty-free clearance to Japan for Canada-origin goods under the CPTPP
Duty-free import to Canada under the CPTPP
Carrier options for shipping to Canada from Japan
Canadian import processes for consignments imported from Japan
Shipping personal effects between Canada and Japan

Disclaimer: The information in Jet Worldwide online content. The content on this posting is provided "as is"; no representations are made that the content is error-free.
---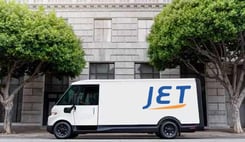 Jet Canada provides low-cost economy shipping from Canada to Tokyo, Yokohama, Osaka, Nagoya and across Japan. Send your parcels from Canada for delivery to Japan within a week for a low cost and dedicated customer support.
---
Shipping terms to consider when shipping to Japan
The default option for shipping internationally from Canada is Delivery Duty Unpaid (DDU). Common carriers use the term Ex Works (EXW) which essentially assigns all import related costs (duty, taxes and other fees) to the receiver/importer. Shippers from Canada can choose to pay the import fees on behalf of the receiver via a Delivery Duty Paid (DDP) options that many carriers offer.

IncoTerms and shipping terms for packages and online orders.
The disadvantage of paying import fees on behalf of the receiver is that the bulk of the import fees are often from a value added tax that the importing business may otherwise be able to claim back.
---
Forwarders provide ocean and multimodal shipping for large companies.
FedEx, UPS and DHL are well known carriers. They offer express air options to Japan.
Canada Post is the best option for individuals shipping small parcels and personal goods to Japan
Ocean is best for large commercial orders and shipping containers to Japan
Jet Worldwide provides Canadian logistics support. Services include discount access to global carriers for global import and export.
Shipping Japan from Canada via Canada Post

Canada Post offers the lowest-cost delivery for individuals shipping non urgent small parcels to Japan. Canada Post relies on Japan Post for delivery of their parcel post shipments to Japan.
Canada Post Parcel Delivery Services from Canada to Japan include:
Canada Post Small Packet delivery to Japan: Surface, Air and "Tracked Packet"
Canada Post International Surface to Japan: Parcel delivery in 2-3 weeks
Canada Post "Xpresspost" to Japan: Delivery in 5 business days
Collection of duty for items sent by Parcel Post from Canada to Japan: Duty payment for parcels is most often delivered Cash on Delivery to recoup the payment of duty. For duty amounts over JPY 10,000 (but less than JPY 300,000), payment is usually requested upfront prior to sending the parcel for delivery.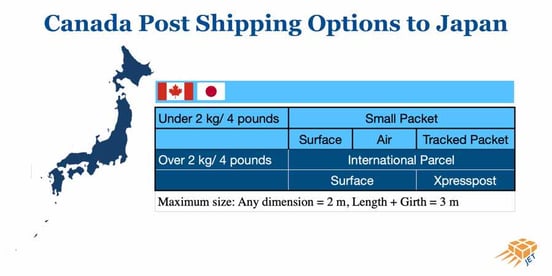 ---
Parcel Shipping to Japan via UPS and FedEx
FedEx and UPS - along with DHL - provide reliable express delivery to Japan from Canada and North America (they are North America's largest carriers).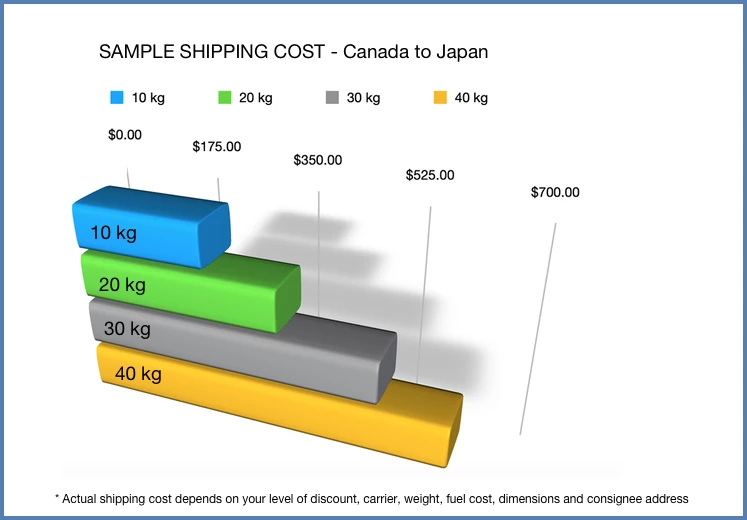 FedEx and UPS Canada parcel delivery options to Japan include:
Priority express air shipping to Japan
Economy air shipping to Japan
Some carriers are suspending economy air options from Japan and other Asia Pacific countries due to capacity restrictions.
---

Delivery to Japan from Canada, USA and North America via Jet Worldwide
Jet Worldwide: A trusted brand offering international shipping for over 40 years!

Jet Worldwide offers options for shipping to Japan for parcels, pallets, e-commerce, with transparency and world class logistics support.
E-commerce solutions for shipping online orders to Japan from USA and Canada
CONTACT OUR TEAM: For a quote for shipping online orders, provide details including shipping volume, item(s) being shipped, average value and weight of each parcel. The more details the better :).
Parcel Canada shipping to Japan via Purolator Canada
Purolator is a leading domestic carrier in Canada and provides reliable courier delivery service to Japan from their postal locations in Canada. For delivery to Japan, Purolator Canada uses partner carriers such as UPS.
---
How to Get Lower International shipping costs to Japan?
Use a shipping cost calculator to compare rates from different carriers.
Consider surface options via Canada Post.
Ship smaller packages to reduce the volume weight. Read about chargeable weight.
If you are shipping a large volume of packages, you may be able to negotiate a discounted rate directly with the major carriers.
Consider using a third-party shipping service that can provide both savings and - more important - logistics support.
Check to see if your goods quality for duty free import. Read more about the CPTPP Free Trade Agreement.
Consider using ocean transportation instead of air shipping for large commercial orders.
---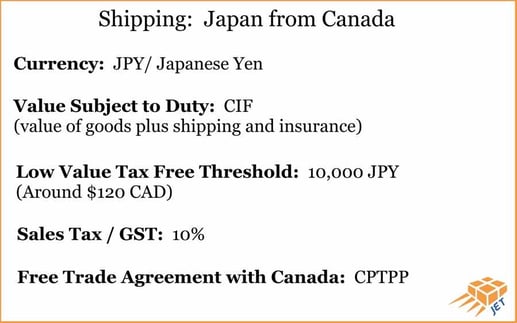 Export declaration from Canada to Japan
An export declaration is required if your shipment to Japan is valued over $2,000 CAD (or contains restricted goods). Read more about CERS Canadian export declarations.
---
Clearance for parcels shipped from Canada to Japan
As for all international shipments, it is important to include a detailed customs invoice and other supporting documents to ensure proper customs declaration.
Importing Goods to Japan from Canada
Confirm if the goods you are shipping require an an import license to Japan.
Applicable duties and taxes on the imported goods are assessed using the classification of goods (read more about HS Codes), the value of the shipment and country of origin.
Discuss the potential import fees the consignee/ receiver may have to pay
Necessary documents include a commercial invoice (read more about a commercial invoice for customs clearance).
It is important to verify compliance with the consignee/ importer and regulatory authorities prior to shipping to Japan from Canada.
Useful information: Shipping from Canada versus Canadian origin Goods.
---
Import restrictions and other notes on sending parcels to Japan from Canada
For goods sent by international courier services, a customs broker clears the goods through customs for you and advances the duty payments such as customs duty to deliver the goods to you. Payment is made either via Cash on Delivery or on account.
Note: Jet can provide DDP service to Japan to enable Canadian shippers to pay the import fees on behalf of the receiver.
---
Simplified tariff and duty system for personal effects and small packages
A simplified tariff system for low-value parcels valued at less than JPY 200,000 (approximately CAD 2,500), that simplifies determination of tariff rates. This system eliminates the need to classify the product with an HS Code and minimizes customs broker charges. Importers can choose either the normal rate or the simple tariff, which could be higher or lower depending on the product.
The following are examples from this Schedule.
Alcoholic Beverages including Wine: JPY 70/L, some of Distilled alcoholic beverages: JPY 20, sake, Some of other alcoholic beverages: JPY 30 / 30
Article of apparel, etc.: 20%, Tableware, Furniture, Toys, Games, etc.: 3%, Rubber, Paper, etc.: Free, Other Products: 5%. These duty rates do not include consumption tax and other internal taxes.
Three primary types of import declaration for parcels being imported to Japan from Canada:
Manifest Clearance is available if the CIF value is less than or equal to JPY 10,000 (unless the commodity is restricted)
Low-Value Declaration is available if the CIF value is less than or equal to JPY 200,999, including restricted commodities.
High-Value Declaration is necessary if the CIF value is more than JPY 201,000.
CIF Value: Most customs authorities - including Japan Customs clearance for parcels - base their calculations on the "CIF" Value. This is also sometimes referred to as the "landed cost." The CIF value includes the COST (value of the item), INSURANCE, and FREIGHT (shipping cost).
Restricted items to Japan: The list of restricted items for parcels to Japan is common to most other destinations and includes such items as perishables, drugs, weapons, contraband etc.
In addition, Japanese custom's regulations restrict other items including animal/insect or plant quarantine related items, fresh, cut or dried flowers, potpourri, malt, straws, bones and horns, antibodies, serum, blood, bacteria/viruses and movie films.
---
Shipping wine from Canada to Japan
There are two basic type of imports to consider when shipping Canadian wine to Japan: commercial and personal. The requirements for customs includes declaring the alcohol content and if the wine is sparkling or not.
Canadian ice wine can qualify for Canada-origin duty-free status for shipping to Japan.
For information on shipping wine to Japan from Canada, contact our team.
---

Canada parcel shipping on-line shipping alternative to Japan
Major Canadian e-commerce sellers can benefit from Jet's high-volume parcel import processes to Japan.
Jet's e-commerce empowers Canadian retailers to scale their international sales fulfilling orders locally with direct shipping to major international markets. Japan is a huge opportunity!
---
CPTPP duty-free clearance of goods shipped to Japan from Canada
The Comprehensive and Progressive Agreement for Trans-Pacific Partnership (CPTPP) is a free trade agreement that Canada shares with Japan. The agreement reduces barriers to trade and provides preferential duty free import between each other.
Goods approved with proper ''proof of origin'' supporting paperwork can be exported from Canada for duty free clearance in Japan.
A good simply purchased in Canada or Japan does not in itself qualify them (as "wholly obtained or produced entirely") for preferential duty free import.
SEE OUR BLOG ON DUTY FREE IMPORT VIA CPTPP
Proof of origin CPTPP To Japan
The key part of all trade agreements is ensuring the goods qualify under the rules of origin. Many incorrectly assume that if goods are sent from a qualifying country, they should qualify for duty-free status. Country of origin is not determined solely by where the goods are sent from.
The country of origin rules have been simplified under CPTPP but can still get complex. The guidelines for country of origin qualification include:
Goods are considered originating if they are wholly obtained, such as goods that are grown, raised, caught, or extracted in Canada or a CPTPP country.
Goods are considered originating if they are produced in Canada or a CPTPP country entirely from originating materials
Goods are originating if they are produced in Canada or a CPTPP country from non-originating materials that undergo production in Canada or a CPTPP country, such that the resulting good satisfies the applicable product-specific rule of origin. The value of the non-originating goods that are part of the originating product can be considered dutiable.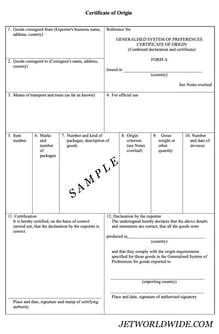 Read more: Certificate of Origin and when it is needed

---

Duty-free import for parcels sent from Canada to Japan under the CPTPP
The amazing part of CPTPP is that parcels containing products valued less thanUSD 1000 (equivalent in local currency) do not require a certification of origin to claim CPTPP preferential tariff treatment.
Parcels containing products under USD 1000 (equivalent in local currency) can be considered for duty-free status if the following conditions include:
A signed statement completed by the importer, exporter or producer certifying that the goods originated from a CPTPP country
This statement is required on the commercial invoice and we recommend adding an additional stand-alone statement/supporting document.
The goods must meet the origin rules. For example, marks to indicate that the goods are not a product of a CPTPP country will disqualify the goods and have issues related to mis-declarations.
It is important to understand that CPTPP applies to duty assessments but not taxes. All goods - even those cleared duty free - are subject to Japan's consumption tax of 10%.
---

CPTPP duty-free shipping to Japan: What information is required?
In order to claim the preferential tariff treatment to Japan from Canada under the CPTPP, a set a data elements referred to as a 'certification origin' must be provided by the exporter, producer or importer of the goods by adding the information to any document (e.g., Commercial Invoice) accompanying the shipment or if preferred, by providing it on a separate document. The data elements do not have to follow a prescribed format but must contain the minimum data elements listed below. In addition, the imported goods must originate and be exported from a CPTPP ratified country.
Indicate the Certifier (Importer, Exporter or Producer)
Name, Address and Contact Information of the Certifier
Name, Address and Contact Information of the Exporter (if different from the certifier)
Name, Address and Contact Information of the Producer (if different from the certifier, or exporter)
Name, Address and Contact Information of the Importer
Description and HS Tariff Classification for the Goods
Origin Criterion for the Goods
Blanket Period
Authorized Signature and Date
Note: The certification of origin must be signed and dated by the Certifier and accompanied by the following statement:
"I certify that the goods described in this document qualify as originating and the information contained in this document is true and accurate. I assume responsibility for proving such representations and agree to maintain and present upon request or to make available during a verification visit, documentation necessary to support this certification"
For full details regarding the minimum data requirements for the certification of origin, please refer to Annex 3-B of the CPTPP agreement.

Jet Worldwide offers economy express shipping and delivery solutions to Japan from Montréal, Toronto GTA and all of Canada. International Parcel Delivery to Japan, International priority, International Economy services for shipping to Tokyo, Osaka, Kyoto, Yokohama, Nagoya, from Montreal, Toronto, Ottawa, anywhere in Canada! Package delivery solutions from Japan to Canada are also possible with Jet Worldwide's shipping services.
---

Simplified origin statement for shipping Canada from Japan
The value for duty amount for all of Canada's free trade agreements (including the CPTPP) for which the proof of origin / certificate of origin is waived is up to CAD 3,300.
For imports not exceeding CAD 3,300 to Canada, the requirement for proof of origin is waived. The requirement on the importer to maintain records (for example, commercial invoice and B3) applies even if the CBSA does not require a certification of origin or if a requirement for a certification of origin has been waived.
---
Shipping Canadian Text books Between Canada and Japan
There are several Canadian international schools in Japan that offer a Canadian-based curriculum for students. There are schools located in Kobe, Yokohama and Tokyo. Verify a new solution to receive, consolidate and ship orders direct to Japan.
Read More: Shipping Canadian text books and supplies to Japan.
---

Shipping e-commerce orders to Japan
With Jet Worldwide, Canadian retailers can send their e-commerce orders direct to Japan for efficient clearance and low-cost last-mile delivery. Jet Worldwide provides both postal and commercial clearance options for higher-volume parcel imports shipped directly to Japan.
Shopify integration to Japan: Integrate your Canadian online shipping platform with our Japanese labeling and tracking services.
Grow your e-commerce orders to Japan with our direct shipping, efficient clearance and low-cost delivery solutions.
---

Shipping parcels and pallets from Japan to Canada
Japanese Carrier Options to Canada: The main options for shipping to Canada from Japan include Japan Post, FedEx, UPS and DHL. Japan post is the preferred option for individuals shipping personal items but postal shipping from Japan to Canada has been restrictive lately. Get a shipping rate to import a package to Canada from Japan
Importing Shipments from Japan to Canada
Goods imported to Canada from Japan are subject to duty, taxes and import fees. Goods of Japanese origin can benefit from CPTPP preferential duty free import (see note above on CPTPP). Consignments valued under $3,300 CAD benefit further from simplified origin declaration requirements.
---
Shipping Personal Effects between Japan and Canada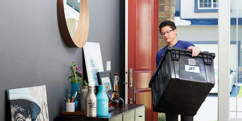 We get many requests for shipping personal effects between Japan and Canada, our common recommendations include:
Paying excess baggage fees are almost always less expensive than shipping goods separately and clearance of accompanied goods is much simpler and immediate versus clearing an air freight shipment.If shipping a household best to contact a moving specialist who can provide ocean shipping and packaging options.
Jet Worldwide shipping options of personal effects between Japan and Canada are best for smaller shipments up to around 100 kg. Contact our team for details
---
Get a Quote for Shipping between Japan and Canada
Jet Worldwide makes it easy for companies seeking for spot quotes for economy air shipping between Canada and Japan.
Rate and information Request Form
---