Are you tired of the unexpected and high costs associated with international shipping? We offer extra value with discounted rates and logistics support. Our role as your international shipping cost calculator includes recommending alternatives that better suite your needs.
---
Calculate the cost of shipping: Get carrier rate estimates and use calculators.
Fulfill your growing business's needs and with exporting and importing. Lower your costs and grow your profits today. Fill out a request and determine the best international shipping cost calculator.
International shipping costs calculated with Jet's rate request form.
E-commerce businesses start sourcing from overseas they often start small. It makes sense to start out with small shipments by express freight (international courier), then graduate to consolidating shipping via air freight. Consolidated shipping via ocean is another option.
Over-reliance on one carrier can end up with businesses spending too much on their shipping costs. When choosing between carriers, how do you know which one works out cheaper for your shipment?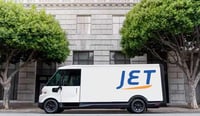 Asset Based Carriers versus everyone else
There are actually only a core or "asset based" carriers. These are the companies that own and operate ships, planes, trucks and vans. They all are mega corporations handling millions of shipments per day. The largest asset based carriers include FedEx, UPS, and DHL. The largest ocean carriers include Mediterranean Shipping Company (MSC) and Maersk among others.
Often, the best price is from carriers who have contract rates and deep relationships with the major carriers.
Forwarders, resellers and comparison websites
Essentially, all carriers resell the services of the major asset based carriers. Freight forwarders typically handle very large shipments using multi-modal services. Resellers and comparison websites are best for individuals. Be sure that the company you choose has the necessary logistics expertise. You want a company more versed in logistics than search engine expertise.
Finding the best international shipping cost calculator depends on the profile of your shipment.
Use Canada Post Online "find a rate" for personal packages
Use commercial carriers cost estimates only if you already have a significant discount
Use a forwarders estimation tool for heavier shipments
Contact Jet's team for finding the the best solution
Carriers International Shipping Cost Calculators
Some of the best international shipping cost calculator tools are via the carriers them self. This is a great place to start.
Start With Canada Post online pricing tool
We recommend starting with Canada Post for small package shipping. You can then use the Canada Post as a benchmark when comparing other services.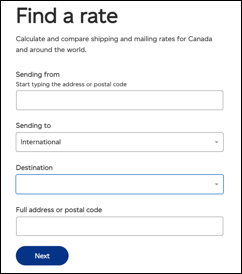 Postal pricing tool
The most useful online price estimating tool is Canadapost.com. The "find a rate" option shows the options and prices to send international shipments.
Getting pricing from FedEx, UPS and DHL
FedEx, UPS and DHL all offer online cost estimating tools for international shipments. We recommend this a second step.
International ground costs are usually not heavily discounted
Discounts for International air start at around 30-50%
Estimating cost with international Freight Forwarders
Some freight forwarders have online pricing tools. This can be more difficult to estimate due to the various options. The base rate can be easy to calculate for international shipments. However, forwarders additional charges can be a difference breaker. In general, ground or ocean options have more surcharges than air shipments.
This can include such things paperwork fee, fuel surcharge, port fees, and insurance. Read more about international freight forwarders.
Typically forwarders take longer to prepare a freight quote. There are many cost variables affecting costs. These include spot capacity, shipment profile, and the exact points of pickup and delivery.
JetShip's International Shipping Cost Calculator
Jetship's calculator for international shipping costs is unique in that it is conversational. We work with leading carriers, forwarders and industry experts. Our shipping cost calculation takes current international transit costs into account. We consider the relevant surcharges and fees.
For a simple international shipping cost calculator, contact our team for access to Jetship.
Get a Review from logistics professionals
Discover the cheapest rates over 50% off with our shipping rates calculator form.
Our request form is very easy tool to use, and takes less than a minute. After selecting the country origin and destination, simply enter your shipment's dimensions and weight. Include what you are shipping and the value. That's it.
Upon receipt, our staff reviews and responds to your request within 1 business day. Verification of details verification is usually our first response.
Jetship's process for calculating international shipping costs is conversational. Our team takes pride and providing the best solution, even if that means recommended alternative options.
Quick estimate of shipping costs calculated
For a fast rough estimate, consider:
Canada post online portal for parcels under around 5 kg
FedEx and UPS ground for USA shipping. Discounts average between 5-10%
FedEx and UPS air express with an average discount around 50% for express and between 20-30% for economy air options.
These are, of course, rough guidelines. But they at least provide some benchmark pricing from from where you can start.
Discover our shipping rates calculator and save on your shipping costs
Get an instant estimate of your shipping costs. Compare pre-negotiated, discounted shipping rates from global, regional and local courier services.
Get Transparent Shipping Estimates.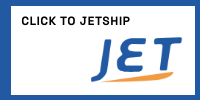 ---
Incoterms, shipping costs and landed costs
When negotiating a deal with a supplier, you need to factor freight costs. There's no point pushing for a lower buy price, if you end up spending as much, or more, on freight costs. Read more about Incoterms.
Adding in shipping costs to EXW price to work out the landed cost. Read more: Verify the correct declared value.
Calculating International shipping cost
Data needed to calculate the cost of shipping
1. Package dimensions
All major carriers use a pricing technique called dimensional weight to calculate shipping rates. Read more about chargeable weight. Dimensional weight takes into account the size of a package to determine the shipping cost.
2. Package weight
The package weight is simply how heavy the item is . As mentioned above, if this number is higher than the DIM weight, it'll be used as the billable or chargeable weight. The heavier and larger the package, the more expensive to send.
3. Shipping destination address.
Carriers use shipping zones to calculate shipping rates. Shipping zones measure the distance between a package's point of origin and its destination. It is important to include the destination postal code to see if outside area surcharge apply.
4. Description of contents
A complete description of the items is important. Verify the ar not restricted or need additional handling. Read more: Verifying the correct HS Classification.
5. Value of your consignment
The value of the goods can be a factor in calculating international shipping costs. Read more about Canadian export declarations (CERs).
If you're shipping products of high value, it may be wise to add insurance. Read more about how to value your shipments for international customs.
---
Calculating Total International Shipping Costs
At this point, you can get pricing details for your selected shipment type. You can compare rates for other shipping options from the resources listed above. Some sites claim to offer a comparison of different carriers but their claimed savings is off full retail prices. Large discounts and still high pricing. Jetship offers you our best price regardless of carrier.
International Shipping Cost Calculator Canadian exporting and import
Canadian based JetShip specializes in offering rates to and from Canada.
International shipping costs from Canada to the rest of the world calculate with our fill in form. We go beyond a simple rate calculator which - anyway - are available from the sources listed above.
How much does it cost to ship from Canada to the rest of the world?
Jetship's Conversational Cost Calculator for international shipments can provide an estimate of the total shipping cost. Adding to our discussion is the impact of import duty. Read more about import duty.
Additional things that add to your total International Shipping Costs
Import fees and International Shipping Cost Calculator
An important element of total shipping costs are import fees. They can include import fees to Canada for imports. Or, they can involve import duty and taxes in the destination country. Online tools can help estimate your duty costs. You should first classify your items with an HS Code. And then determine the country of origin to see if can benefit from Canada's free trade agreements.
Entry Preparation Fee
Another important factor to consider when calculating international shipping costs is the entry preparation fee. This fee is typically included for air shipping via commercial couriers, but it is not included for ground shipments between the USA and Canada.
In addition to the entry preparation fee, there may be other fees that can add to your total shipping costs. For example, there is often a disbursement or import administrative fee, which is usually around 2.5% of the amount of import duty and taxes paid on behalf of the importer. The minimum fee for this is around $14-$20.
Furthermore, more complex entries may require additional entry fees. These are typically required for shipments with multiple items, high values, or when other government approvals are needed.
It's important to keep these additional fees in mind when calculating your total international shipping costs. While the marketplace for pricing may seem efficient, the lowest cost for a service may not always be the most cost-effective option. Other services may offer more value even if their initial cost is slightly higher, especially when considering the entry preparation fee and other potential surcharges.
---
To accurately calculate your international shipping costs and determine the best option for your shipment, it's recommended to have a conversation with our team at JetShip. Our Conversational Cost Calculator takes into account all relevant factors and provides you with an estimate of the total shipping cost tailored to your specific needs.
So don't just rely on a simple rate calculator or comparison site. Get personalized and accurate shipping cost estimates by engaging in a conversation with our team at JetShip. We're here to help you save on your shipping costs and ensure a smooth and efficient shipping experience.
Entry preparation fees are most often included for air shipping via commercial couriers. Entry preparation for ground shipments between the USA and Canada are not included.
Even if entry preparation is included, other fees can include:
Disbursement or import administrative fee: Usually around 2.5% of the amount of import duty and taxes paid on behalf of the importer. The minimum fee is around $14-$20.
Additional entry fees: More complex entries are required for multiple items, high values and when other government approval is needed.
The Best International Shipping Cost Calculators start with a Conversation with our team!
The marketplace for pricing is pretty efficient. The lowest cost for a service may not be your lowest cost. You could, for example, benefit from another service. The lowest cost may ending up being more after applying entry preparation and other surcharges.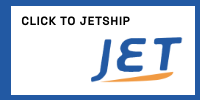 Calculate International Shipping Cost