Shipping international shipments require procedures that are not always obvious. Shipping particular goods internationally might require to fill in forms and add specific documentation for customs clearance. The B13A form/ Canadian Export Reporting System (CERS) is an export declaration that is often needed when shipping international goods.
The CERS Canadian export declaration system is required for Canadian exporters and a necessary tool for the Canadian government to understand what is being exported.
Note that this post is being provided as general information only.
It is important for Canadian companies to become familiar withe the Canadian Export System as the requirements are actually quite simple. Even if you ship infrequently, it is good to have the system set up in advance to avoid potential delays.
---
Terms to Understand when Preparing a CERS Export declaration:
While most of the wording is self explanatory, the concepts and wording that are less familiar include:
H.S. Code: The HS or harmonized code is a code used by customs to more specifically describe your item. Read more about HS Codes.
Value: Although the term is common, the valued declared for export can get confusing in when the goods, for example, are samples are being exported for repair. Read more about valuation.
Carrier Code: Your carrier can provide you with their 4 digit carrier code.
PLACE OF EXIT: Your carrier can provide this information if not otherwise known.
---
A Declaration of Exportation : The B13A Form/ CERS Explained
What's the use of the B13A Form and CERS?>
The B-13 declaration has been replaced by the Canadian Export Reporting System / CERS.
Reporting your exportations allows control over exportations of regulated goods and a precise report of Canadian exportations.
The Canadian Export Reporting System (CERS) is a web-based portal for submitting export declarations to the Canada Border Services Agency (CBSA).
When do I need it?
You will need to complete an export declaration if your shipment:
Has a value of over $2,000 CA (except if it is going to the USA, Puerto Rico, or to the U.S. Virgin Islands).
Is forbidden, regulated or controlled, whatever the value.
It is necessary for to register and get familiar with CERS before planning your shipment.
Where can you register for the CERS?
---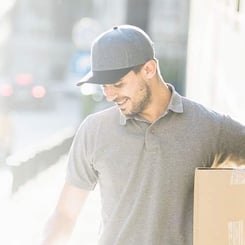 Note: Information in this post and all Jet Worldwide content is for general information only.
JetWorldwide.com/contact