New free trade agreements have transitioned from focusing on large trade of commodities to facilitating small business and online e-commerce transactions. Canada's many trade agreements is making easier than ever to ship goods duty free to Canada and duty from Canada to most the world's major economies.
Free Trade with the World's Largest Economies
Canada has free trade agreements with the USA and Mexico (USMCA CUSMA T-MEC), 10 countries in the Asia Pacific region (CPTPP), and 27 European countries and several stand alone agreements including with South Korea.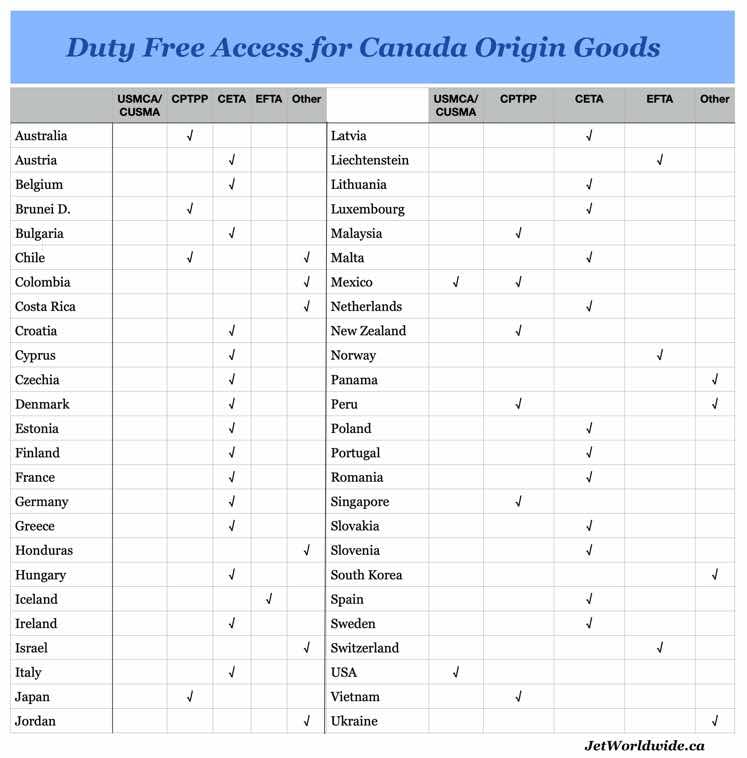 Canadian companies can take advantage of duty free entry to and from the world's largest economies thanks to Canada's many free trade agreements.
Certification vs Certificate of Origin
Canada's newest free trade agreements make it easier for companies to get the benefit of duty free entry for smaller orders. We are surprised how many regular shippers are not aware of the potential for duty free shipping of their orders shipped via a parcel carrier.
Many Canadian shippers are not aware that preferential duty free entry is available for the goods they sell internationally.
Country of Origin Rules
The definition of country of origin can be intimidatingly complex. The complexities are mostly related to goods made of foreign goods and labour and whether or not the goods were substantially transformed to be considered original goods. Basically, country of origin rules stipulate that the goods must be grown, raised, mined or manufactured in the country of origin.
For many many specialized Canadian companies, the country of origin is clearly Canada. And goods purchased from overseas suppliers to Canada often meet the country of origin rules for preferential duty free import.
Canadian origin goods can gain a competitive advantage with duty free import to their customers in Europe, CPTPP countries, South Korea, USA and Mexico.
Country Shipped from ≠ Country of Origin
As it is often cause for confusion, it is important to clarify that from where an order is "shipping from" does not automatically qualify the goods for preferential duty free status.
Country of origin refers to where the goods were actually made (if manufactured), grown/ raised (if agricultural goods), or extracted (in the case of mined goods/ minerals). Country of origin preferential status is not granted solely on where the goods were shipped from.
For example: An item made in China but shipped from Canada to a European Union country will not qualify as Canada origin / preferential duty free entry under CETA free trade provisions.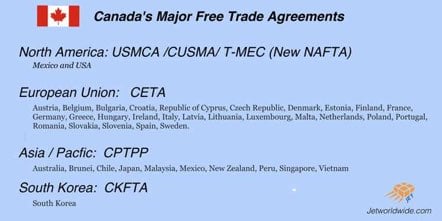 Importer and Exporter Declarations
We strongly recommend that companies confirm regulatory compliance with authorities before shipping.Ultimately, the shipper/ exporter/ importer are the parties responsible for origin declarations and they should not depend solely on "googling."
As hard as we strive to be as informative as possible to assist shippers - including our industry leading blog - we always refer shippers to the actual regulations and regulators. The good news is that the Canadian and other government agencies generally happy to promote exports and assist both exporters and importers.
Major Trade Deals
All of Canada's major trade deals, NAFTA (USMCA/ CUSMA/ T-MEC), CPTPP and CETA, include provisions to assist small companies to take advantage of free trade provisions. Most notable of the benefits is the easier process for country of origin declarations.
Canada's recent trade agreements allow for easier origin certifications that can be incorporated directly into the shipping documents. Separate certificate of origins are generally no longer required.
Jet Worldwide works with Canadian artisans who sell their locally sourced and made products internationally, In most cases, these shippers can sell and ship their goods for duty free entry to major international markets.
CanadianTrade Deals includes EFTA
A lesser known but important trade deal for Canada is with the European Free Trade Association or EFTA. The EFTA is an intergovernmental trading bloc that includes Iceland, Liechtenstein, Norway, ans Switzerland. The EFTA-Canada free trade agreement facilitates trade and allows for preferential duty free clearance for qualifying goods shipped between Canada and EFTA countries.
Shipping TO Canada
Canada itself presents a great opportunity for international companies as well. International companies can ship many of their goods duty free.
Major opportunities to Canada include:
Duty Free entry for goods manufactured in Europe, Asia, US and Mexico
Higher duty free thresholds from Mexico and USA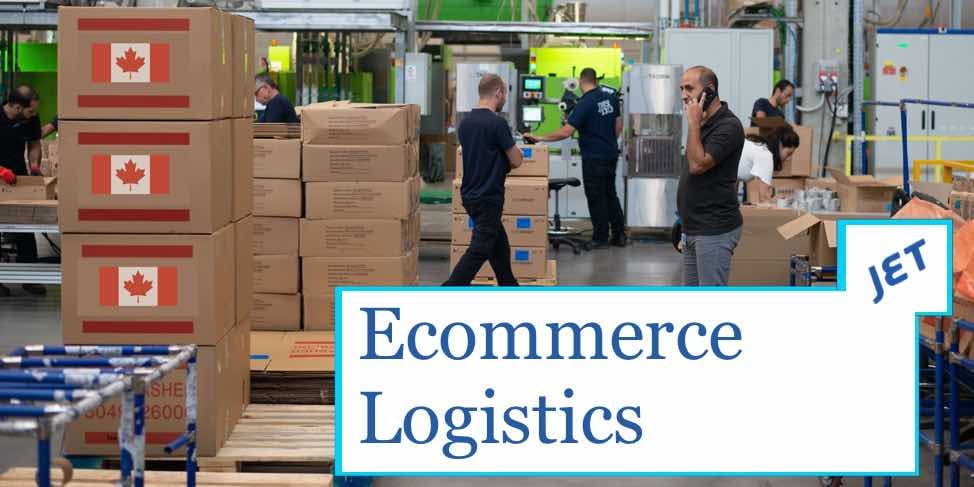 CUSMA/USMCA Shipping to USA from Canada
The grand daddy of all major trade agreements the new NAFTA keeps the same basic provisions but with added benefits for parcel shippers to Canada from the USA and Mexico:
Duty free and tax free entry for most parcels shipped parcel carrier / courier from the US and Mexico under CA$40
Duty free entry for most parcels shipped from the US and Mexico shipped via parcel carrier/ courier under CA$150
Simplified "Certification of Origin" for shipments to Canada valued under CA$3,300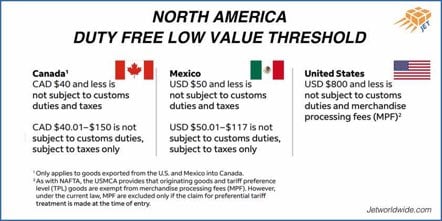 For low value shipments (under CAD $3,300) to Canada, a certifying statement added to the commercial invoice or any shipping document for US or Mexican origin goods can benefit from preferential duty free import. Here is a sample statement:
"I hereby certify that the goods covered by this shipment qualifies as an originating good for the purposes of preferential tariff treatment under USMCA/T-MEC/CUSMA."
This statement can be included on the commercial invoice or other shipping document.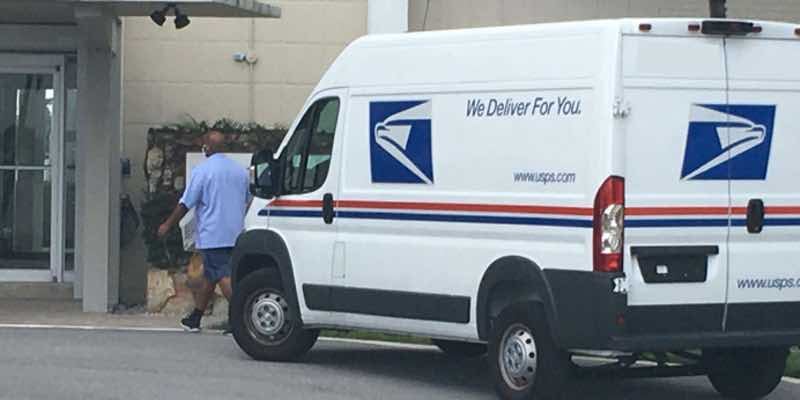 Different duty assessment for goods shipped via USPS or Correos Mexican Post versus Courier (see above regarding new USMCA/CUSMA duty free thresholds).
For a shipments shipped via USPS for import via Canada Post, duty is assessed differently than for parcels shipped via parcel carriers/ courier:
CA $20 (around US$14.75) and under: duty and tax free
Above CA $20 duties and taxes apply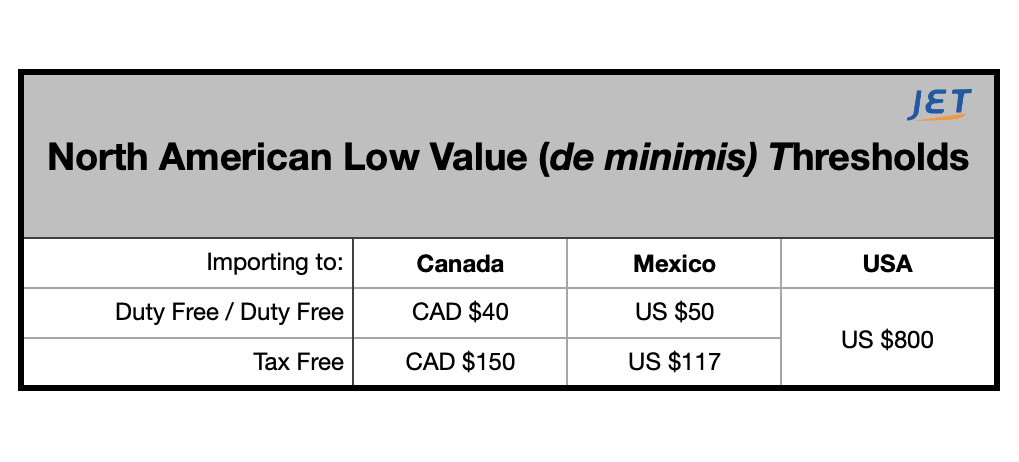 Disclaimer: The information in this blog is for general information only. Producers, shippers, exporters, importers should confirm their processes with their customs brokers, carriers and regulating authorities.
Qualified Country of OrIgIn goods shipped TO Canada
Canadian companies can more easily take advantage of duty free clearance from a country that has a free trade agreement with Canada.
Proof of origin requirements under Canada's free trade agreements
The value for duty amount for all of Canada's free trade agreements (including CPTPP, CETA, USMCA CUSMA, CKFTA etc) for which the proof of origin / certificate of origin is waived was changed to $3,300 CAD in July 2020. This change was made to harmonize the regulations with the new NAFTA/ CUSMA.
For imports not exceeding $3,300 to Canada, the requirement for proof of origin is waived. The requirement on the importer to maintain records (for example, commercial invoice and B3) applies even if the CBSA does not require a certification of origin or if a requirement for a certification of origin has been waived.
Disclaimer: The information in this blog is for general information only. Producers, shippers, exporters, importers should confirm their processes with their customs brokers, carriers and regulating authorities.
Cross Border: More of a small bump than a big barrier
Generally, the world is moving towards updating processes to accommodate individual online orders. Jet Worldwide helps companies understand and take advantage of the opportunities for reaching new international markets AND finding new international suppliers.
See our blog Free Trade Blogs: