To help answer the many inquiries we get on shipping to the United States from Canada, we have updated our blog.The USA and Canada remain one of world's largest trading partners and there are important border issues to consider before sending your parcel.
In this post, we review the main points to consider before shipping your Canadian parcels to the USA:
Required documentation for parcels shipped to the USA
How valuation affects clearance and online orders shipped to the USA
Shipping options to the USA from Canada
Request an rate for economy express parcels and LTL to the USA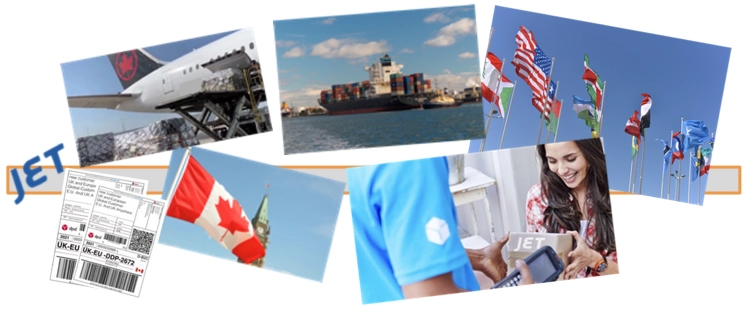 ---
Shipping to the USA via Canada: For Canadian and international e-commerce sellers, Jet offers cross border Section 321 solutions.
Disclaimer: The information in this blog is for general information only and is not intended to, constitute legal and/or tax advice. Producers, shippers, exporters, importers should confirm their processes with their customs brokers, carriers and regulating authorities. All liability with respect to actions taken or not taken based on the contents of this site are hereby expressly disclaimed. The content on this posting is provided "as is"; no representations are made that the content is error-free.
---
1. Required documentation for parcels shipped to the USA
While US customs clearance for parcels is streamlined for Canadian parcels, there are a few important points to keep in mind. All parcel shipments to the USA from Canada must be accompanied by an invoice for customs clearance. Customs clearance is the umbrella term for the various stages of getting your goods across the American border. It can involve US Customs and Border Protection but also "other government agencies" such as the Food and Drug Administration or Fish and Wildlife. The most important part of Customs clearance is ensuring that your shipment is accompanied by the correct paperwork (this is true for all international courier shipments!). The basic data points required for an invoice for customs include:
Date of shipment
Name, address and telephone number of shipper
Name, address and telephone number of consignee
Detailed description of the item(s) being sent
Value of the item(s)
Note: When shipping from Canada to the USA via parcel post, a postal customs form (CN22) must be completed. Contact Jet Worldwide for assistance with your customs paperwork for your parcel to The US.

---
Other documents that may be required when shipping parcels to the USA from Canada, include:
CERS export declaration: A Canadian B-13/ CERS export declaration is not required when shipping parcels to the USA from Canada.
Prior Notice for food items: When sending foodstuffs to the USA, you must first register with the United States Food and Drug Administration. All foodstuffs sent to the USA must include a "Prior Notice" authorization number. Commonly referred as the "PN Number," this number must be included on the invoice along with a copy of the confirmation (which can be obtained from the FDA website).
Certification of Origin for Items to enter duty-free under the USMCA Goods that were manufactured in Canada may qualify for duty-free entry under the USMCA (the updated NAFTA). To get preferential duty-free clearance to the US, Canada-origin goods to the US must be accompanied by a certification of origin / COO in order to be considered for duty-free status under the USMCA.

---
The key provisions of the USMCA include:
Duty-free and tax-free entry for most Canada-origin parcels valued under USD 800.
Simplified "Certification of Origin" for shipments valued under USD 2,500
For low-value shipments (under CAD 2,500 to the USA), a certifying statement must be added to the commercial invoice or any shipping document.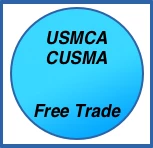 Read more about USMCA/ CUSMA Canada-USA Free Trade
---
US customs Form 3325 for trade shows items
If you wish to send trade show related items, such as displays, you must include a Customs Form 3325.
---
Paperwork for "Other Government Agencies"
There are over 40 US government departments that have unique requirements necessary for your goods to clear customs. The most common of the "other government agencies" involved in clearance of your goods include:
Department of Transportation (DOT)
Federal Communications Commission (FCC)
Environmental Protection Agency (EPA)
Food and Drug Administration (FDA)
Fish and Wildlife
---
2. How valuation affects clearance
The value of the import to the USA is a key factor in determining the entry type to the USA.
US Customs entries can be broadly defined in 3 categories:
Under USD 800: Section 321
Over USD 800 but less than USD 2,500: Informal entry
Over USD 2,500: Formal entry.

---
3. Carrier options for shipping parcels to the USA from Canada
The main options for sending parcels to the US from Canada include
Canada Post (least expensive for small items),
FedEx/ UPS (Good ground service but expensive express)
FedeX, UPS and DHL air express
Jet Worldwide provides access to carriers, LTL and logistics support
USPS cross border solutions for high volume e-commerce (contact Jet's team)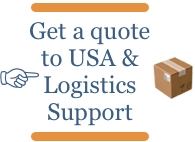 ---

Sending with Canada Post from Canada to the USA
Lowest-cost option for small "packets" to the USA.
This service is by far the best value for small shipments and personal items but offers limited tracking and customer support. Canada Post becomes less cost effective as shipments get heavier and when service reliability is important.
Post Parcel Delivery options to The USA include:
For parcels to the US under 2 kg
Canada Post Small Packet - USA Air
Canada Post Tracked Packet - USA
For parcel post shipping of shipments over 2 kg
Canada Post Expedited Parcel - USA
Canada Post Xpresspost - USA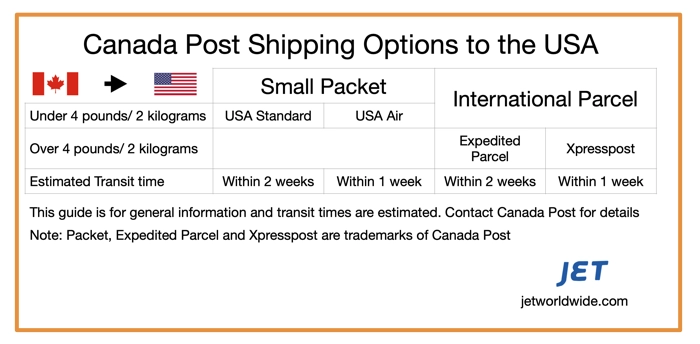 Canada Post shipments are delivered by the US Postal Service. (USPS).
---
Delivery from Canada to the USA via FedEx Canada and UPS Canada
FedEx and UPS dominate the market for delivery to the USA but can be expensive for small and medium-sized Canadian companies.
The most common option for shipping parcels from Canada to the USA is via FedEx and UPS Ground Service. FedEx and UPS offer cost effective ground delivery to the USA for delivery within 6 days.

---
Shipping to the USA via Jet Worldwide
Jet Worldwide offers shipping solutions for parcels, pallets and LTL between the USA and Canada
Our team offers transparency and advise on best practices. We are not shy to recommend alternative non Jet options (see note below on ground shipping)
LTL shipping between Canada and USA
---
Shipping Quote, USA, Canada Logistics Support
Jet Worldwide gives access to all companies seeking for spot quotes between Canada to the USA for LTL, economy air parcels and pallets.
For a quote, please provide:
Your company name and contact details

Ship from Address

Ship To Address

Weight and dimensions of each piece

Item(s) being sent

Value
Contact Jet: For logistics support, including LTL, provide details including shipping volume, item(s) being shipped, average value and weight of each parcel. The more details the better
---

Request a call back for your business shipping from Jet's logistics support team
---
Reminder: We work hard at presenting the best information possible and have become a leading online resource for international shipping to and from Canada. However, it important to note that the information in all Jet Worldwide blogs and postings are for general information only and provided "as is"; no representations are made that the content is error-free.