Guyana and Canada enjoy a close relationship due thanks in part to a large population of Canadians with Guyanese roots. Trade is expected to grow as Guyana is part of CARICOM - with continued discussions on achieving a beneficial trade agreement.
The strong Caribbean connection in Toronto is evidenced by the incredible Caribana festival. Caribana is touted as North Americas largest cultural festival with over 1 million tourists expected in Toronto during this celebration.
Major Canadian exports to Guyana includes paper/ pulp and mining machinery and parts to support Guyana's key industrial sector. Also, many Canadian Guyanese send packages to their families from across Canada to Guyana.
Disclaimer: The information in Jet Worldwide online content, including this post, is for general information only and is not intended to, constitute legal and/or tax advice. Producers, shippers, exporters, importers should confirm their processes with their customs brokers, carriers and regulating authorities. All liability with respect to actions taken or not taken based on the contents of this site are hereby expressly disclaimed. The content on this posting is provided "as is"; no representations are made that the content is error-free.
Jet Worldwide provides low cost shipping Guyana from Canada and USA
Jet Worldwide can help Canadian companies send, store and distribute (or make available for pickup) to and from Guyana and North America
---
Shipping options for Parcels sent from Canada To Guyana

Shipping to Guyana from Canada via Canada Post
Canada Post offers the lowest cost for small parcels sent from Toronto and anywhere in Canada to Georgetown, Linden, New Amsterdam, Guyana.
For individuals shipping small a small package to Guyana, Canada Post's "Small Packet International Surface" is usually the preferred option.
Shipments sent via Canada Post are imported and delivered by the Guyana Post Office Corporation (GPOC). GPOC has several Postal agencies throughout Guyana with the import hub in Georgetown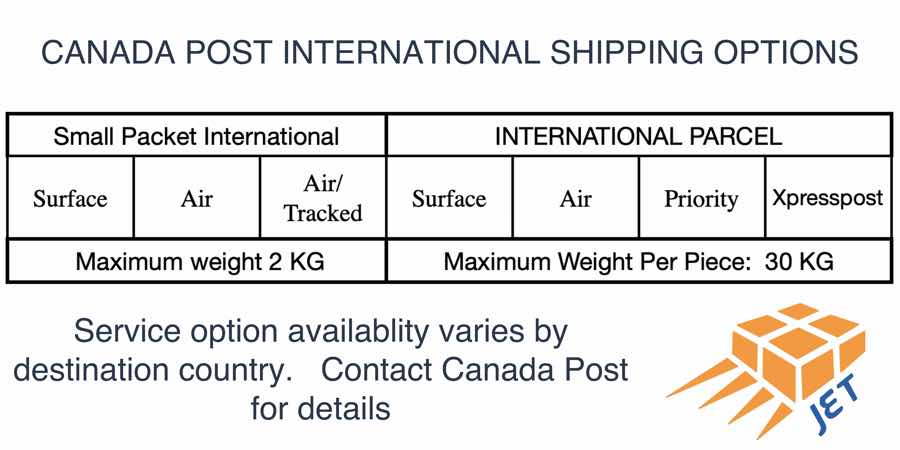 Canada Post Small Packet to Guyana: Canada post offers both surface and air options for the their small packet service to Guyana.
Canada Post International Parcel Surface to Guyana
Canada Post International Xpresspost to Guyana
---
Purolator is among Canada's leading domestic carriers. Purolator provides international parcel service to Guyana via partner carriers, such as UPS
---

FedEx and UPS are North America's largest carriers and they - along with DHL - offer reliable express parcel delivery to Guyana.
Fedex UPS Shipping Guyana from Canada Options Include:
International Priority Delivery to Guyana
International Economy Delivery to Guayana

---

Jet Worldwide: A trusted brand providing international shipping for over 35 years
Jet Worldwide provides options for shipping parcels, pallets and online orders to Guyana.
Jet Worldwide provides transparent logistics support including delivery across the Caribbean from Canada and the USA.
See below: Information required for a spot quote shipping to Guyana
---
Shipping Barrels to Guyana
Barrels sent via ocean offer an economical method for sending shipments to Guyana. The goods can take over a month or two to arrive but are ideal for household and business goods that are not time sensitive.
Jet Worldwide does NOT offer ocean barrel shipping to Guyana and provide this information to assist with the many inquiries we get on this service.
---
Shipping Terms to Consider When Shipping to Guyana
The default option for shipping internationally from Canada is delivery duty unpaid. Common carriers use the term EXW which essentially assigns all import related costs (duty, taxes, and other fees) to the receiver/ importer. Shippers from Canada can choose to pay the import fees on behalf of the receiver via a Delivery Duty Paid (DDP) options that many carriers offer. See our blog on IncoTerms and shipping terms for packages and online orders.
The disadvantage of paying import fees on behalf of the receiver is that the bulk of the import fees are often from a value added tax that the importing business may otherwise be able to claim back.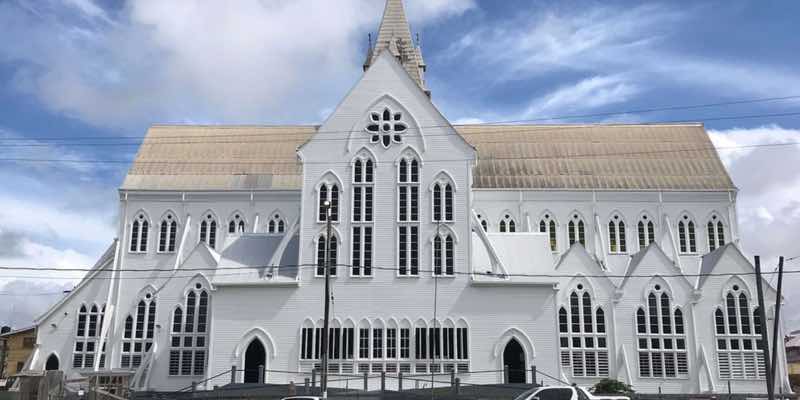 ---
Notes for importing Parcels to Guyana that are Shipped from Canada
Guyana Customs employs import processes and duty assessment that are common to other customs authorities including use of CIF (Cost, Insurance, Freight) Valuation, and use of the harmonized codes for duty rating. The invoice for customs should include detailed description and value.
Guyanese duty tariffs are applicable and assessed via HS Code(s)
The Value Added Tax (VAT) for imports into Guyana is 16%
Most parcel imports from Canada valued less than $100 US can be imported to Guyana duty free
---
Sending Forestry equipment from Canada to Guyana.
Guyanese companies seeking forestry equipment and parts from Canada can rely on Jet Worldwide to facilitate the transaction including ordering, receiving and forwarding to Guyana from anywhere in Canada. We can also arrange for items to be sent from the USA to Guyana via our Miami hub.
---
Spot quote for shipping to Guyana from Canada and USA
Jet Worldwide gives access to all companies seeking for spot quotes between Guyana and Canada for parcels, pallets, online orders.
The information required for a quote includes:
Your company name and contact details

Ship from Address

Ship To Address

Weight and dimensions of each piece

Item(s) being sent

Value
For a quote for shipping online orders, regular volumes and logistics support; provide details including shipping volume, item(s) being shipped, average value and weight of each parcel. The more details the better :).
---


Read more: About Jet Worldwide
Request a call back for your business shipping from Jet's logistics support team
Important reminder: The information in this blog is for general information only. Producers, shippers, exporters, importers should confirm their processes with their customs brokers, carriers and regulating authorities