China exports over $8 billion to Canada every year. Small and medium-sized Canadian businesses are increasingly looking for ways to send parcels to China. Canadian companies often ship samples, parts and products direct to China for production or final sale. Canadian companies are searching for low-cost air options shipping from Canada from China.
Jet Worldwide Canada offers low-cost shipping China from Canada

In this post we review the following things to know when shipping to China.
Best carrier shipping options: to China from Canada
Shipping terms to consider when shipping to China
Customs clearance process for parcels sent to China from Canada
Shipping ecommerce orders direct to Chinese consumers
Air carrier options for importing from China
Canadian import and import fees for goods shipped from China
Canadian customs assessment and revenue management system (CARM)
Information required for a shipping quote: See Below
---
Disclaimer: The information in this blog is for general information only and is not intended to, constitute legal and/or tax advice. Producers, shippers, exporters, importers should confirm their processes with their customs brokers, carriers and regulating authorities. All liability with respect to actions taken or not taken based on the contents of this site are hereby expressly disclaimed. The content on this posting is provided "as is"; no representations are made that the content is error-free.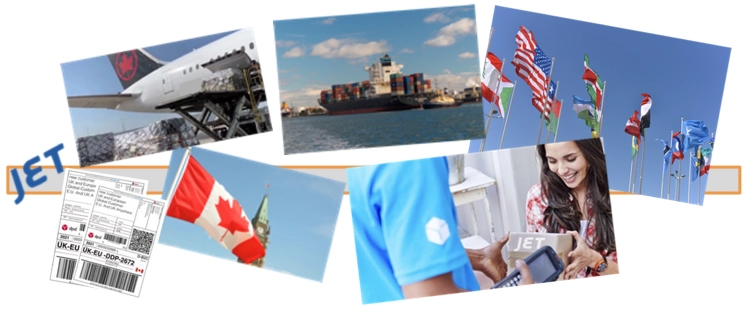 ---
Carrier Options for Shipping to China

Shipping packages to China via Canada Post
Canada post offers the lowest-cost shipping for small packages and the preferred option for individuals shipping small parcels and for return of online orders. Shipments sent via Canada Post are imported and delivered in China via China Post.
Canada Post parcel delivery options to China Include:
Canada Post Small Packet to China: Surface and Air
Canada Post International Parcel to China: Surface/ocean
Canada Post Xpresspost to China: Delivery in 2 weeks
Contact Jet's team for information on direct shipping of Canadian ecommerce orders direct to China.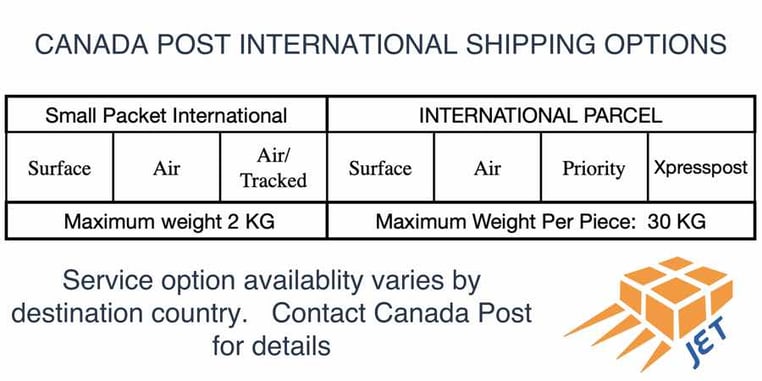 ---

Shipping China from Canada via FedEx or UPS
Along with DHL, FedEx and UPS offer reliable express delivery options from Canada to China with advanced tracking.
FedEx, UPS Shipping China from Canada international delivery Options
Air Economy to China
Air Priority express to China
See section below regarding information required for a spot quote
Note: Some carriers are capacity restricted due to pandemic related issues which is restricting access to economy shipping options to and from the APAC region. Contact Jet's team for a comparison quote.
---
Sending parcels from Canada to China via Purolator
Purolator is a leading Canadian delivery service that relies on other carriers for their international deliveries to China. For international deliveries to China, Purolator uses carriers such as UPS.
---

Shipping between China from Canada via Jet Worldwide
Jet Worldwide is a trusted brand that has been providing international shipping solutions for over 35 years.




Jet Worldwide provides options for shipping between Canada and China for parcels, pallets and ecommerce.



Jet Worldwide offers transparency and world class logistics support. We are not shy about recommending alternative solutions as necessary. Contact Jet's logistics team.
For a quote for shipping online orders, regular volumes and logistics support; provide details including shipping volume, item(s) being shipped, average value and weight of each parcel. The more details the better :).
See section below regarding importing goods from China to Canada.
---

Shipping E-commerce Direct to Chinese consumers
Jet Worldwide Canada has best in class ecommerce delivery solutions to China. The Chinese consumer market represents a monumental opportunity for Canadian sellers.
Chinese customs clearance and information on shipping parcels for delivery to China from Canada
---
Shipping Terms to Consider When shipping to China from Canada
Most shipments to China are sent delivery duty unpaid. The default option when shipping via common carriers use the inco term: EXW.
The inco term EXW essentially assigns all import-related costs (duty, taxes, and other fees) to the receiver/ importer.

---
Sending courier shipments to China containing documents
This category strictly includes documents only (brochures, contracts, training manuals, tickets, accounting ledger, legal notices, invoices, training materials, etc.) Documents are considered to have minimal commercial value (when sending documents, the minimum declared value should be CAD 1).
Items not considered as documents:
Books
Large quantities of printed matters
Electronic media such as e-books, CD's, DVD's, and flash drives
Advertising Material (see below)
---
Sending parcels to China containing personal effects
Personal effects include items shipped separately from a passenger's luggage and gifts exchanged between relatives and friends. They must be of "reasonable quantity" and for personal use (not for resale).
Personal effects (originating from other than Hong Kong and Macau) are declared through the simplified clearance process and require a completed Personal Effects Form. The declared value must be less than CNY 1 000 and the assessed duty/tax must be less than CNY 500.
Knowing the restrictions, shippers often choose not to send personal effects to China from Canada. Jet Worldwide does not accept personal effects shipments to China.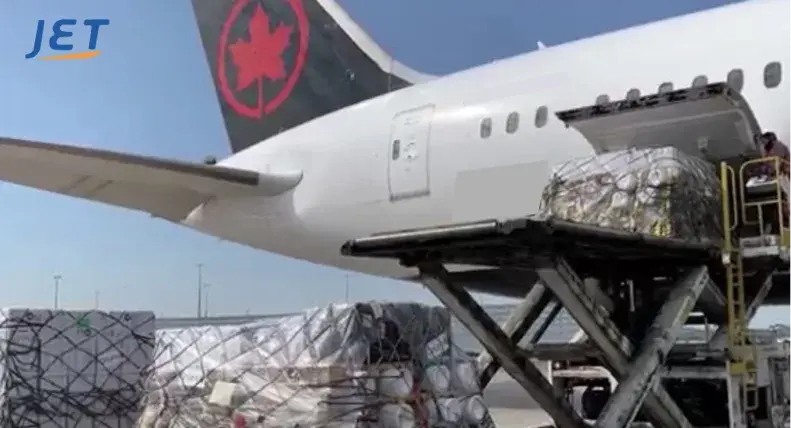 ---
Shipping parcels to China containing samples and advertising material
Samples are goods imported to facilitate the placing of an order. Advertising material can be imported duty-free if it is for promotion of the relevant product.
Canadian shipments to China containing samples and advertising materials can be considered non-dutiable if they have a duty value under RMB 50 (around CAD 8) or shown to have no commercial value.
Customs will strictly perform physical inspections of all samples and advertising articles sent with no declared commercial value.
Non-dutiable samples and advertising material must be clearly described and noted as a "sample" or "advertising material." Qualified samples and advertising material can be cleared using a simplified clearance process.
Commodities controlled by a license or those for which foreign exchange is required and need to be paid upon import, are excluded from this category.
Items requiring certification and not qualified as samples include:
Electric tools and Lighting devices
Audio/video devices
Electric welding machines
Information technology devices
Appliances for home or similar usage
Circuit switches and electric devices used for protection
Motor vehicle and safety accessories
Telecommunication terminal devices
Low voltage electric apparatuses and low power electric motors
Electric wires and cables
Motor vehicle tires
Safety glass
Additionally, spare parts and replacement parts may, in some cases, require CCC certification or may qualify for an exemption (requires an application form).
---
Shipping dutiable samples and advertising materials from Canada
Shipments of this category are those samples or advertising material for which customs duties shall be levied. When sending samples - whether dutiable or not - you must clearly note on the commercial invoices a description of the item(s) being sent and that they are being sent "as sample(s)".
---

Canadian shipments sent to China that require a formal entry
Shipments to China requiring a formal entry include:
Items not meeting the criteria outlined above
Shipments containing commodities requiring an import license/permit, quota or other special clearance documentation.
Shipments for which foreign exchange needs to be paid upon import.
In this case, the shipment is automatically classified category D, regardless of its value, and the consignee is required to obtain an individual declaration form, which serves as an import certificate.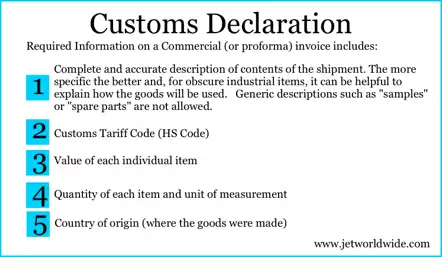 ---

Value Added Tax for shipments imported to China
The general VAT rate in China is 17% but some items are assigned a lower rate of 13%. Small businesses (sales under CNY 1.8 million or annual production sales of less than CNY 1 million) in China may also benefit from a VAT rate of 6%. Small businesses may not claim credits for the VAT paid on their purchases.
---
Parcels sent to China from Canada are subject to duty
Duty fees can range from 20-30% of the value of the goods being shipped. Your parcel may be considered exempt from duties and taxes if valued less than CNY 500 (around CAD 95).
Parcels that are worth more than CNY 1 000 require formal customs clearance processes, which can delay the clearance time.
Most goods containing samples and advertising goods valued under CNY 50 can be cleared duty-free.
Read about HS Codes and shipping online orders
---
Customs entry types for parcels imported to China from Canada
There are four basic entry types for shipments being imported to China:
KJ1: Document shipments
KJ2: The import of shipments valued under CNY 50. No branded goods can be cleared under this entry type.
KJ3: Parcels valued over CNY 50 and under CNY 5 000. To clear goods under KJ3, the importer must have the right to import the declared goods and be able to provide a CR code for clearance. Items cleared with a KJ3 entry are subject to duty and taxes
KJ4: Good valued over CNY 5 000 must be cleared using this entry type. The requirements include those for KJ3 plus additional record keeping and entry information.
---
Shipping wood and wood items from Canada to China
One of Canada's prime commodity exports to China is wood and wood products.
Items and packaging made of wood, cane, bamboo and rattan are considered restricted items. Wood items need to fumigated and be accompanied by a Phytosanitary Certificate from Plant Phytosanitary Authorities.
An item composed of processed wooden parts does not require a certificate but must be accompanied by a statement explaining how the wood was processed.
---
Shipping milk powder and baby formula from Canada to China
There is a big demand for milk powder and baby milk powder from Canada and other western countries to China. Before sending, be sure that the receiver is away of the restrictions that include:
Baby milk powder must be imported into China as personal effects and not for commercial purposes.
Parcels containing Baby milk powder and milk powder must be less than 5 kg and valued under 1,000 Yuan.
---
CR Code explained
All importers and exporters in China are required to be a registered Chinese importer or exporter. We recommend that shippers in Canada verify the receiver of their parcel in China is properly registered and has the necessary regulatory approvals.
---
Importing parcels from China to Canada?
Jet Worldwide provides low-cost import solutions for parcel imports from China. Many Canadian companies are looking for options to receive their products and sample products from their Chinese supplier. Jet Worldwide offers low-cost import services from Beijing, Shanghai and across China to Vancouver, Toronto, Montreal and across Canada.
---
Shipping sanitary wipes and disposable gloves to China and Hong Kong
Urgent shipping of Sanitary wipes to China is possible via express carriers but can be expensive.
Jet Worldwide provides and "order and ship" of Canadian products to Canada. Recently, we have been receiving inquiries to ship sanitary wipes to China. Contact our team for a special order shipping sanitary wipes, surgical masks, and other health items to China.

Read More about Jet Worldwide
---
Information Required for a Shipping Quote between China and Canada.
Jet Worldwide gives access to all companies seeking shipping support between China,Canada, and USA for parcels, pallet and "Canada address reverse logistics"
The information required for a quote includes:
Your company name and contact details

Ship from Address

Ship To Address

Weight and dimensions of each piece

Item(s) being sent

Value
Contact Jet: For a quote for shipping online orders, provide details including shipping volume, item(s) being shipped, average value and weight of each parcel. The more details the better :).
Note: For individuals shipping small parcels and returning orders to China, we recommend Canada Post Packet services.
---

Carrier Options for Importing to Canada from China
The common carrier options for shipping Canada from China include China Post (preferred option for individuals shipping small parcels and personal items), DHL, FedEx and UPS.
FedEx and UPS Shipping Services to Canada from China Include:
International Priority Air Express to Canada

International economy air shipping from China
Note: With capacity restraints, carriers are restricting access to economy air shipping options. Usually suppliers can provide the lowest shipping cost to Canada via their local contacts. Contact Jet's team for a comparison quote (see section above) regarding getting a shipping quote).
---

Importing Goods to Canada Shipped from China
Goods imported to Canada valued over CA$20 are subject to duty and taxes. Consignments valued under CA$3,300 can be imported via Canada's low value system (LVS).
Common import fees for consignments shipped via air to Canada can include duty, taxes and carrier disbursement fees.
---
CBSA Online Portal for Canadian Importers
The Canada Border Services Agency (CBSA) Assessment and Revenue Management (CARM) online portal streamlines the process of importing commercial goods to Canada.

Read more about CARM
---

About Jet Worldwide / Contact Jet. / Get Quote
Reminder: The information all Jet Worldwide online content - including this post - is for general information only.