As Jet has become a leading resource for shipping items internationally from Canada, we thought it best to provide an overall view of the various shipping options from Canada. In this post, I will share our top recommendations for the best international shipping options available to Canadian businesses and individuals.
---
First, our disclaimer: This post and all Jet Worldwide content is for general information only. While we are proud to be a leading resource for international shipping, we emphasize the importance of confirming compliance with the exporter/ importer and regulatory authorities prior to shipping.
Who is Jet Worldwide Canada?
Jet has been providing transportation and logistics solutions from Canada for over 40 years. We partner with both the leading global carriers as well as local and regional specialists. Our contacts and industry expertise is as important as our transparency. We view our role more as an addition to your staff that adds a unique expertise with introductions to key industry resources.
---
What are the best and cheapest option shipping international?
Individuals shipping personal goods from Canada
Generally, Canada Post offers the best international shipping options for personal items. The cost will generally be lower than using a courier service. Most are willing to accept a longer delivery timeless tracking options for the lower price. Canada post has a great online pricing tool.
Canada Post Packet: Valid for up to 2 kg/ 4 pounds and the lowest cost
Canada Post Surface: Lowest cost for larger parcels but delivery can average1-2 months
Canada post lacks service options such as delivery duty paid

International Shipping Options via FedEx, UPS and DHL from Canada
Courier services such as Fedex, UPS, DHL, etc, are well known brands and shipping options. This is a good choice for medium-sized shipments with advanced tracking. Shippers can deal directly with these carriers or via one of their partners.
If the advantage of the mega carriers is their size, it is also their biggest challenge. To help service non enterprise size shippers, the carriers allow forwarders and resellers to access their networks. Some are purely rate comparison sites while others provide more value added logistics support. Usually, you have to a bit deeper in google search as the top choices are usually better at ranking in google than they are in providing shipping support.
FedEx and UPS International Shipping options from Canada include:
International Priority express shipping
Economy international air shipping from Canada
International ground between Canada and USA
Shipping by international cargo ship from Canada
This is the most cost-effective option for large commercial orders. If delivery time of 1-3 months is ok, this is definitely an option worth considering. Contact our team for details. Fill in form below.
Shipping International Air freight from Canada
This is a great choice for time-sensitive shipments and can include shipping via the couriers mentioned above.
Working with a Canadian freight forwarder
They act as a middleman between you and the shipping companies, and can help you navigate the often-complex world of international shipping. Options include, for example, Kuhn and Nagel. They can help you find the best shipping option for your specific needs, and handle all the necessary paperwork and regulations. This is a great choice if you're new to international shipping and don't have experience with the process. Read more: Finding a Canadian Freight Forwarder
---
Other Things to Consider when shipping international from Canada
Customs Export regulations from Canada:
Useful information about Canadian export reporting.
Import Regulations to the destination country:
It is important to confirm compliance with the consignee/ importer prior to shipping your goods.
Consider the receiver of your goods may have to Import Duties and taxes:
Depending on the type of goods you are shipping, the importer will most likely have to pay import duty, taxes and fees. Read more about import duty and how it is calculated.

Verify if your goods qualify for duty free import
An important caveat is that all imports are subject to value added to tax even if they otherwise qualify for duty free import. There are several ways your goods might qualify for duty free import. These include:
Gift exception: Some countries have an exception for low value gifts (the low value threshold varies by country). The invoice for customs much clearly describe the item and mention that it is a "unsolicited gift."
Low Value Duty free Threshold: Generally, many countries have a value threshold under which goods can be imported duty free. This is referred to as the low value due threshold or de minimus value. The value varies by country but notable thresholds include $800 USD to the USA, £135 to the UK, €150 to Europe. Other thresholds can be much less or non-existent.
Preferential duty free import via a Canadian Free Trade Agreement: Canada major free trade agreements include with Canada and Mexico (USMCA/CUSMA), Europe (CETA), the United Kingdom (CUKTCA), 10 Asian pacific countries including Japan, Australia, and New Zealand (CPTPP), South Korea (CKFTA) and direct agreements with many other countries.
Read more about Canadian Free Trade Agreements.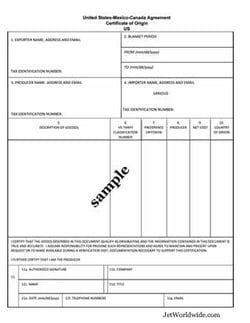 Verify when a Certificate of Origin is needed
International Shipping insurance considerations:
It is important to consider purchasing shipping insurance to protect against damage or loss. Useful information to know about shipping insurance and the importance of packaging.
Packaging for international transport
Proper packaging is essential for both insurance and to ensure that your shipment arrives safely. Make sure to use sturdy and appropriate packaging materials. At the same time, be aware not to use larger packaging than needed as this could result in a higher cost. Understanding Chargeable weight and how it is calculated.
Shipping method and international carriers from Canada
These are covered in the first section of this post. Research the carrier's reputation and be aware that the first to appear in search is not always the best shipping option.
Label and documentation of International Shipments
Make sure all old shipping labels are removed. In addition to the waybill and shipping documentation, it is best to include all contact details for both the shipper and receiver on a separate label.
In conclusion, the best international shipping option for you will depend on your specific needs. Consider the size and weight of your shipment, the time frame, and budget. By weighing all these factors, you can make an informed decision and choose the option that will work best for you.
---

Information and Rate Request Form