Due to the Canada – Korea agreement (CKFTA), there has been increased opportunity for Canadian companies selling to South Korea. Virtually all Canadian origin goods - from pharmaceuticals and cosmetics to plastic products and machinery - can be sent from Canada for duty free clearance in Korea.
International shipments to Asia have grown exponentially and the CKFTA will contribute to further growth. The free trade agreement with Korea is Canada's first free trade agreement in Asia helps Canadian businesses and online sellers reach their Korean customers.
---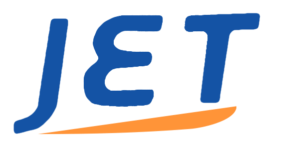 A few quick points to consider when shipping between Canada and Korea
Canada Post is the preferred option for individuals shipping personal items to South Korea.
Market dominant carriers, such as UPS, FedEx have high base pricing. Discounted shipping can be obtained direct or via one of their partners.
---
This post provides a deeper dive and explores of the main elements of international shipping between Canada and Korea

Shipping carrier options to Korea from Canada
Shipping Terms to Korea duty paid or unpaid?
Import process for Canadian origin consignments imported to Korea
CKFTA: Canadian Korean Free Trade Agreement
Common carrier options for shipping FROM South Korea to Canada
CBSA Canadian import process to Canada for shipments from South Korea
Importing Korean origin good TO Canada duty free
Additional resources for shipping from Canada and shipping to Canada

JetWorldwide.com/contact
Disclaimer: The information in this blog is for general information only and is not intended to, constitute legal and/or tax advice.All liability with respect to actions taken or not taken based on the contents of this site are hereby expressly disclaimed. The content on this posting is provided "as is"; no representations are made that the content is error-free.
---
Low cost shipping possibilities for parcels and online orders to Korea from Canada with duty free clearance via CKFTA free trade agreement
Shipping options: Korea from Canada

Shipping to Korea via Canada Post
Canada post is the preferred option for individuals sending personal items to South Korea.
Shipping small parcels to South Korea
International small packet to Korea: Surface, Air and Tracked Packet
International parcel to Korea: Surface
Canada Post Xpresspost to Korea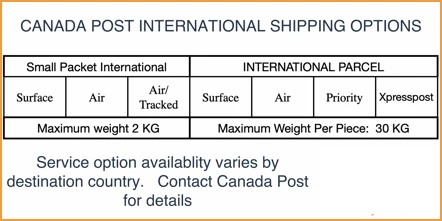 ---

Shipping South Korea from Canada FedEx and UPS
FedEx and UPS are North America's largest carriers and offer, along with DHL, air express shipping services to South Korea from Canada. FedEx and UPS shipping Korea from Canada options include
International Priority - Express Air to South Korea
International economy air to Korea from Canada
Get a comparison quote.
---
Shipping to South Korea via Purolator
Purolator Courier is a leading Canadian domestic carrier and offers international shipping options from Canada to Korea via carrier partners- such as UPS.Purolator is a division of Canada Post.

Delivery between South Korea and Canada via Jet Worldwide
Jet Worldwide: A trusted brand offering international shipping for over 40 years!

Jet Worldwide offers options for shipping between Korea/ APAC region and Canada for parcels, pallets, e-commerce and logistics projects.
Businessescanrequesta consultativecallbackfromourlogisticsteam.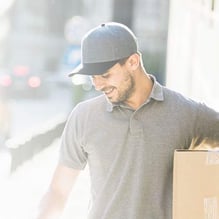 Get best shipping quote between Korea and Canada.
---
Shipping Terms to Consider When Shipping to South Korea
The default option for shipping internationally from Canada is delivery duty unpaid. Common carriers use the term EXW which essentially assigns all import related costs (duty, taxes, and other fees) to the receiver/ importer. Shippers from Canada can choose to pay the import fees on behalf of the receiver via a Delivery Duty Paid (DDP) options that many carriers offer.

IncoTerms and shipping terms for packages and online orders.
The disadvantage of paying import fees on behalf of the receiver is that the bulk of the import fees are often from a value added tax that the importing business may otherwise be able to claim back.
---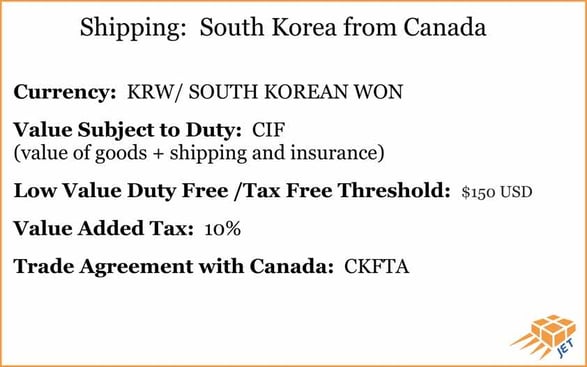 Import clearance to Korea for goods shipped from Canada
Goods shipped to South Korea must be accompanied by an invoice for customs or other supporting documents.Most import aspects include the complete address of the receiver, a correct phone number and exact description and value of each item being sent.
Duties are assessed on a Cost-Insurance-Freight (CIF) basis. The main mode of customs value assessment is the transaction value method. Other methods under the WTO appraisement hierarchy may be used if there are doubts about Korean Customs valuation methods on the stated value.
A Value Added Tax rate of 10 percent is applied on imports based on customs value plus duties.
---
International Shipments to Korea valued under $150 USD
The "Deminimis Value" in South Korea – or the value of shipments that can enter the country free of duty and tax – is $150 USD. However, Korean customs is very strict in screening such shipments. International shipments sent to Korea must have an accurate consignee address (including telephone number and email) and concise description of the item being imported.
International Shipments to Korea between $150 USD and $2,000 USD
Informal Entry Import to Korea
Shipments valued from US$100.00 to US$2,000.00 including cost, declared value, and freight (CIF) are granted express clearance. However, shipments of restricted commodities and shipments with insufficient descriptions or other discrepancies are often delayed and require an explanation letter prior to clearance.
International Shipments to Korea valued over $2,000 USD
Formal Entry. To expedite Customs clearance, shipments valued greater than US$2,000.00 require an explanation letter from the consignee explaining the purpose of the import as well as the content of the shipment. This procedure is applicable to all courier companies importing shipments to Korea.
---
South Korea Duty rates for items shipped from Canada
Items that do not qualify for duty free Canada origin are subject to duty rates that averages between 6% (for jewelry) and 13% for fashion items.
Restrictions on international shipments sent to South Korea from Canada
It is important to check with the consignee to ensure they have the necessary licensing before sending your international shipment to South Korea. An example of restricted items include:
Cell phones
Empty bottles (limit of 2)
Most Food Items
Medicines
Tapes (Audio, Video etc): Consignee must provide a description of contents
Vitamins
---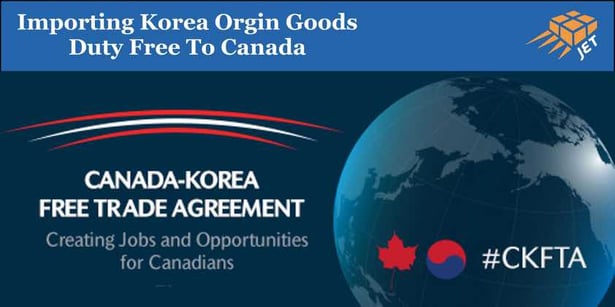 Duty Free for Canadian Origin Goods from Korea
Most Favoured Nation (MFN) tariff rates are generally applicable for good traded between South Korea and Canada. Goods that meet the Canada-Korea Free Trade Agreement(CKFTA) rules of origin can benefit from preferential duty free import. The MFN tariff rates of Canada and Korea apply to goods that do not meet the rules of origin (non-originating goods) under CKFTA.
To qualify for preferential treatment of Canadian origin goods, the shipment must be accompanied by supporting paperwork that includes a certificate origin. A CKFTA certificate of origin must be prepared by the exporter and be presented upon import in South Korea.
The necessary information for a CKFTA certificate of origin include:
Name, address and contact details of Canadian Exporter
Name, address and contact details of Canadian Producer
Name, address and contact details of Korean Importer
Full description of goods (including H.S. Code and country of origin)
The declarative statement - with an authorized signature - should include the following elements:
The information in this document is true and accurate and I assume the responsibility for proving such representations. I understand that I am liable for any false statements or material omissions made on or in connection with this document.
I agree to maintain, and present upon request, documentation necessary to support this Certificate, and to inform, in writing, all persons to whom the Certificate was given of any changes that would affect the accuracy or validity of this Certificate.
The goods originate in the territory of one or both of the Parties and comply with the origin requirements specified for those goods in the Canada – Korea Free Trade Agreement.
This Certificate consists of # pages, including all attachments.
---
Shipping Options from South Korea to Canada.
Common carrier Shipping options from South Korea to Canada include Korean Post (regular parcel post options and Express Mail Service/ EMS), Jet DHL and North America's mega carriers FedEx and UPS.
FedEx and UPS air options for shipping Canada from South Korea include:
International Air express priority to Canada
International economy air from South Korea
---
Clearance of consignments from Korea to Canada
Consignments imported from South Korea to Canada are subject to duty and taxes. Most imports valued under CAD 20 can be cleared duty-free and tax-free. Shipments under CAD 3 300 can be imported under Courier Low-Value Shipment (CLVS) processes.
Consignments containing Korean origin goods may benefit from preferential duty free entry under the CKFTA free trade agreement (as discussed in other sections of this blog).
Up to CAD 20 and under: duty- and tax-free
Duty and taxes apply when importing goods valued over CAD 20.
Contact Jet's logistics team to get an estimate of import fees (for parcels shipped via our service).
---
Common Canadian Import Fees for Shipments from South Korea
Common import fees for consignments shipped via air to Canada from Korea can include duty, taxes and entry preparation fees.
---
Simplified Origin Statement for Shipping Canada from South Korea
The value for duty amount for all of Canada's free trade agreements (including from Korea under CKFTA) for which the proof of origin / certificate of origin is waived was changed to $3,300 CAD in July 2020. This change was made to harmonize the regulations with the new NAFTA/ CUSMA.
For imports not exceeding $3,300 to Canada, the requirement for proof of origin is waived. The requirement on the importer to maintain records (for example, commercial invoice and B3) applies even if the CBSA does not require a certification of origin or if a requirement for a certification of origin has been waived.
---

Getting a quote for shipping between South Korea and Canada.
Jet Worldwide gives access to all companies seeking shipping quotes between South Korea (and the APAC region) and Canada for parcels pallets, and online orders. Contact our team: For a quote for shipping online orders, provide details including shipping volume, item(s) being shipped, average value and weight of each parcel. The more details the better :).
JetWorldwide.com/contact