So where can you find the cheapest international shipping from the Canada to other countries? You can use our free shipping rate request for actual rates from top international couriers as a tool. Read below to learn to pick the cheapest international shipping company every time, plus insights on getting the best rates.
Which Shipping Services Are Available in the Canada?
Are you looking for the best way to ship your packages internationally? Well, look no further! We've compiled this guide with affordable shipping options for international packages that may offer a better value. With demand for worldwide shipping on the rise, it's important to compare deals and pick the best strategy to keep costs low. Whether you're trying to grow your business or simply keep costs down, these discounted economy options are worth a second look.
The choices you have will depend on the destination as well as the size and weight of the package and choosing the right shipping services is about balancing cost and speed of delivery to suit your specific needs.
---

---
International shipping services allow the flexibility you need. Benefit from packages delivered as fast as possible or as economically as possible. Select international carriers available for any particular country.
What's the Cheapest Way to Ship International Packages?
For individuals sending small packages and personal goods, the cheapest international shipping is via Canada Post. International shipping from Canada breaks down into two categories. Shipping to the USA is most common. International shipping to non-USA destinations is where many companies are looking to expand.
Best Shipping Options for International Shipping to USA
Canada Post is the best shipping option for individuals shipping small packages and personal items to the USA.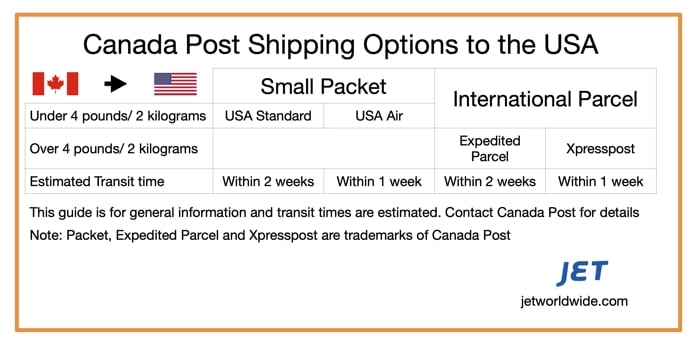 Best FedEx, UPS Shipping Options to the USA
FedEx and UPS options to the USA include air express, economy air and ground. Ground is best for larger packages especially if they are valued under US$800.
Best Shipping International Shipping Options
Shipping beyond North America
FedEx, UPS and Canada Pos also provide international shipping outside of North America. In addition, DHL is also a good option. There are also freight forwarders and parcel specialists (such as Jetship!).
Which is the Best International Delivery Option for non-Urgent,
Small Packages from Canada. UPS vs. FedEx vs. DHL vs. Canada Post
For lightweight, smaller items Canada Post's International Packet Service is usually the best option. You can send most shipments up to four pounds via surface or air. The rates for air and with tracking are much less competitive.
Canada post refers to their International – Surface options as their "most economical no-frills service for non-time-sensitive parcels." No frills is a bit of an under statement. It means months long transit time and no tracking. But, hey, it is cheap!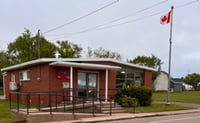 Canada Post Small Packet Service:
Liability coverage up to $100 (Terms and conditions apply).
Duty and taxes will be collected from the receiver of your goods
Parcels are returned to you if undeliverable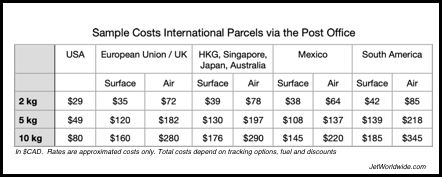 If your packages are heavier than four pounds or you want the package to arrive faster, you can ship with Xpresspost International, with a typical transit time of within 1-3 weeks.
* Note: Shipments sent via Canada must be shipped delivery duty unpaid. Read more about shipping terms and delivery duty paid.
What is the difference between Xpresspost and Priority Canada Post?
Xpresspost is a postal product imported and delivered via the local post. For example, a shipment sent via Xpresspost to the UK will be delivered via Royal Mail. Priority service via Canada post is delivered via commercial carriers such as FedEx.
XpresspostTM – International is available to around 30 countries
Other destinations are shipped via International Parcel – Air service
Priority is a service via commercial carriers and to delivered via the post office in the destination country.

Shipping Air versus Ocean from and to Canada
The best international shipping option can be via ocean freight. But ocean options are only cost effective for palletized freight. For packages under 30 kilograms, Canada post surface options often offer the lowest costs. Useful information: Things to know about Ocean Shipping To and From Canada.
FedEx and UPS Canada
FedEx and UPS are the largest carriers across North America. The deliver to over 190 countries from Canada. The transit time is typically 2-5 business days, and customers can make specific requests such as where around their property to drop off the package.
Both carriers offers a lower cost economy air options. UPS Worldwide Expedited is an example. The economy options are essentially the same as express but with an additional couple of days transit time.
DHL Canada
DHL Express Worldwide is a global carrier. The company is much smaller in Canada and USA than FedEx and UPS. DHL is a great option for international delivery from Canada. If your shipment is time-sensitive, select the express services for each carrier.
Shipping Heavier Freight, Pallets and Containers from Canada
When your shipment large enough to fill a pallet or more, other options become available. Bulk shipping options include partial and full truck loads across North America. For overseas shipping, larger shipments can be shipped via ocean. As a general rule, at least one pallet is needed for these options. The larger the shipment, the more economical surface options become. Contact our team to find the best solution for your international shipment.
International Zone Jumping
To grow the scale of your international orders, it is best to consider building direct shipping. Cross border to the USA is just one option.
By targeting major regions, such as the UK and European Union, companies can build a virtual presence from Canada. Low capital costs to get started with last mile delivery costs that with dramatically better service. Contact our team for a consultation.
Which is the Best Delivery Option for International Packages That Will Arrive ASAP.
UPS vs. FedEx vs. DHL vs. Canada Post.
Commercial carriers support delivery within the shortest time frame globally. To the USA, FedEx is often the fastest option. While Canada Post has faster options, they are not the best for urgent shipping.
The pricing will be dependent on the package dimensions, weight, destination, and time of day it can be picked up or dropped off with the carrier. For these shipping services, you'll want to reach out to your carrier directly to get a quote. Alternatively, you can request a spot quote by filling out the form below.
For more tips and tricks for going global, check out our e-commerce shipping strategies guide.
Shipping Things to Consider after choosing your international carrier
Choosing the best carrier to deliver you package is just one of many things to consider. Other things to know about international shipping from Canada include:

Verifying the correct declared value

Understanding a customs invoice

Useful information how is duty calculated
How to determine the correct HS Code

Taking advantage of Canada's free trade agreements
---
Which Other International Shipping Services Are Available in the Canada?
When shipping internationally from the Canada, there are four principal options: FedEx, UPS, DHL and Canada Post. If you wish to build international volumes, you should look to build direct shipping solutions.
Canada Post is the answer to the question of which international shipping carrier is the cheapest. Especially of occasional shippers, small packages and sending personal items.
UPS, DHL and FedEx provides the fastest shipping times.
Forwarders and parcel brokers offer discount access to global carriers. Often with additional logistics support. Contact our team for information.
Group of your orders and send direct. This works both with direct shipping to the USA, UK and European Union.
---
The cheapest worldwide shipping for e-commerce
Monitoring and managing international shipping options may be critical for the success of your online store, but when it is done manually, it consumes much time. Fortunately, there are automated e-commerce international shipping solutions that relieve you from these routines and allow you to focus on strategic decisions. Shipping software checks for the best rates, services, and options for every order. It helps you make both domestic and international shipping transparent and easy to manage.
Canada Post is usually best for small packages, occasional shippers and personal goods.
Except for Canada Post surface options, shipping packages via ocean is not cost effective. Ocean freight is generally cost effective for palletized freight.
FedEx, UPS and DHL are well known options. They provide ground to the USA as well as international express.
Higher volume shippers can consolidate and ship direct via USPS, DPD Europe, etc.
Jet Worldwide provides global package shipping options. Our services include discount access to global carriers, cross border solutions and best in class customer support.
What does it cost to ship non-US International packages from Canada
Shipping international packages other than to the USA costs much more. The USA versus international cost difference is due the longer distance, lower overall volume and having to ship via air.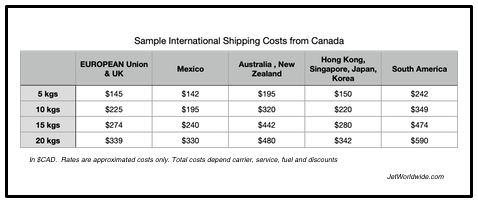 How long does international shipping take from Canada?
This entirely depends on the shipping services you choose. The cheapest international shipping options can take up to several weeks. International shipments using faster courier options can be as fast as 4 business days worldwide.
Average transit time for express shipping from Canada. To major cities and excluding extended customs clearance:
USA: 1 business day
Europe: 2 -3 business days
Asia: 2-4 business days
South America: 2-4 business days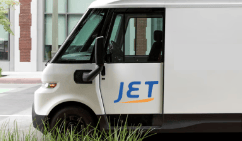 How Jetship Helps with International Shipping?
Jet Worldwide provides shipping costs to compare for your customers. Spend the time to find the right option for your customers, let them choose. Not only that, but with automated label printing and even alerting the carrier of the parcel. Streamline your fulfilment management by shipping direct and getting local in country support.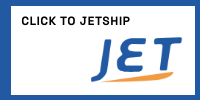 RATE AND INFORMATION REQUEST