Small and medium-sized Canadian businesses are increasingly looking for cheap international shipping solutions. Businesses leverage online ordering technology to access global customers. However, finding the right solution depends on getting the maximum discounted shipping rates. Large Canadian retailers who have significant discounts need lower unit costs to expand their international sales.
With over 40 years of experience, you can rely on Jet Worldwide for transparent information to best serve your international import and export shipping needs. Jet Worldwide, connects people, parcels and businesses around the globe. We utilize a mix global carriers, regional couriers, and best in class logistics expertise.

Complete Shipping Guide from Canada
Disclaimer: The information in all Jet Worldwide online content, including this post, is for general information only.The content on this posting is provided "as is"; no representations are made that the content is error-free.
---
What is the cheapest way to send an international package from Canada?
The cheapest option for shipping an international package from Canada is via Canada Post surface options. Canada post is usually the best option for individuals shipping small packages and personal items.
Can I Get an International Discount with FedEx, UPS or DHL?
FedEx, UPS and DHL offer discounts directly based primarily on shipping volume. The more you ship, the better the discount. Often, partners of these carriers can provide significant discounts as well.
How Can I Get a Discount with FedEx, UPS or DHL?
FedEx, UPS and DHL offer discounts directly based primarily on shipping volume. The more you ship, the better the discount. Often, partners of these carriers can provide significant discounts as well. Get international shipping rates and logistics support.
How can I Lower my International Package Shipping costs?
Beyond negotiating with different carriers, the most effective way to lower package shipping costs is to via direct airfreight. The challenge is having enough volume to consolidate. Shipping direct airfreight to major markets, including Japan, Europe and the UK for example, requires sellers minimum volumes. Shippers have to absorb the fixed costs early on but the lower unit costs enable sales to scale.
READ ABOUT SHIPPING DIRECT FROM YUL, YYZ, YVR
---
Best Choice for Individuals Sending International Parcels
For individuals and small businesses that occasionally ship internationally, the best option is usually Canada Post.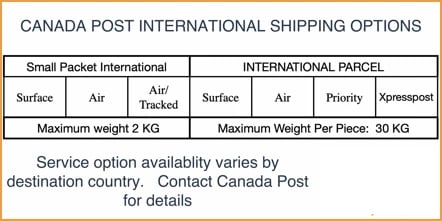 Canada post is best for lighter weight shipments that are not time sensitive. Their "international packet" option works well for shipments up to 4 pounds/ 2 kilograms. Their international surface options offer the absolute cheapest way to ship. Beware, however, that parcel post surface shipments can take several months for delivery.
If you're looking for the absolute cheapest way to send an international parcel, look into International Parcel Surface options from Canada Post.
The new best option for shipping large volume e-commerce online orders is shipping direct. Jet's team can help you set up direct shipping processes.
The cost-effectiveness of mail International parcel options diminishes as the weights get higher. If the weight of the package is over around 20 pounds, the cheaper option can be via commercial carrier.
---
Best International Commercial Carriers from Canada
The basic choices for shipping internationally from Canada are well known brands. The leading carriers include FedEx, UPS, DHL and Purolator. Purolator resells the services of other carriers such as UPS.
The basic shipping rates between commercial carriers are similar. The cost of shipping is determined by the size and weight of your package, destination and level of discount.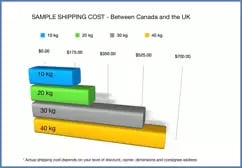 Getting 50% off from Commercial carriers: A starting point!
Generally speaking, a 50% discount with commercial carriers is the starting point. Shippers can try to get a discount with the carriers direct or via one of their partners. Get a comparison international shipping rate from Canada.
---
Shipping International but not the USA from Canada
The natural starting point for international shipping from Canada is the USA. The key options to and from the USA are well known. They include Canada Post, USPS via cross border direct shipping, FedEx and UPS Ground, and FedEx and UPS air. Read more about Section 321 and shipping to the USA.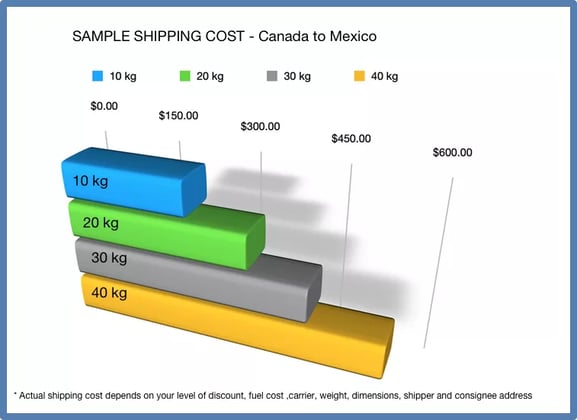 Shipping international e-commerce orders direct
The best option for e-commerce orders fulfilled in Canada is to send direct airfreight. Major markets -beyond the USA - direct from Canada include Japan, the UK, France, Germany and China. This is in addition to regional shipping, for example, to the European Union, Caribbean, South America, and Africa.
The major obstacle to shipping direct is having sufficient volume. On the flip side, the major opportunity of shipping direct is the ability to scale your international volume. Having the cheapest last mile delivery cost with advanced import processes allows companies to expand exponentially. Contact our team for information on shipping direct to the UK, European Union, Caribbean, South America, Australia and beyond. Contact Jet to build your direct shipping solutions from Canada.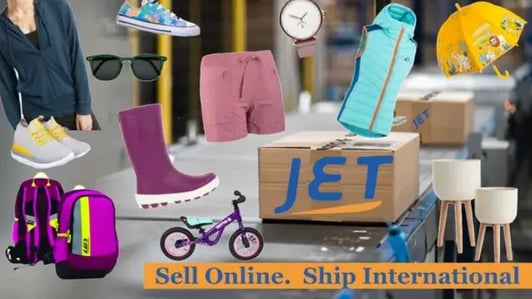 Taking advantage of Canada's free trade agreements.
If the country of origin or where items were manufactured is Canada, then you can take advantage of duty-free import to many destinations. By including a certification of origin, Canadian businesses can benefit from duty-free import to the UK, European Union, Japan, Singapore, New Zealand, Australia, and many more. Read more about Canada's free trade agreements.
---
Build direct import processes for Canada Export Online Orders
All exports from Canada are subject to duties, taxes and related import fees. To increase your sales, it is important to communicate the costs to your customer.
The import costs can be minimized by understanding low value thresholds (read more about valuation), and product classification (read more about HS codes). Remember, your goods may qualify for preferential duty-free import under a free trade agreement.
Be aware of Canada's export requirement.
A Canadian export declaration is required for all export with a value above CAD 2,000 or otherwise regulated. Read more about the Canadian export declaration requirement.
---

Get Logistics Support from Our Team
©JetWorldwide.com