The United States and French commercial alliance dates back centuries with commonality on most trade issues. France is the world's fifth largest economy and a leading trade partner with the United States. Leading exports from the US to France include aerospace, IT infrastructure, advanced instrumentation including medical supplies and broadcasting equipment.
US companies are seeking low cost shipping solutions to France and the European Union to fulfill international e-commerce online orders.
In this blog, we review:
Carrier delivery options for shipping France from the US
Shipping terms to Consider
Customs clearance considerations for importing to France from the US
Shipping personal effects from the US to France
EU warehousing and distribution
COMMON CANADIAN CARRIER OPTIONS
SHIPPING INTERNATIONAL USA to FRANCE
Shipping to France via USPS
For the cheapest delivery option to France for individuals shipping small parcels is via the US Postal Service USPS. The USPS has a variety of small package services that can be accessed online or by visiting a local post office with your actual parcel.
Shipments sent via USPS to France are imported and delivered by La Poste.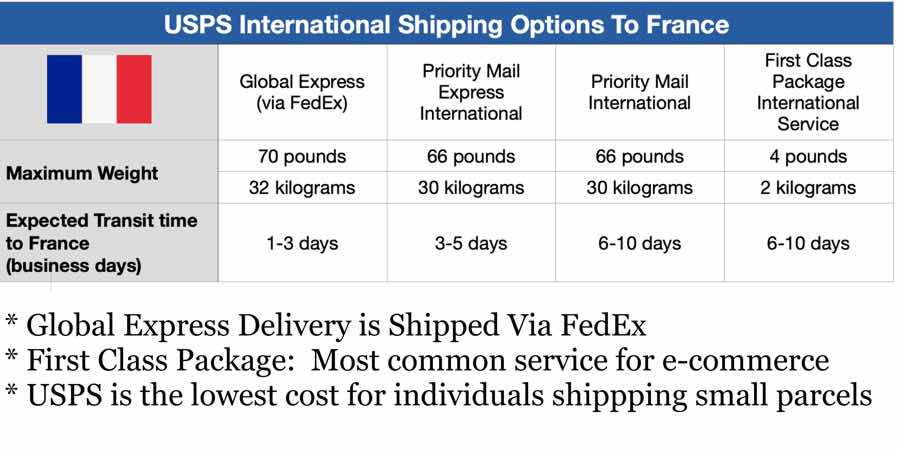 USPS Parcel Shipping Options to France:
Among the most common USPS shipping options to France is the First Class International Package Service. This "small packet" service is available for shipments under 4 pounds (and valued less than US$400).
USPS options less attractive for heavier shipments and / or when a higher level of service is required. Get a comparison quote for shipping to France.
Shipping to France from the USA via Chronopost
Chronopost- a subsidiary of La Poste- is a leading carrier in France and offers shipping FROM France to the US via partners (such as FedEx) but not vice versa. Chronpost does not have offices in the USA.
Jet Worldwide helps American and French companies develop parcel shipping and import solutions for shipping between the US, France and Canada. Contact our logistics professionals.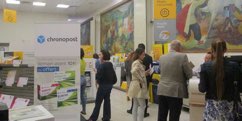 Shipping To France via FedEx or UPS
FedEx and UPS are the largest carriers in the USA and, along with DHL, offer shipping options from the US to France.
FedEx and UPS offer two main shipping options to France
International Air Express to France: 2-3 day delivery
International Air Economy shipping to France: 3-5 day delivery
Jet Worldwide Shipping options to France from the USA
Jet Worldwide offers low cost parcel shipping for heavy shipments to France the US and North America.
Jet's team provides logistics support for EU distribution from our Paris hub and shipping direct from Canada to France. About Jet Worldwide.
Shipping Terms to Consider When Shipping to France
The default option for shipping internationally from the United States is delivery duty unpaid. Common carriers use the term EXW which essentially assigns all import related costs (duty, taxes, and other fees) to the receiver/ importer. Shippers from US can choose to pay the import fees on behalf of the receiver via a Delivery Duty Paid (DDP) options that many carriers offer. See our blog on Incoterms and shipping terms for packages and online orders.
The disadvantage of paying import fees on behalf of the receiver is that the bulk of the import fees are often from France's 20% value added tax that the importing business may otherwise be able to claim back.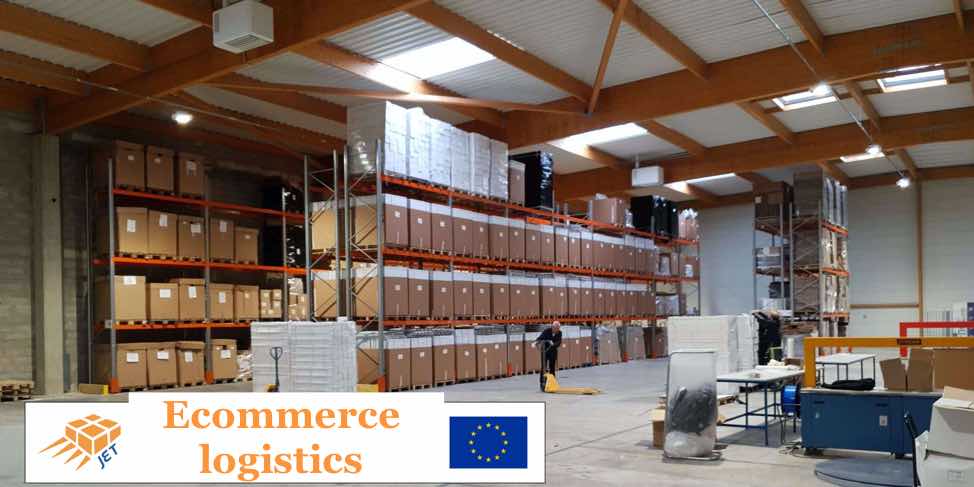 EU warehousing distributions: European Logistics Support
Jet Worldwide offers warehousing and delivery solutions to France using our Paris facilities. We help companies send bulk shipments to distribution facilities for warehousing and on demand distribution. Contact our team for EU warehousing and distribution solutions
Following transit clearance, a bulk shipment can be for warehoused by Jet and delivery throughout France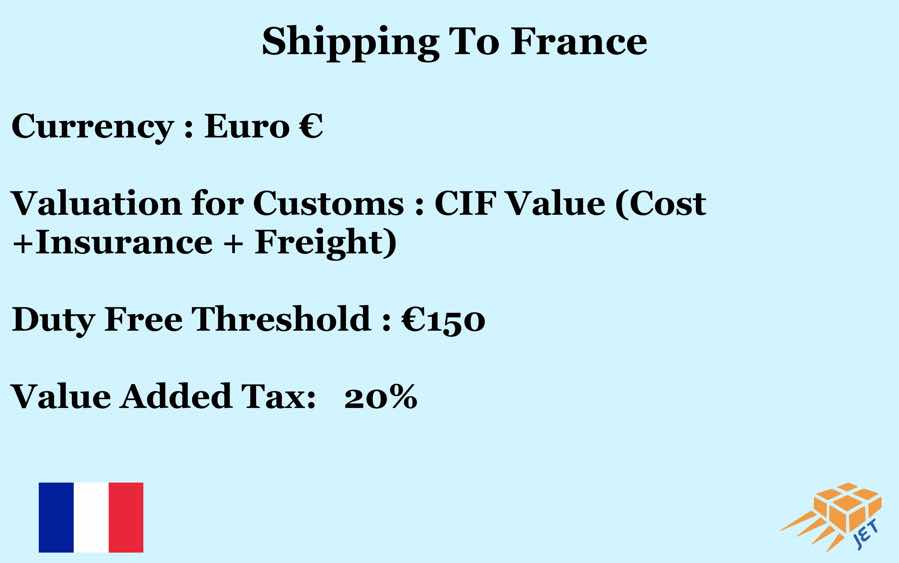 Customs clearance: importing to France from the USA
All goods shipped to France from the USA are subject to customs clearance and need an invoice for customs. For most goods valued under €150 can be imported duty free but are subject to value added tax/ VAT (20%). French customs considers the CIF value as the amount subject to duty. The CIF value includes the cost of the item plus shipping and insurance cost.
The import fees for packages shipped to France can include:
Value Added Tax of 20% (based CIF Value plus duty)
Carrier disbursement / Admin fee: Usually around 2.5% (with a minimum fee) of the amount paid in duty and taxes on behalf of the receiver prior to delivery.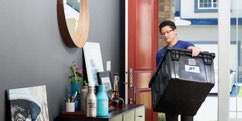 Shipping Personal effects France from the USA
Personal effects to France are eligible for clearance free of duty and taxes. The requirements of personal effects include:
French customs requires a full detailed invoice with itemized values
Paperwork must clearly mention 'Used Personal Effects'
Customs inspection made upon arrival and consignee will be contacted
Items must be used and for personal use only
Shipping of excess baggage to France: Generally, it is simpler and easier to ship your personal effects as excess baggage when you travel. Carrier excess baggage fees for a couple of bags is most often less expensive than shipping separately without having to manage the entry requirements (discussed above).
Shipping a box or several boxes: Jet Worldwide provides solutions shipping of international personal effects to France from the US via economy air. Get a shipping quote France from USA via Jet.
Shipping a household/ container level: For shipping a full household, it is best to contact a moving specialists to arrange for packing and ocean transport.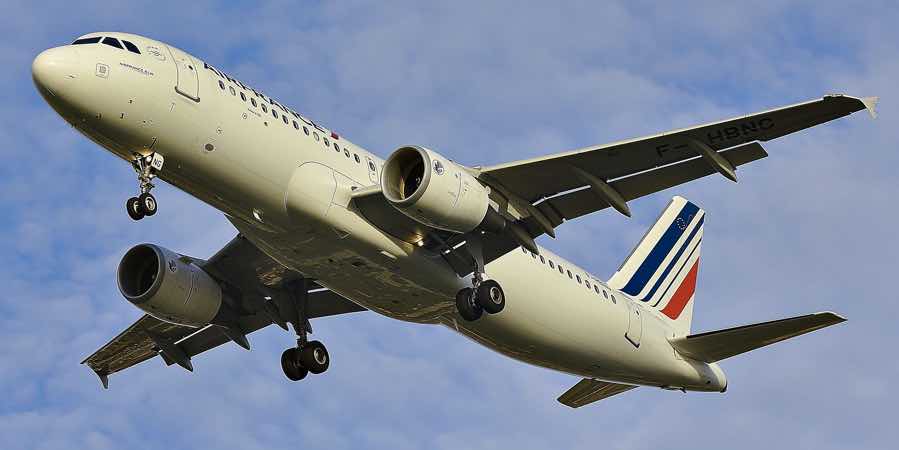 Jet Worldwide parcel shipping and delivery to Paris, Lyon, Marseilles and all of France from Canada:
Economy parcel shipping and Delivery to France: 3-5 day transit
Special Services:

Local warehousing and distribution in Paris, New York, Montreal
Disclaimer: The information in this blog is for general information only. Producers, shippers, exporters, importers should confirm their processes with their customs brokers, carriers and regulating authorities.