A common question from shippers in the USA is whether they have to pay duties for items shipping to Canada. We get this question more often as e-commerce sellers in the USA seek to ship orders to their Canadian customers. Below we have answers to the commonly asked questions regarding import fees to Canada for shipments from the USA.

Disclaimer: The information in all Jet Worldwide online content, including this post, is for general information only and is not intended to, constitute legal and/or tax advice. All liability with respect to actions taken or not taken based on the contents of this site are hereby expressly disclaimed. The content on this posting is provided "as is"; no representations are made that the content is error-free.
---
Understanding Import Fees to Canada:Beyond Duty
It is important to understand that duty payments are just on part of the import fees to Canada. Total import fees to Canada can include:
duty,
plus provincial and/or federal sales tax,
plus an entry fee (for ground shipments),
plus a carrier "disbursement" or administrative charge
These fees are explained in more detail in one of our blogs (see link below).
---

Why is duty charged when USA and Canada have a free trade agreement?
All shipments between the USA and Canada are subject to duty under what is referred to as the "most favoured nation" or MFN rate. Only goods that qualify as originating from the USA under rules of origin of the USMCA/ CUSMA free trade agreement can qualify for preferential duty free import. See next section.
---

Why are items shipped from the USA not considered USA origin?
The "rules of origin" under USMCA/ CUSMA free trade agreement apply to goods that are manufactured, grown (agriculture), or raised (beef, chicken, pork etc) in the USA. Most of the e-commerce shipments from the USA to Canada were made elsewhere (usually Asia/ China) and thus do qualify for preferential duty free import under USMCA/CUSMA country of origin rules.
Common Example: An item that was made in China and sold from a USA online site to a Canadian buyer. The item is not eligible for preferential duty free import under USMCA/ CUSMA rules of origin and can only be imported duty free if valued under CA $150 (see next section).
---
Can my low value shipment be imported duty free to Canada from USA?
Thanks to USMCA/CUSMA rules, goods valued up to CA $150 (around US $120) can qualify for duty free import. But, if valued over CA$40, federal and provincial taxes will still be applied.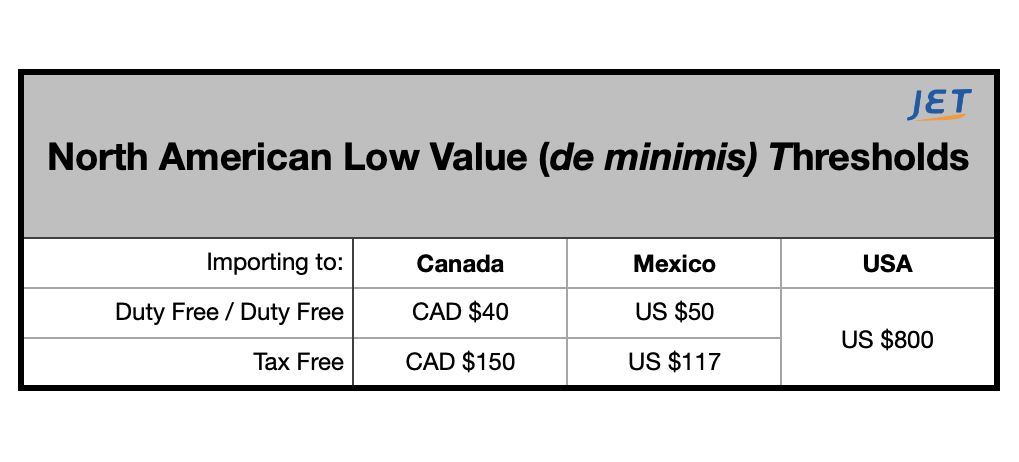 ---
Why Are Import Fees so High to Canada even for Duty Free Import
Duty is just one part of total import fees. Goods shipped via FedEx or UPS ground are subject to "entry preparation fees." These fees do not apply for most shipments sent via air /priority express. A big factor for relatively high import fees for e-commerce parcels to Canada is the carrier disbursement fee (see next section).
---
Carrier Disbursement Fees
The common carriers to Canada from the USA - namely FedEx and UPS - have to pay Canadian customs import fees at the time of import. For the cost of having to pay and then re-charge the consignee, the carriers assess a charge based on the amount they had to advance. Carriers usually charge between 2.5% and 3% of the duty and taxes paid in advance on behalf of the consignee.
In most cases for online orders, a minimum charge of around CA$15 is assessed. A carrier's minium disbursement fee can have a relatively big impact for e-commerce orders.
---
Why Are Import Fees to Canada Only Sometimes Charged?
The inconsistently of application of import fees is often the result of shipping via USPS (Canada Post) versus a commercial carrier.
Generally speaking, shipments shipped via USPS (and imported via Canada Post) seem less likely to be charged import fees. While the rules of import are the same (shipments imported via Canada Post are actually subject to a lower duty free threshold... see chart above), there still seems to be a clearance advantage for Canada Post versus commercial imports.
While there are no numbers readily available to validate the claim of easier postal clearance to Canada, there is plenty of anecdotal evidence.
---
How can I lower Canadian Import Fees for Items from the USA
There are some strategies to help lower the import fees to Canada that can involve specific items, necessary volumes, and application of HS Codes (read more about HS Codes).
Contact our team for Canadian logistics solutions, a Canadian address for your returns, Canadian warehousing and distribution.Businesses can request a call back for Canadian shipping support.
Other things to consider when shipping to Canada from USA include:
Importer of record: The importer of record includes having to obtain an importer number. If to direct to consumers, the consumer can be the importer of record
Provincial licenses may be required even if selling direct to consumers
Health Canada approvals for related products
Safe Foods for Canadians Act certifications for some food items
Federal and provincial sales taxes (read about Canadian import fees)
Tariff classification for all imports (read more about HS Codes)
Country of Origin must be declared for all imports
Valuation is an important part of the declaration to the CBSA (read more about valuation)
Labeling for goods to Canada may require both French and English
Certification of origin if duty free import requested under CUSMA
---

JetWorldwide.com