There are significant opportunities for Canadian companies in Brazil in sectors including infrastructure, education, technology, AI, oil, gas, aerospace and automotives. Canadian companies rely on low-cost parcel shipping solutions to Brazil in order connect with their Brazilian customers, suppliers and partners.
Shipping from Canada versus importing to Brazil
While the export processes and carrier options to Brazil are straightforward, there are several obstacles to importing parcels to Brazil. Customs clearance procedures in Brazil are fairly complex, even for express parcels sent from Canada. Many goods sent to Brazil, even samples, may require local certifications.
Examples of products needing Brazilian certifications include:
Cosmetics: Some cosmetics may be deemed "pharmaceutical" and may require preliminary certification and licensing before being sent to Brazil.
Toys: Toys will require Brazilian certification prior to shipment to ensure adherence to local safety requirements
Consumer electronics: Many telecommunications and other electronic items require Brazilian certifications.
It is best for Canadian companies to partner with a local Brazilian partner to help manage the importation, sales and distribution across Brazil. See below for information on clearing goods to Brazil.
Jet Worldwide provides economy air shipping to Sao Paulo, Rio de Janeiro and all Brazil from Toronto, Montreal, Ottawa, Vancouver and all Canada.
---

Learn more from Jet's Logistics Experts :
Disclaimer: The information in Jet Worldwide online content, including this post, is for general information only and is not intended to, constitute legal and/or tax advice. All liability with respect to actions taken or not taken based on the contents of this site are hereby expressly disclaimed. The content on this posting is provided "as is"; no representations are made that the content is error-free.
---
Import costs to consider when shipping Brazil from Canada
Duties and taxes in Brazil are very high. It is not uncommon to see the duty, taxes and import fees come in over 70% of the value of the item itself. Even for samples sent to Brazil, the importing party is the one responsible for paying the import fees. Often, parcels to Brazilian consignees are rejected due to the high and unexpected import fees. Additional clearance information is available in the last section of this blog.
To manage Brazilian import fees, Jet Worldwide offers a Delivery Duty Paid service to Brazil from Canada. We also offer Miami pre-clearance processing whereby shipments are cleared in Brazil prior to shipment.
Imported parcels from Canada to Brazil are subject to local sales taxes according to the destination in Brazil. The taxes differ amongst Brazil's 26 states and Federal district (the largest being Sao Paulo with over 40 million people).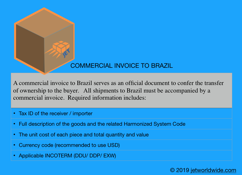 ---
Warehousing in USA for prepaid delivery duty paid Direct Shipping to Brazil
Jet Worldwide has a storage and prepaid shipping solution for American and Canadian suppliers to Brazil. Using our system, goods are pre-cleared and shipped delivery duty paid to Brazil. This solution ensures the consignee is willing to accept your goods - and the accompanying import fees - prior to shipping. Contact our logistics team for details.
---
Carrier Options from Shipping to Brazil from Canada

Shipping packages to Brazil via Canada Post
Canada Post offers low-cost delivery for individuals shipping small packages to Brazil. Packages sent via Canada Post are imported and delivered by the Brazilian Postal Authority, Correios.
While the delivery time and service can be uncertain, Canada Post International Small Packet Surface Service to Brazil offers the lowest cost for individuals shipping small packages.
Canada Post Delivery Services to Brazil Include:
For shipping Brazil from Canada parcel packets
Canada Post Small Packet International Surface, Air , Tracked Packet
Post shipping Brazil from Canada via Parcel Post services
Canada Post International Parcel to Brazil: Surface
Canada Post Xpresspost International to Brazil: Delivery in 2 weeks
---
Shipping gifts to Brazil from Canada via Canada Post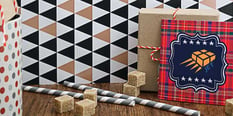 We get a lot of requests from Canadian's wishing to send gifts to Brazil. For shipments sent to an individual or "natural person" (sent from from relatives, friends or acquaintances:
Private shipments sent via Canada Post to Brazil valued under USD 500 will be assessed an import tax of 60%. Canada Post does not offer Delivery Duty Paid (DDP) service.
---
Shipping packages to Brazil via FedEx Canada and UPS Canada
FedEx and UPS are the largest carriers in North America and, along with DHL, offer dependable international express services from Toronto, Vancouver, Calgary, Montreal, Ottawa and all of Canada to Sao Paulo, Rio de Janeiro and to all Brazil.
Fedex and UPS Canada Services to Brazil Include:
International Priority Air to Brazil
International Economy air from Canada
Information required for a spot quote to Brazil
---
Delivery to Brazil via Purolator Courier Canada
Purolator Courier, a subsidiary of Canada Post, offers international parcel delivery from Canada to Brazil via partners, such as UPS and as. third-party logistics provider.
---

Shipping to Brazil via Jet Worldwide
Jet Worldwide has been providing international delivery solutions for over 35 years
Jet Worldwide provides shipping for parcels and pallets to Brazil
Jet Worldwide provides transparent logistics support (including distribution from Miami) and we are not shy to recommend alternatives if they better meet your needs.
See below: Information required for a spot quote to Brazil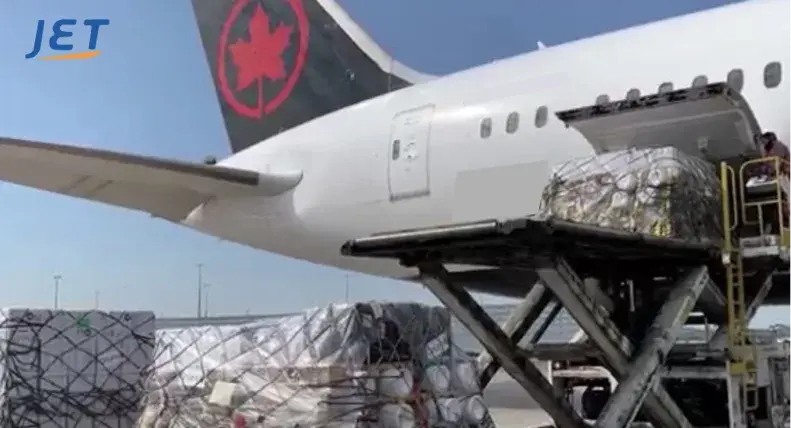 ---

Parcel customs clearance for goods sent from Canada
Canadian shippers to Brazil are often surprised at the high import fees the receiver has to pay. Sending via Jet's Delivery Duty Paid (DDP) service is a common request to Brazil.
The minimum requirements for parcel to Brazil from Canada include:
The receiver's importer code / CNPJ / TAX ID
Waybill, commercial invoice and packing list
HS Code or clear description so one can be assigned
We recommend declaring values in USD (and clearly denoting the currency code)
---
Import duties, taxes and CIF value in Brazil
The customs valuation is based on CIP/CIF value (Cost + Insurance + Freight cost)
Many parcel imports valued below USD 50 are treated duty-free
Clearance for parcels to Brazil valued between USD 50-3 000 and not for resale
Qualifying goods under USD 3 000 can be cleared via informal entry processes
Waybill and commercial invoice must must have the importer's CNPJ/TAX ID
A customs broker on behalf of the receiver is not required
Taxes and Fees in Brazil for Canadian Parcels under USD 3 000
Import duty: can average 60% of the shipment's value
18% value added tax(ICMS)
Formal Entry
Persona effects / Unaccompanied baggage
All goods sent to Brazil for resale or with foreign exchange cover, regardless of declared value
Parcels with a declared CIP/CIF value (see explanation of CIF value above) over USD 3 000 (even if not for resale)
Donations (only for organizations registered with the government)
Materials that require an import license, such as alcoholic beverages and tobacco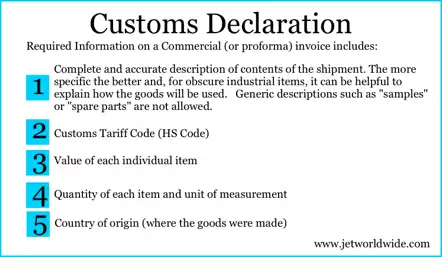 ---
Spot Quote for Shipping Economy Air from Canada to Brazil
Jet Worldwide makes it easy for companies seeking for spot quotes for economy air shipping from Canada to Brazil
The information required for a quote includes:
Your company name and contact details

Ship from Address

Ship To Address

Weight and dimensions of each piece

Item(s) being sent

Value
If you are seeking pricing for regular shipping volumes, helpful details include actual and projected volume of shipments, item(s) commonly shipped, common shipment weight and dimensions, origin of shipments and and common destinations.

---

Read more: About Jet Worldwide
Reminder: The information in this blog is for general information only. Producers, shippers, exporters, importers should confirm their processes with their customs brokers, carriers and regulating authorities.