Shopify is emerging as the leading non-Amazon platform for e-commerce, omni-channel merchants. As Shopify merchants seek to grow their international orders, they need alternative international parcel shipping solutions. Shippers are looking to keep control of their data and develop "self-fulfillment" via innovative processes.
In addition to understanding import processes and fees (contact Jet Worldwide's team) for a consultation), the key obstacle in shipping international Shopify orders remains transit time, visibility and cost.
---
Self-fulfillment versus fulfillment by others
Many Shopify merchants operate in niche markets with a unique set of clients, suppliers and proprietary data. Using their own fulfillment data enables them to deliver to the global marketplace, which can now include shipping directly to major countries.
Jet helps Canadian sellers scale their business to the UK, Europe, Japan, China and all the world's leading economies via targeted marketing and direct shipping.
---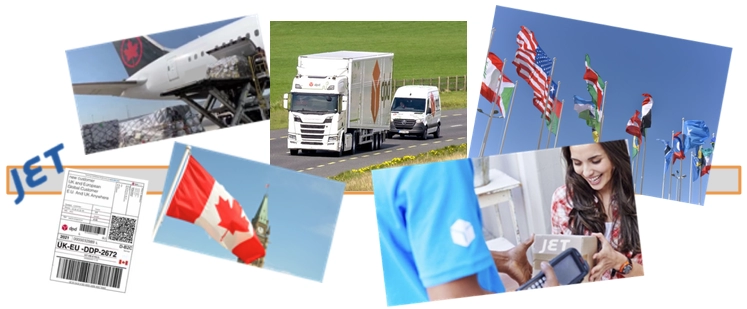 Important Note: The information in Jet Worldwide online content, including this post, is for general information only and is not intended to, constitute legal and/or tax advice. The content on this all Jet Worldwide posts are provided "as is"; no representations are made that the content is error-free.
---

VAT Rules for Shopify Imports to the European Union
Ecommerce shipments to the UK and EU must be shipped with VAT prepaid. Contact Jet's logistics team to set up direct shipping from Canada and USA. E-commerce shipments valued under EUR 150 can be imported via One-Stop Shop (IOSS) processes that allow sellers and online marketplaces to charge VAT at the point of sale and remit it directly to the authorities.
For details on IOSS and the otherEU's VAT rules, visit: Publications Office of the European Union.
---
International transit time and cost for Shopify orders
The leading method of international shipping for Shopify merchants is local post.

From North America, Canada Post and the United States Postal Service (USPS) are able to offer packet services for shipments under 2 kg or 4 lbs. Low-cost small parcel rates are made possible via traditional Universal Postal Union (UPU) pricing.
Jet Worldwide is provides innovative best in class parcel shipping solutions for e-commerce sellers to ship internationally from Canada and the US.
---
Transit time vs cost
While international parcel post options will continue to dominate beyond 2021, the increase in volume has caused extreme service disruptions, increased customs scrutiny and higher prices. The price increases are due primarily to new UPU pricing rules that give greater authority to postal authorities to raise pricing.
---
FedEx and UPS
FedEx and UPS are North America's largest carriers and, along with DHL, are keen to offer discounted rates to Shopify shippers. However, meaningful discounts can be difficult for all but mega shippers and the processes for all shippers can be inflexible. Furthermore, the carrier surcharges often have a significant impact on the per order shipping costs.
---

The growth of international parcel volumes have allowed new direct shipping processes to the world's major economies. All countries are developing import processes that are generally more focused on payment of value added tax for low shipments previously exempted.
Jet Worldwide offers direct international shipping options to all major and niche markets.
---
Jet Worldwide
Jet Worldwide: A trusted brand offering international shipping for over 35 years!
Jet Worldwide offers options for international shipping between to and from North America for parcels, pallets, and online orders
Jet Worldwide offers transparency and logistics support. We are not shy to recommend alternative options that are better suited for your needs.
---
The European Union is among the world's largest free-trading blocs. The challenge for shippers to European Union is finding a central point of import for free movement within the entire EU and managing the processing of VAT (now applicable to all shipments). Contact Jet's team for pre-labeled shipping solutions to the European Union.
Online orders to European Union: Duty Free but With VAT
Contact Jet's team to stay informed on our new shipping options to the UK and EU. Having a fully tracking low cost shipping option to the EU and UK is more important than ever to offset the application of VAT and other costs.
---
Shipping orders direct to the United Kingdom will remain but the UK's role as a hub for the EU has been replaced by new EU parcel import hubs. E-commerce requires the ability to pre-label from origin and utilizing a single point of import that manages the prepayment of import fees.
Read about VAT pre-payment for online order to the UK.
Sellers exporting from Canada to the UK should note that e-commerce platforms - such as Shopify, eBay and Bigcommerce - are responsible for collecting VAT directly from Canadian sellers. The UK VAT arrangement applies Value Added Tax for all online orders up to £135 from Canada to the UK individuals*.
---
Shipping online orders to Japan
With pre-labeling and efficient parcel import processes, Japan can become a key export market from Canada and American online merchants. Japan's economy is connected to the global online community made more accessible via Japanese import processes.
---
Australia and New Zealand economies have always relied on international trade and their consumers depend on the global online marketplace. The successful shipping to Australia and New Zealand often requires consolidation of orders and a central export hub.
---
Shopify, Big Commerce and Internationalizing Sales
Canadian ecommerce cross-border sales are projected to grow much more than domestic ecommerce growth. But, while simply selling across borders can be managed by platform tools provided by Shopify and others, a key tool is having access to low cost international delivery.
Successful international ecommerce means diversifying to innovative delivery networks direct from Canada.
---
Shipping International Online Sales from Canada
When selling to multiple markets, you have to take into account regional variances like shipping, taxes, and duties, making profit margins difficult to determine. Shopify provides the capability to set prices adjustments by country or region.
Via Shopify and other platforms, product prices can be adjusted by percentage or country, or you can set specific prices for your inventory, eliminating reliance on foreign exchange rates. You can also set the exchange rate manually for even greater control over your product pricing. You can even include or exclude taxes upfront based on a customer's region—helping you avoid giving your customers sticker shock.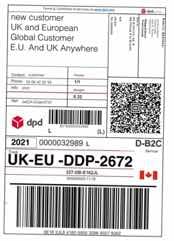 Targeting ecommerce Regions to Sell To:
Regional nuances like shipping, taxes, and duties (which is now more important than ever for sellers to and from the UK, thanks to Brexit's new regulations), you can better cater to each new market.
Presenting Prices in Local Currency and Delivery by Local Carriers
One of the easiest ways to build trust from international visitors is by including payment and local currency and delivery by local carriers. Earning the trust of new international visitors is key.
Multiple languages
Naturally, customers are most comfortable shopping in their own language and Canadian sellers - especially those in Quebec - often already have multiple lingual site. Research shows that over 40% of of Europeans only purchase products and services in their local language.
With Shopify Plus, you can sell in up to 20 languages with a supported third-party language translation app, so it won't be long before you're speaking your customer's language.
International Domains and Localized Delivery for Canadian Sellers
If a customer perceives shipping as being slow, they're more likely to abandon their cart. One indication that shipping might be slow? When they see a domain name based overseas and shipping is via Canada Post or other North American carrier.
Utilizing international domains and shipping direct via local carriers, you can expand your business to global audiences.
Geolocation: Customized Experienced for Global Markets
Personalization is a proven method for building trust and sales. Foreign customers visiting your store will appreciate seeing local currency and delivery options. With Geolocation services, you can make a great first impression by immediately welcoming customers and showing respect for their local language, carriers and presence.
Sellers can install Shopify's free Geolocation app in Shopify Payments. Designed to serve international customers so they can browse and buy faster, this feature offers shoppers language and country recommendations based on their geographic location or browser settings, which can be changed at any time.
Get started with optimizing your store for international customers
Localizing and personalizing your ecommerce site for international visitors is about building trust by removing barriers by making the transactions frictionless. Jet helps sellers ship direct to the European Union, UK, China, Japan and all major international markets.
---

Learn more from Jet's Logistics Experts :
Disclaimer: The information in this blog is for general information only. Producers, shippers, exporters, importers should confirm their processes with their customs brokers, carriers and regulating authorities.