Shipping to Germany from Canada: Affordable Reliable Delivery
The economic ties between Germany and Canada are growing due to online e-commerce and the Canadian European Free Trade Agreement (CETA). Germany's is among Canada's largest trading partners with strong cultural, academic and interpersonal contacts.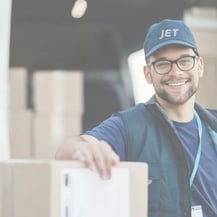 Disclaimer: The information in this blog is for general information only and is not intended to, constitute legal and/or tax advice. All liability with respect to actions taken or not taken based on the contents of this site are hereby expressly disclaimed. The content on this posting is provided "as is"; no representations are made that the content is error-free.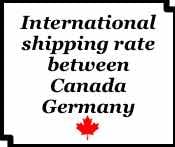 ---
Understanding the Shipping Process from Canada to Germany
Required Documentation and Customs Regulations
Export Declaration:
Goods valued over $2,000 (or otherwise restricted) must be declared prior to export. Read more about the Canadian Export Reporting System (CERS).
Invoice for Customs:
All goods imported to Germany must be accompanied by an invoice for customs. Useful information explaining what is needed on an invoice for customs.
Import Permits and Declarations:
Before shipping to Germany, confirm the consignee has the necessary import permits.

Businesses in Germany must provide an EORI number: An EORI number (Economic Operators Registration and Identification number) is a unique identification number assigned to businesses operating in Germany and other European Union countries. It is used to identify and track customs transactions and ensure that customs duties and taxes are paid correctly.
The EORI number exists out of two parts:
the country code of the issuing Member State; followed by
a code or number that is unique in the Member State
CETA certificate of origin
Goods that qualify under the origin rules of the Canadian European Free Trade Agreement must be accompanied by a certificate of origin. Verify in a certificate of origin is needed when shipping to Germany.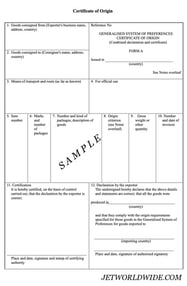 Read More: Country from where goods were shipped versus country of origin
Prohibited and Restricted Items to Germany:
It's important to confirm the restrictions and regulations with German authorities prior to shipping. Goods that are prohibited or restricted from import to Germany include:
Illegal drugs
Counterfeit money and goods
Hazardous waste
Offensive materials (such as hate speech or propaganda promoting violence or discrimination)
Endangered species of plants and animals (CITES protected species)
Weapons and ammunition (unless proper permits are obtained)
Pirated software, movies, and music
Certain chemicals (such as those used in the production of illegal drugs)
Pornography that is illegal under German law
Tobacco products (only allowed in limited quantities for personal use)
Shipping Time and Cost Considerations
Transit Time Estimates
The fastest transit time to Frankfurt, Munich, Berlin and other major cities is 2 business days with most carriers. Economy air can take 3-5 business days. Ocean freight generally takes 1-2 months. Canada Post services generally are delivered within 1-2 weeks.
Shipping Cost Estimates to Germany
The cost of shipping to Germany depends on the size and weight of the shipments. Most carriers have online rate and transit times tools. Get a comparison shipping rate to Germany.
Benefits of Shipping to Germany from Canada
Cost-Effective Shipping Solutions
Competitive Shipping Rates
The cheapest way to ship a package to Germany is usually via Canada Post surface options. The cost for up to 4 pounds/ 2 kilograms averages around $30 to $40.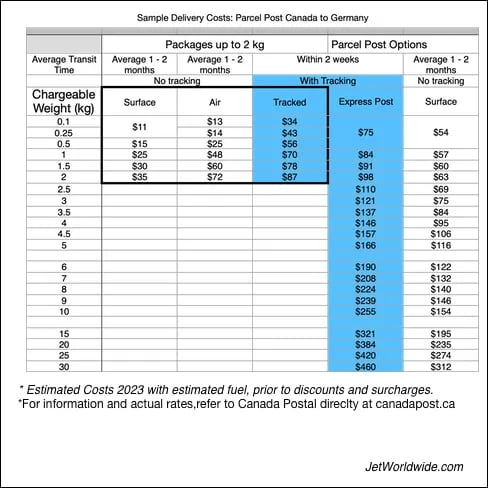 The cost to ship to Germany depends on the package size, weight and destination in Germany. The cost for up to 10 pounds/ 4.5 kilograms can be, for example, less than $190 but depends on the level of discount with your carrier.
Canada's Free Trade Agreements
Canada has free trade agreements with most the world's leading economies, including European Union countries. Verify the benefits of Canada's free trade agreements.
Shipping Volume Discounts and Deals To Germany
Discounts be can obtained directly from the carriers. Often the best deal is using one of the carrier's partners or forwarders.
Canada Post has volume discount for high volume e-commerce volumes. Leading Canadian retailers and platforms can ship directly to Germany for the lowest cost.
Safe and Secure Delivery Services
Insured Shipping Services
Shipping insurance can be obtained directly from the carrier or via third parties. The most important part of insurance is packaging, documentation and packaging (yes, packaging is that important!). Verify your goods are properly insured.
Tracking and Monitoring of Shipments
All commercial carriers offer online tracking. A key benefit of using Jet Worldwide is getting "off line support" via a team member dedicated to the successful delivery of your shipment.
Popular Delivery Options for Shipping to Germany from Canada
Air Freight Shipping
Fast and Convenient for larger shipments. Our team can provide air freight quotes for shipment over 50 kg. to and from Germany.
Sea Freight Shipping
Cost-Effective Shipping Option for large commercial orders and shipping containers.
Express Delivery Services
Shipping to Germany from Canada - Canada Post small packets and express options
Small Packet Delivery to Germany: Surface, Air and "Tracked"
International Parcel to Germany: Surface and "Xpresspost"
---
Shipping to Germany from Canada - FedEx, UPS and DHL
FedEx and UPS Canadian shipping options to Germany include:
Priority Express Delivery to Germany
Economy Express Delivery to Germany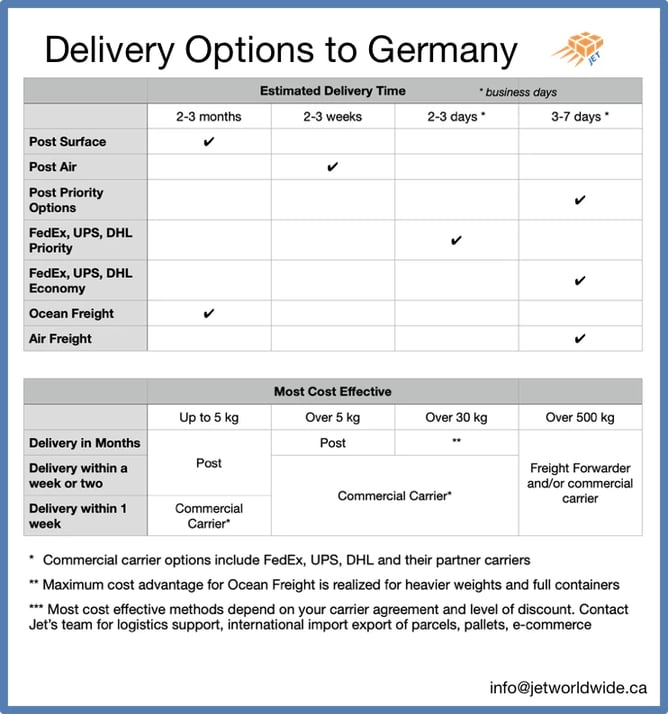 Delivery to Germany from Canada via Jet Worldwide
Jet Worldwide: A trusted brand with best international shipping for over 40 years! Jet is setting an example in Germany via direct access to DPD Group. DPD is the second-largest international delivery network in Europe providing service to both B2B and B2C customers.

How to Choose the Best Shipping Company for Your Needs
Reputation and Experience of the Shipping Company
Reliable and Trustworthy Shipping Partners
All the carriers listed in the post are reliable and trustworthy. They include Kuhn and Nagel (freight), Canada Post, FedEx, DHL, UPS and their partners (such as Jet Worldwide... of course!)
Experienced and Professional Shipping Services
In addition to the major carriers, be aware of some websites that claim "over 50% savings" etc. While many of these sites do offer valid shipping options, most lack true international expertise and support.
Shipping Services and Options Offered for e-commerce
Tailored Shipping Solutions
Jet's tailored solutions include delivery duty paid, e-commerce import and delivery via DPD, storage and logistics support.

Ship rate and Information Request Form