The economic ties between Germany and Canada are growing due to online e-commerce and the Canadian European Free Trade Agreement (CETA). Germany's is among Canada's largest trading partners with strong cultural, academic and interpersonal contacts.
Germany is a fantastic export market from Canada.
In this updated blog, we review:
Common carrier options for shipping Germany from Canada
Customs clearance processes for parcels imported to Germany from Canada
Shipping Personal Effects to Germany
Shipping to Trade Shows in Germany from Canada
CETA duty free treatment to Germany for parcels from Canada
Jet Worldwide's Canadian shipping experts provides information and rates for shipping your Canadian origin parcel for delivery to Germany. For information on German and EU parcel distribution (post Brexit) contact our team.
Jet Worldwide Canada provides low cost parcel shipping from Montreal, Toronto and all of Canada for delivery to Berlin, Munich, Frankfurt and all Germany.
CANADIAN CARRIER OPTIONS TO GERMANY
Shipping to Germany via Canada Post
Packet, Surface and Xpresspost Options
The lowest cost shipping option for small packets from Canada for delivery to Germany is via Canada Post. Delivery via Canada Post to Germany is typically the most cost effective for packets under 2 kg.
Shipments sent via Canada Post are cleared and delivered by Deutsche Post. Parcels must be accompanied by a postal customs declaration (CN22 or CN23).
Canada Post Delivery Options to Germany Include:
Shipping Germany from Canada small parcel packets
Canada Post Small Packet Delivery to Germany: Surface (up to 2 kg)
Canada Post Small Packet Delivery to Germany: Air (up to 2 kg)
Canada Post Tracked Packet Germany: Delivery within 2 weeks
Shipping Germany from Canada parcel post
Canada Post International Parcel to Germany: Surface
Canada Post Xpresspost to Germany: Delivery within 1 week
Get a comparison quote for shipping to Germany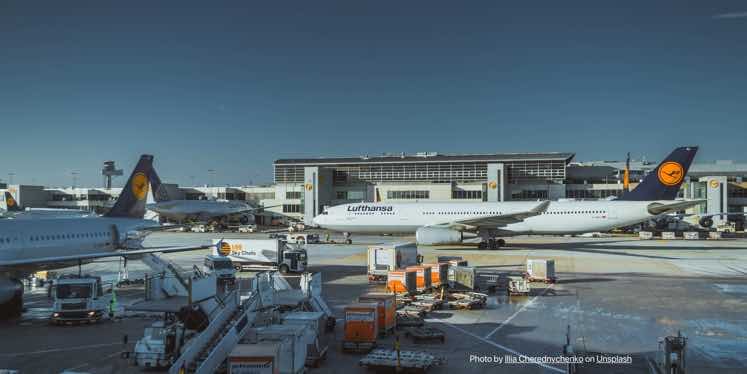 Express Parcel Delivery to Germany via UPS, FedEx Canada:
FedEx and UPS are North America's largest carriers and offer reliable express delivery from Canada to Germany. They, along with DHL, offer express air delivery to Germany.
FedEx and UPS shipping Canada to Germany options include:
Priority Express Delivery to Germany: 2-3 day delivery
Economy Express Delivery to Germany: 3-4 day delivery
Need economy parcel delivery to Germany? Get a shipping Quote to Germany
CANADIAN SHIPPING TO GERMANY VIA JET WORLDWIDE
Jet Worldwide offers shipping to Germany via our Canadian international economy express.
JET offer significant savings versus - especially for small and medium sized businesses - with value added services that include assistance with customs paperwork, time specific pickup, and the possibility of special handling in Germany.
Jet Worldwide has a variety of options including storage and distribution throughout the European Union and direct parcel shipping from Canada to Germany via our partner carriers.
Canadian Shipping to Germany via Purolator Courier
Purolator Courier is a leading domestic carrier in Canada. Purolator provides international parcel delivery to Germany via partner carriers, such as UPS
Delivery to Germany following Brexit
Many Canadian and North American companies are looking for distribution within Germany. Companies can consolidate their shipments for Euro-domestic delivery to Germany and throughout the EU. Jet helps Canadian and American shippers and online merchants find low cost delivery distribution options to Germany and the EU.
Information on Germany Customs Clearance for items sent from Canada
No matter which delivery method to Germany you choose, the information below is helpful to ensure your parcel transits through customs without delay or unexpected costs.
When sending parcels to Germany, it is important to know that German customs is very strict with regard to necessary paperwork. All non-documents shipments must have a declared value and specific product description (in English). German customs also requests that the commercial invoice include the shippers reason for sending the goods.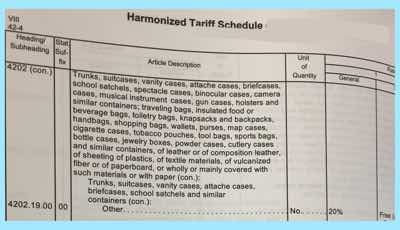 When preparing the customs invoice, it is useful to include a note that the value includes cost, insurance and freight (C.I.F.). German customs bases duty and taxes on the C.I.F. and, if not otherwise noted, can assume that the declared value for customs excludes C.I.F. (and thus assessing higher duty and taxes). For shipments valued at less than 22 Euros (around $30 CD), no duty or VAT is assessed.
A commercial shipment over 22 Euros but less than 150 Euros: VAT is collected
A commercial shipment over 150 Euros: duty and VAT are collected.
Note: Qualifying shipments sent as gifts can be sent duty free if valued under 45 Euros
NOTE: Effective in 2021 parcels valued below 22 euros from Canada to Germany (and all non EU countries) will be assessed value added tax. For parcels valued over 150 euros, the current procedure of assessing. duty, and tax will remain unchanged.
Taxes and Duties for Parcels imported to Germany from Canada
The Value Added Tax / VAT is 19% in Germany. It is calculated on the CIF value (explained above) plus duty. Duty charges can be particularly high for textiles, automotive parts and consumer electronics (such as i-phones!). Some items, such a books, enjoy a lower VAT rate (7%).
Many Canadian goods can be imported to Germany duty free under the Canada European free trade agreement (CETA) duty free. To qualify for duty free entry, goods sent from Canada to Germany must be accompanied by a certificate of origin and other supporting paperwork.
Sending Personal Effects from Canada to Germany
Jet Worldwide can transport your boxed personal goods for clearance and delivery to Germany. For movement of personal goods that involves thousands of pounds and ocean service, we recommend contacting a company specializing in moving households to Germany.
Duty & tax relief not automatic for personal effects and not for everything. Clearance delays to be expected until all necessary documentation provided by consignee. When sending personal effects to Germany from Canada, it is important to take note of the requirements.
The requirements include:
Copies of passport & flight-ticket (plus for expatriates registration confirmation of hometown or city of return),
a list of contents with indication what is old and what is new, i.e. what was purchased abroad.
Invoices for all abroad purchasing which is dutiable and taxable if newer than 12 months in any case.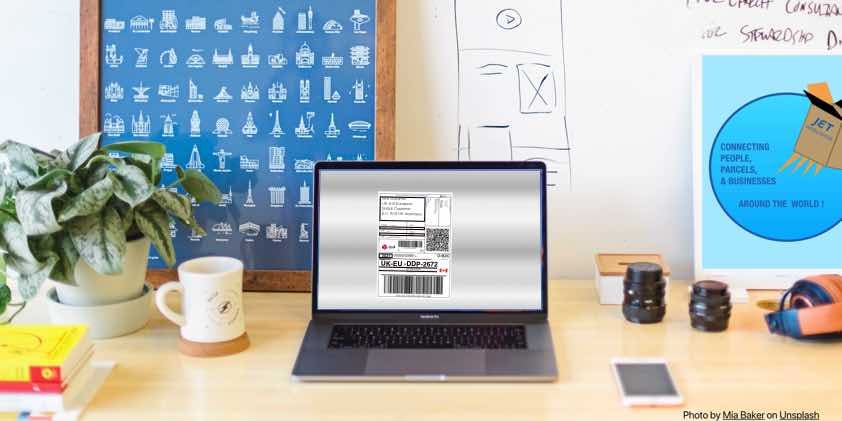 Sending Shopify parcels from Canada to Germany
Germany is Europes largest economy and a major shipping destination for Canadian e-commerce merchants using on-line shopping platforms including Shopify, Big Commerce, Wix and other sites. Canada Post offers discounts via many e-commerce shipping platforms and is the lowest cost choice for small parcels.
Canada Post Small Packet Service offers a low cost to Germany for shipments under 4 pounds / 2 kilograms.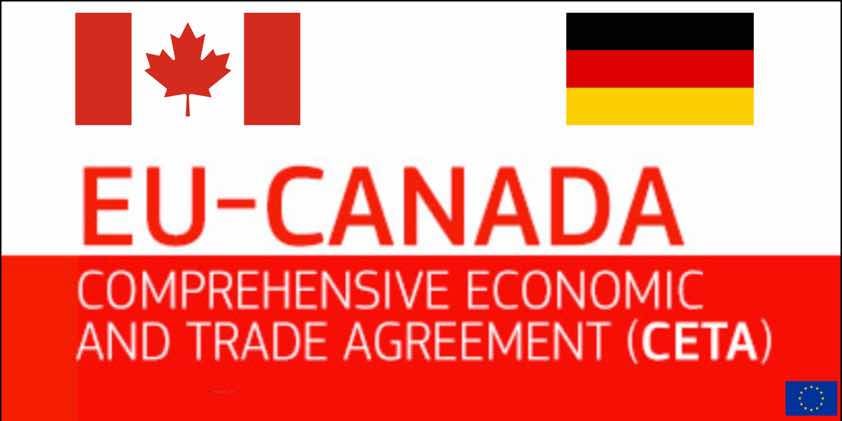 Duty free shipping from Canada to Germany via CETA
More shippers from Canada are benefiting from the Canadian - European free trade agreement (CETA). Qualifying goods with a CETA certificate of origin can be imported to Germany duty free.
Jet Worldwide offers low cost parcel delivery from Canada to Germany for larger parcels shipped from Canadian online e-commerce merchants. Get a shipping estimate to Germany for your heavy or multi-lot / multi parcel international shipment.
Importing shipments from Germany to Montreal, Toronto GTA, Vancouver and all of Canada.
Jet can arrange for a pickup and delivery of your parcels shipped from Germany to Canada. For small items, the lowest cost method is usually via Deutsche Post. As is the case for shipments from Canada to Germany, our services are most useful for heavier parcels or when a higher level of tracking and customer support is needed.
Sending to a Trade Show in Germany?
We get many inquiries regarding the process for sending items for a trade show. Usually, trade show organizers partner with a local brokerage to manage the clearance of your trade show items.
The goods destined for a trade show must be cleared by a German customs broker (an EU registered company with own EORI number).
Often, Delivery Duty Paid (DDP) terms are not available.
Jet can arrange for the transport of your trade show items to Germany and then transfer the paperwork to the assigned German Customs broker.
The consignee in Germany must be a registered Germany company.
Contact our team for a copy of Jet's tariff for air transport to Germany (within 4 days from anywhere in Canada to everywhere in Germany).
Jet Provides cost effective parcel shipping and delivery from Montreal, Toronto GTA and all Canada for packet shipping and parcel delivery to Munich, Frankfurt, Hamburg, and all Germany. http://www.jetworldwide.com/tracking
CONTACT JET TODAY! GET INFORMATION, BOOK YOUR CANADIAN PARCEL / PACKET SHIPMENT TO GERMANY!