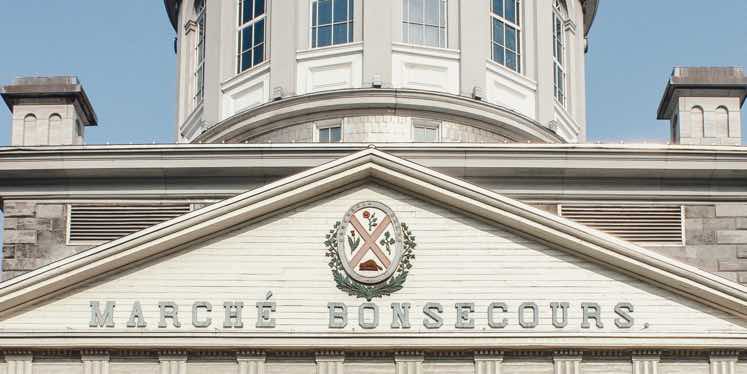 International Parcel Delivery from Canada: Advantage CETA and CPTPP
Canada is a country that has been built on international trade. Today, exports and imports represent over 60% of Canada's economic output (one of the highest ratios among the G7 countries).
Internet driven innovations are opening up new opportunities and Canadians rely on innovative parcel logistics to access global markets. Canadian companies depend on global sources to support stages of production and final sale.
---

UPDATE Free Trade Between Canada and the UK
Canada and the UK have an agreement to continue the preferential duty-free status effectively replicating the CETA tariff benefits under the TCA.
The Most Favoured Nation (MFN) tariff rates of the UK are generally applicable for imports from Canada. Goods that meet CUKTCA rules of origin can qualify for preferential duty free import to The UK. The MFN tariff rates of the UK apply to goods imported to The UK that do not meet the rules of origin (non-originating goods) under the CUKTCA.

---
Free Trade for duty free shipping from Canada to the EU and Asia
In addition to existing NAFTA USMCA, Canada's new trade agreements with Europe (CETA) and Asia (CP-TPP) make is easier for Canadian companies to ship. Canadian companies can ship to the EU and CPTPP countries and benefit from preferential duty free import status.
Most Favoured Nation (MFN) tariff rates are generally applicable for good traded between Canada, North America, Europe and Asia.Goods that meet the rules of origin of the relevant trade agreement (notably CUSMA, CUKTCA,CPTPP, CKFTA, and CETA)can benefit from preferential duty free import. The MFN tariff rates of Canada and E.U. members apply to goods that do not meet the rules of origin (non-originating goods) under CETA.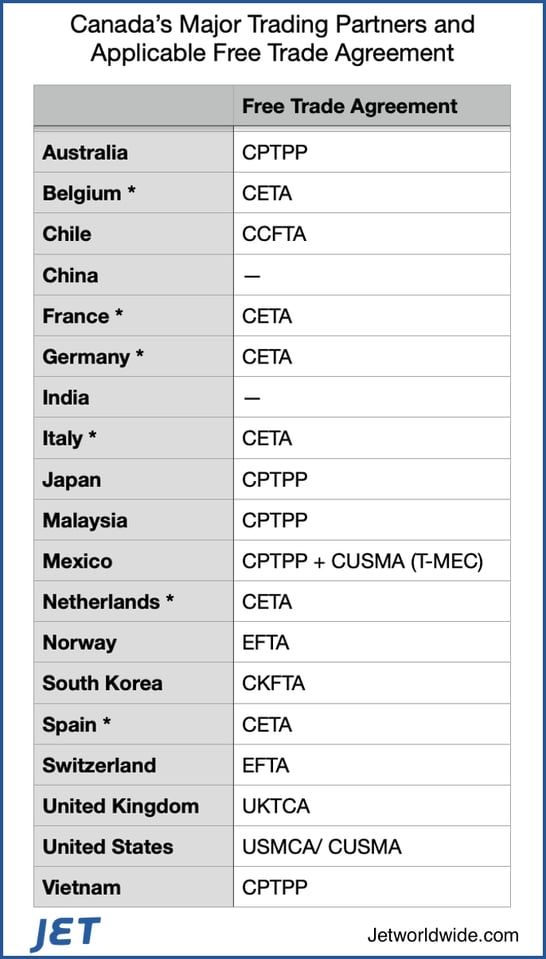 While free trade agreements and general lowering of tariffs have been a success - most notably NAFTA and CETA - technology is now the key to enabling international trade. Having effective parcel logistics is a key element to furthering trade.
---
Proof of origin requirements to Canada via Free Trade Agreements
The value for duty amount for all of Canada's free trade agreements (including CETA, CPTPP, CUSMA) for which the proof of origin / certificate of origin is waived was changed to $3,300 CAD in July 2020. This change was made to harmonize the regulations with the new NAFTA/CUSMA.
For imports not exceeding $3,300 to Canada, the requirement for proof of origin is waived. The requirement on the importer to maintain records (for example, commercial invoice and B3) applies even if the CBSA does not require a certification of origin or if a requirement for a certification of origin has been waived.
---

International Shipping via Canada Post
Canada Post offers several options from the fastest service to the USA ("Priority Worldwide") to the least expensive ("small packet"). For international delivery, Canada post offers "express" international parcel delivery and low cost delivery for "small packets."
The parcel post options are the best choice for shipping small international "packets". Canada post has the lowest cost for individuals shipping small international parcels.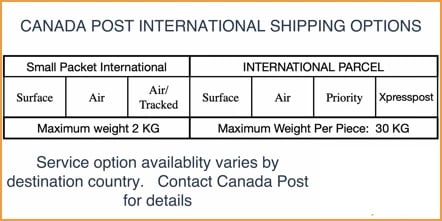 The international parcel post options via Canada Post work best when delivered by strong postal partners such as La Poste (France), Deutsche Post (Germany), Royal Mail (UK), Japan Post, and United States Postal Service USPS.
Canada Post common international shipping options include:
Canada Post International Small Packet: Surface, Air and "Xpress" to most countries. Packets must be less than 2 kg.
Canada Post Parcel: Surface, Air and express to most countries
---

International Shipping via FedEx UPS Canada
FedEx and UPS are North America's largest carriers by far and, along with DHL, offer reliable international shipping options from Canada.
FedEx and UPS international shipping options from Canada include:
International air express priority
International air economy
---
International Shipping via Purolator
The sister company of Canada Post, Purolator is a market leader for delivery in Canada. Purolator's international division is primarily focused on volume from the USA to Canada.
Purolator's international shipping from Canada is provided by partner carriers, such as UPS Canada.
---
Jet Worldwide helps American companies with their Canadian deliveries and logistics including economy express delivery, warehousing, returns and Canadian parcel delivery.
Jet Worldwide provides low cost parcel delivery for larger parcels shipped from Vancouver, Montreal, Quebec, Canada to China, Taiwan, Asia, France, Germany, The UK, Europe and South America.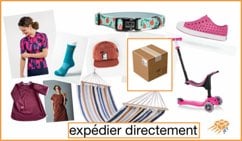 ---
Canadian Parcel Resellers
As a way to help serve small businesses, FedEx and UPS in Canada have partnered with "resellers" who can provide a savings for small and medium sized companies. Resellers in Canada who provide international shipping options are mostly:
Local Canadian courier companies who resell FedEx and UPS to their client base
Web based companies that provide cross shopping options
International companies that partner with carrier partners to supplement their international network

---
International Shipping via Jet Worldwide
Jet Worldwide has been providing international delivery and logistics solutions from Canada for over the last 30 years. Our network includes unique solutions for distribution in the E.U., Caribbean, South America and Asia.
In addition to providing shipping from Canada, Jet provides Canada and US parcel logistics services that include:
Canada address and US address for reverse logistics
Canada parcel import and low cost last mile delivery
Section 321 high volume parcel import to the USA
---

jettworldwide.com