Localized delivery options in France are the best way for Quebec retailer to reach the French consumer market. Jet Worldwide serves as Quebec's logistics provider with access to local clearance and delivery options.
Quebec's E-commerce knows no boundaries: Quebec's unique online retailers can bypass the geographic limitations and pursue customers no matter where they live. Jet's team is here to help with a consistent, reliable delivery experience to all the world's major economies (including, of course, France)!
France and Quebec enjoy close cultural and business ties that depend on low-cost parcel delivery and shipping options. This is especially true for Panier Bleu, Shopify and others. Quebec e-tailers can scale their sales by selling direct to consumers in France and the European Union.
Surveys show that the majority of French online shoppers are ready to buy from Canadian websites. French buyers have more confidence if their order can benefit from a delivery via Chronopost, prepaid VAT and guaranteed no surprise import fees.
---
Ship Direct from Montreal For Direct Import to France
Quebec's retailers can expand to France via consolidating and shipping their orders direct air freight from YUL to CDG. Developing proprietary clearance processes with an expertise in local customs. For higher volume items, retailers can also use our France based fulfilment centres that connect to France's domestic delivery networks.
The advantage of having products stored in France is having them ready to ship at a moment's notice. High volume SKU's strategically located in France for lower local domestic shipping rate. The lower shipping can more than offset the additional warehousing cost in France.
Delivery Matters Selling to France Consumers
For purchasing products online, French e-buyers chose a delivery at home via a trusted local carrier. Express Delivery Service is a highly developed service in France with several established companies.
Shipping direct from Quebec enables the offering of local delivery for a low cost to gain more local French customers. French consumers may expect to pay more for orders from Quebec. Nevertheless, it is critical to lower costs as much as possible. High delivery costs are often the main reason for French people to abandon their shopping carts.
---
Shipping Options to France from Quebec
Deliver in France via LaPoste
The largest parcel delivery group operating under LaPoste, Colissimo, is its largest subsidiary that delivers over 500 million parcels per year. Colissimo is the most popular and most used parcel delivery service in France and accessed from Quebec by using Canada Post.
Colissimo parcels are delivered by the French post system with the advantage of parcel pickup at one of the thousand of French post offices.

Shipping Quebec to France via Canada Post
The most effective way to access La Poste Colissimo from Quebec is via Canada Post. Shipments shipped with Canada Post are imported and delivered to France via the French postal network. Canada Post is the next thing to shipping direct Quebec to France.
Delivery to France via Chronopost
Chronopost is another division of LaPoste with a higher level of tracking, transit and customer support. Chronopost has strong brand recognition that can benefit Quebec retailers with this option presented.
Delivery to France via Purolator Courier
Chronopost and Purolator share common traits.
Leading domestic parcel carriers in their respective markets.
Both are postal subsidiaries
Both rely on partners for their international shipping including UPS and FedEx.
Purolator's international network primary focus is on e-commerce volumes from the USA.

Delivery to France via DPD
A subsidiary of DPD group, the European parcel a subsidiary of La Poste Group, DPD France is a great option for delivery to France.
DPD group can assist Canadian e-commerce orders further via their European parcel delivery network (Europe's second-largest). DPD benefits from the resources of their European national networks with a strong Euro domestic ground network. Jet Worldwide connects Canadian retailers the DPD network.
Delivery to France via Mondial Relay
Mondial Relay is a France-based parcel delivery company formed to compete with La Poste and others. Mondial Relay operates in other European countries as well.
Delivery in France via Relais Colis
Relais Colis is accelerating their commercial development outside their core customers, La Redoute. Relais Colis and is a major provider for online platforms, and they are trying to attract more small and medium sized e-merchants. DHL has a financial interest in Relais Colis.
Delivery to France via FedEx, UPS and DHL
DHL, FedEx, and UPS Express remain the best known options for shipping to France from Quebec. However, their delivery costs are too high for most e-commerce orders and their import processes are inflexible.
There is no perfect solution for choosing the delivery service provider. Quebec's e-commerce companies need to find the right balance between delivery speed, costs, customer preferences, and total logistics support.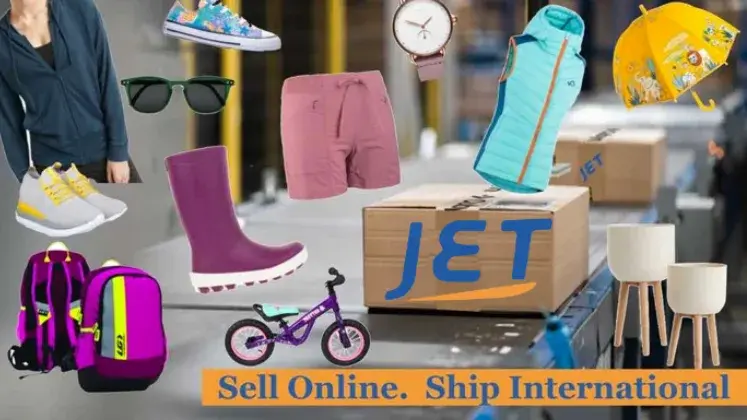 Delivery to France via a hybrid solution
Canada Post has access to both postal clearance. While the advantage of easier import processes via the La Post has lessened, it is remains less demanding than commercial clearance processes. Canada Post small packet offer the lowest costs for Canadian online consignments to France.
Cash on Delivery to France for Quebec Online Purchases?
Cash on delivery is no longer a prominent method of payment in France, Jet Worldwide can arrange for this type of sale. The majority of shoppers in France prefer to pay for their purchase using credit and debit cards. Common payment methods used by French consumers include Visa or Mastercard or payment facilitators such as PayPal.
---
Using Amazon.FR for delivery to France
Amazon has a huge presence in France with a significant market share. Experts estimate that Amazon has around 20% of the French e-commerce market. While Amazon fulfillment and delivery speed is admired, retailers are reluctant to share their data and partner with Amazon.
---
Clearance for e-commerce Consignments to France
Clearance is the most critical aspect of shipping e-commerce orders direct Quebec to France. There a three main costs to consider when importing e-commerce orders to France: Duty, value added tax, and brokerage fees.
Low Value Duty Free Threshold to France
Consignments valued under €150 benefit from duty-free import to France. It is important to declare the correct value (read more about valuation). For e-commerce orders the valued declared for import to France is the amount charged at check out.
Duty Free Import via Canada European Free Trade Agreement
Qualifying consignments can are imported duty free under the Canadian European Free Trade Agreement. Canadian origin goods can be imported to France duty free for all consignments. The rules of origin can be complex, but goods made in Quebec likely qualify for duty free import to France. Read more about Canadian European Free Trade Agreement, CETA.
Payment of French value added tax for online orders to France
All online orders shipped Quebec to France are subject to French value added tax or VAT. The general VAT to France on most goods is 20%. It is best for Quebec online merchants to charge the VAT at time of check out. The best import processes incorporate all import fees and ensure that their customers receive no charges.

Read more about VAT payment to France
Brokerage Fees to France for online orders
The best import processes for import of e-commerce consignments take advantage of express clearance processes. Brokerage programs are best built to incorporate a per-unit cost for each import. Import brokerage fees are greatly reduced via efficient transfer of data and prepayment of duty and tax.
Delivery Duty Paid for e-commerce orders to France
The default shipping terms shipments from Quebec to France are delivery duty unpaid. The technical inco-term is EXW. Read more about shipping terms. To be successful in shipping e-commerce direct Quebec to France, all import fees should be captured at time of check out. It is critically important that your French buyer does not receive unexpected import fees.
Jet Worldwide provides logistics support for Quebec retailers
Jet Worldwide is a trusted brand providing international shipping to France for over 40 years! Our goal of connecting people, parcels and businesses around the world involves a consultative approach. We help companies connect with global networks and build secure processes. Our logistics team becomes an extension of your team via transparency, expertise, and shared values.
---

Jetworldwide.com