European countries are implementing rules that make importing e-commerce more clear and consistent across all countries. For orders less than €150 (around CA $220), it is mandated that VAT be collected at point of check out. The goods can then be cleared using streamlined "green channel" for faster clearance and - most important for e-commerce sellers - no consignee fees.
Canadian sellers will be expected to charge the VAT applicable to EU country of residence of their customer (using the delivery address of the customer). This requirement may be done by a marketplace, such as eBay, or directly by the seller.
Complicating requirement of collecting VAT upfront but the processes overall are much more streamlined as it relates to customs clearance and elimination of consignee import fees.
---

Green Channel Import and IOSS import VAT simplified reporting
IOSS will be a quarterly filing submitted to a tax authority in the same format as the VAT OSS. IOSS allows Canadian sellers to register in on EU country and sell across the entire EU: One set of reporting and one consolidated payment.
Read More: Shipping Shopify Orders to Europe from Canada
---

Disclaimer: The information in Jet Worldwide online content, including this post, is for general information only and provided "as is"; no representations are made that the content is error-free.
---
Shipping Europe: Opportunity for Canadian E-commerce

The import regiment into Europe is actually a great opportunity. European consumers understand having to pay VAT and, in fact, charging it at checkout brings credibility. Furthermore, knowing your goods will be delivered to your customer without additional or hidden import fees is huge! Contact Jet's team to see how you can build a direct shipping solution to the European Union and UK.
---

VAT Rules for e-commerce Imports to the European Union from Canada
Note: Registration for IOSS is not mandatory for e-commerce sellers shipping from Canada or the US to a specific country. A seller who ships only to France from Quebec, for example, can choose to pay the VAT at time of import and not have to register for IOSS.
Contact our team
for information on assistance with IOSS registration for Jet's clients shipping direct from Canada
Introduction of IOSS Processes and portal
Import One-Stop Shop: E-commerce shipments valued under EUR 150 can be imported via One-Stop Shop (IOSS) processes that allow sellers and online marketplaces to charge VAT at the point of sale and remit it directly to the authorities.
If the IOSS is not used, the VAT will be charged to e-commerce customers by the importing carrier (plus an administrative/ pre-payment fee).

The Canadian e-commerce businesses and marketplaces will be able to register for a VAT account in only one EU country. Currently, sellers have to register in each country they sell and ship to.
Collection of VAT from point of Sale by marketplaces and online sellers
Online marketplaces or direct to consumer (DTC) individual sellers (who do not use an online marketplace) are the responsible party for collecting VAT for orders up to €150.
Online merchants using several marketplaces to should keep records of their sales corresponding to the IOSS number/ customs declarant used for the transaction.
The IOSS applies to online sales to all EU countries and Northern Ireland
EU countries include Austria, Belgium, Bulgaria, Croatia, Cyprus, Czech Republic, Denmark, Estonia, Finland, France, Germany, Greece, Hungary, Ireland, Italy, Latvia, Lithuania, Luxembourg, Malta, The Netherlands, Poland, Portugal, Romania, Slovakia, Slovenia, Spain, Sweden. EU VAT rules for Northern Ireland are established in the EU-UK Joint Protocol.
Canadian companies and e-commerce sellers can access register via the IOSS portal of an EU Member.
Businesses not already established in the EU will likely need to appoint an EU-established intermediary to fulfill the VAT obligations.
For details on IOSS and the otherEU's VAT rules, visit: Publications Office of the European Union.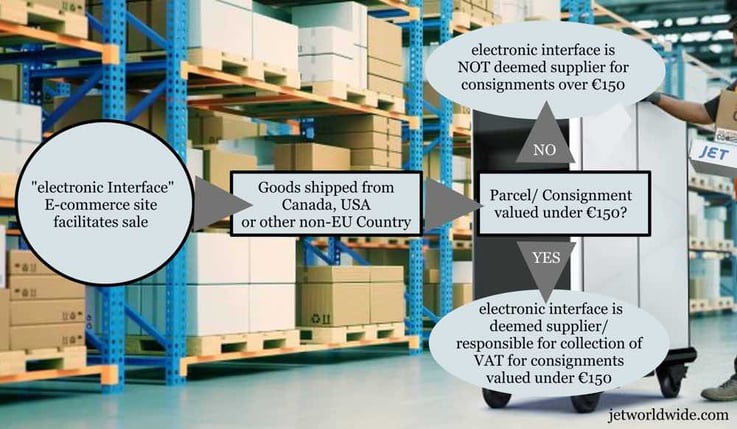 ---
Facilitating IOSS Registration and Integrated Shipping to EU
Get an approved account with Jet
Register for IOSS
Ship direct to consumers in Europe
Lowest cost, tracking, and no import fees charged to consignee
Contact Jet's team for details on setting up direct IOSS and shipping direct.


---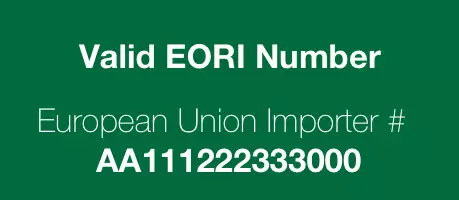 EORI Number for Business Importers to Europe
IOSS is designed for e-commerce orders to individuals. When shipping from Canada to Europe it is important to verify the EORI number of the consignee if shipping to a business.
An Economic Operators Registration and Identification number (EORI number) is an E.U. identification number for businesses (economic operator) which import or export of goods into or out of Europe andpart of the data set required for customs entries in all EU countries.
The EORI number exists out of two parts:
the country code of the issuing Member State; followed by
a code or number that is unique in the Member State
---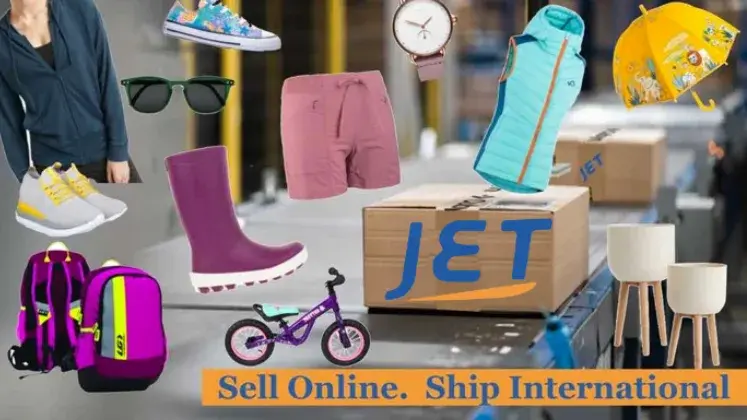 Jet Worldwide is a trusted brand that has been providing international shipping solutions for over 35 years.
Jet Worldwide provides options for parcel shipping solutions between the USA and Canada and Europe / UK for online orders.
Delivery VAT and Duty paid import for B to C e-commerce consignments
Jet Worldwide offers transparency and world class logistics support. We are not shy about recommending alternative solutions as necessary.
---
Shopify, e-Bay and Shipping Online Canadian Orders to Europe
Jet has shipping solutions for sellers who use a marketplace as well as direct to consumer transactions.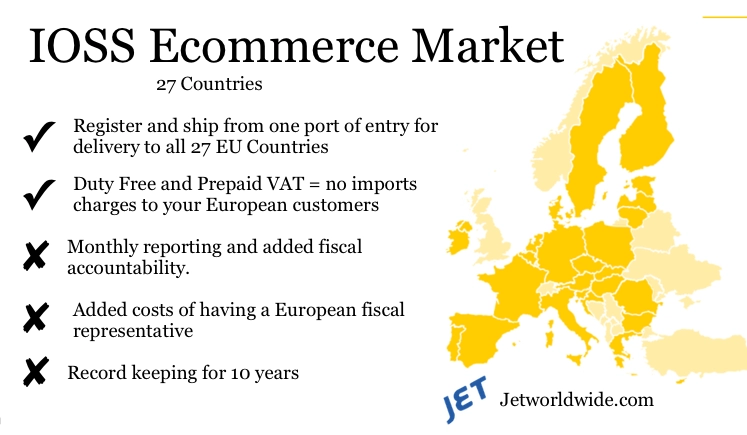 ---

About Jet Worldwide / Contact Jet Worldwide

What are HS Codes?

How to declare values for your international shipments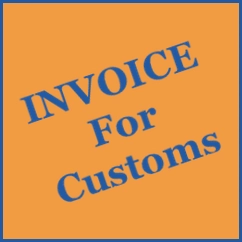 Learn about requirements for preparing an invoice for customs

Volume weight and understanding why size matters for shipping

Take advantage of Canada's Free Trade Agreements

Shipping e-commerce and Shopify shipments