Canadian online merchants are gearing up for serve European customers and none more so than direct to consumer (DTC) ecommerce sellers. The European union has provided a new rule books that mandates registering and payment for VAT in advance of importing the goods to Europe. In exchange, goods can be transported border free across all EU countries.
For cross border shipping of e-commerce orders to Europe, the main components include:
System integration √
Import clearance √
Last mile delivery √
Returns/ reverse logistics √
Jet Worldwide √: Checking all the boxes for international delivery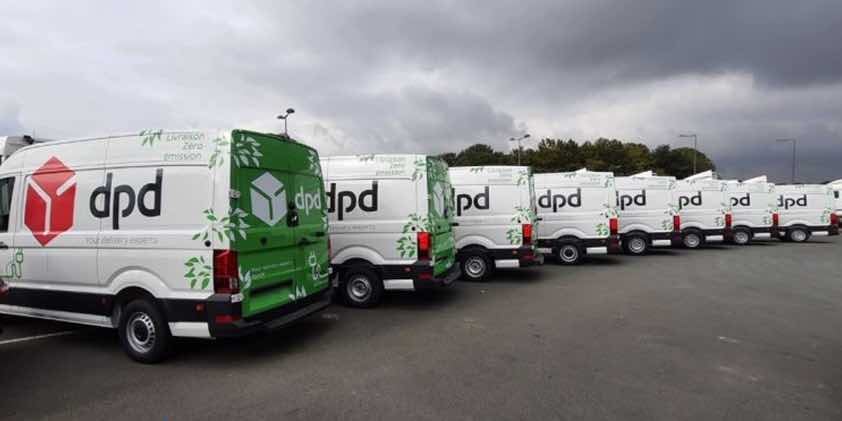 ---
Shopify International Integration for shipping.
In addition to Shopify's extensive support for cross border sales, sellers rely on Shopify integration and API solutions. Jet's solutions include international shipping integration with Shopify Canada.
---
Duty Free - But With VAT - online orders Canada to Europe
While orders online orders shipped to Europe Union countries valued under €150 (around CA$220) can be imported duty free, VAT will be assessed. This includes items sold on eBay, Shopify, bigcommerce, and other e-commerce platforms.
EU VAT Rule Changes are Effective July 1, 2021:
All goods imported to the EU will be subject to VAT on July 1. Currently, goods valued under €22 can be imported duty free and without VAT.
Among the main changes are provisions for online marketplaces to be deemed the "supplier." As a supplier, the online marketplace will be held responsible for collection of VAT for online orders of up to €150. This new process, referred to as the Import One Stop Shop (IOSS): Read More: Green Channel and IOSS to Europe.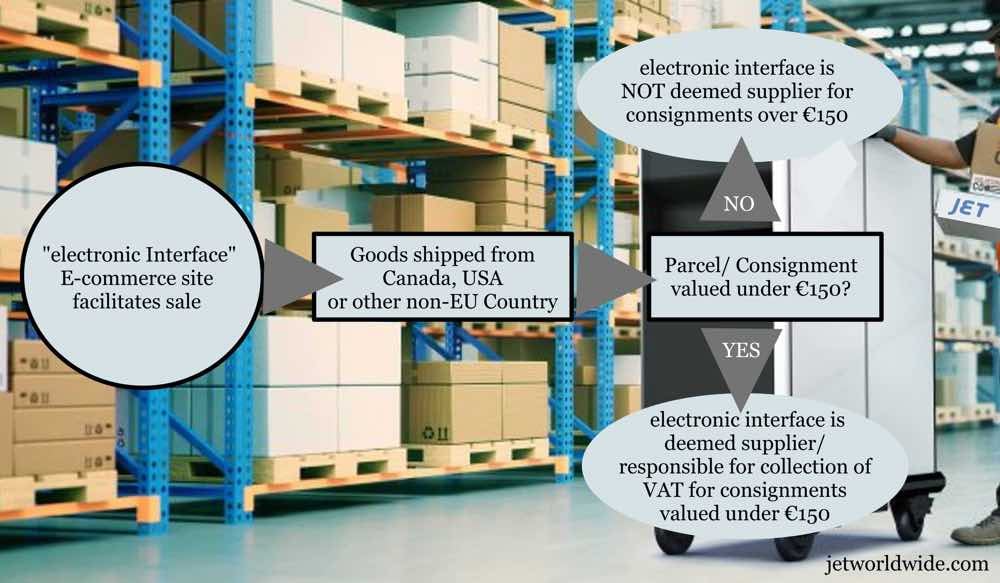 ---
Parcel Delivery carrier options from Canada to Europe

Canadian companies shipping to France, Germany, the UK and throughout the EU often choose Canada Post for small parcels. Canada Post offers low cost delivery to Europe from Canada for parcels under 2 kg.
Jet Worldwide provides best in class pricing to Europe from Canada.
Shipping Europe from Canada Carrier Options
Besides Canada Post, the other options primarily are via North America's leading carriers and DHL. FedEx and UPS international shipping options to Europe from Canada include express/ priority and economy options.
Jet Worldwide is helping Canadian sellers using Shopify and other platforms ship direct to the UK and EU.
Shipping between European Union from Canada via Jet Worldwide
Jet Worldwide is a trusted brand that has been providing international shipping solutions for over 35 years
Jet Worldwide provides import solutions and EU distribution for low cost ground delivery to France, Germany, Spain, Italy, Belgium and all the EU.
Parcel shipping and delivery from Canada to Germany, France, Italy and the EU (and the UK) via DPD.
Labeling, Shopify integration, tracking, and returns
Special handling and services to and from anywhere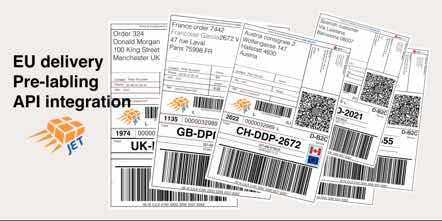 ---
Duty free import to the EU via CETA
The Canada-EU Comprehensive Economic and Trade Agreement (CETA) does not require a formal certificate in order to obtain tariff benefits. A declaration on the invoice or any other commercial document accompanying the shipment meets the CETA requirements.
Canadian Shopify orders with Canadian origin goods (made in Canada) can benefit from preferential duty free import regardless of value!
---
Get a Quote Shipping To The European Union
Jet Worldwide makes it easy for companies seeking for spot quotes for economy air shipping between Canada, USA, European Union and UK.
If you are seeking pricing for regular shipping volumes, helpful details include actual and projected volume of shipments, item(s) commonly shipped, common shipment weight and dimensions, origin of shipments and and common destinations.
---
Disclaimer: The information in this blog is for general information only and is not intended to, constitute legal and/or tax advice. Producers, shippers, exporters, importers should confirm their processes with their customs brokers, carriers and regulating authorities. All liability with respect to actions taken or not taken based on the contents of this site are hereby expressly disclaimed. The content on this posting is provided "as is"; no representations are made that the content is error-free.