Being a new year, we thought it a good time to review the shifting paradigms we are expecting in 2022. All are ongoing trends and worthy of mention. Growth in the global economy will continue and inventory levels at the start of this year are still relatively low. Pandemic predicting is a bit of a crap shoot but the effects of omicron variant will be felt at least until Q2.
Our team is building innovative solutions based on the key logistics trends that include:
Last Mile Delivery of E-commerce to the USA
E-commerce volumes will continue to rise and carriers with carriers more concerned with margins than volume. Shippers of all sizes will continue to have to deal with price increases and service compromises from the dominant carriers.
National and regional carries are essentially operating at capacity with labour shortages continuing in 2022. Volumes are expected to grow faster than capacity resulting in the need for increased efficiencies, CAPEX and innovation.
We do not expect Amazon to disrupt the market by offering their delivery outside of their FBA offer in 2022. Many expect continued improvement by the USPS in 2022 with ongoing investments in additional facilities, labor and parcel sorting equipment.
---

Air Cargo: Feeding The Last Mile Delivery Chain in 2022
E-commerce will continue to fuel the growth of air cargo in 2022. Year over year growth of around 10% may cool off but, with international passenger belly capacity being held back, shippers will be subject to high rates again in 2022. Freight forwarders are entering into more air charter agreements with both cargo and passenger (cargo flights for empty passenger planes) carriers.
Additional demand for all cargo planes will grow due to the shift towards single aisle aircraft for for more international schedules.
---

Ocean Cargo: Importance of Availability over of Price
COVID remains in 2022 and the omicron variant likely to test China's "zero COVID" policy.
COVID outbreaks in China are again putting pressure on global supply chains with full and local lockdowns being implemented at various locations, including the port city Ningbo.
Shortly put, the disruption of higher rates, longer transits and limited availability will continue into at least the second quarter of 2022. Other issues to consider include potential changes in regulations- including emissions rules - and new inventory to sales modelling.
---

Drivers of Trucks and Vans: Challenge to Independence
There has been an ongoing struggle between with how drivers are classified. Typically, last mile delivery solutions - including FedEx Ground, Amazon's delivery service partners, and virtually all local and regional couriers - depend on independent contractors. The independent contractor versus employee struggle is largely a state by state issue with California leading the way with stricter worker classification rules (AB5 Independent contractor law).
In 2022 the focus in IC's will likely shift from the state regulators to the national level and the National Labour Relations Board / NLRB. With the democratic party in power, and generally more amenable to the idea of IC's being classified as employees, it could to become more difficult to classify workers as independent contractors in 2022.
---

Changes to Section 321 duty free imports
The volume duty free International e-commerce to the USA has more than quadrupled with changes being discussed at the regulatory and congressional level. Imports can likely expect some new rulings and controls but we do not expect wholesale changes in Section 321 in 2022. Read more about potential changes to Section 321 low value imports to the US.

---
North America Cross Border Issues to consider for 2022
Canada USA Border Crossings 2022
Vaccine mandates for cross-border truckers is scheduled to be effective in January 2022 for Canada USA crossings. This requirement may cause additional driver shortages for cross border traffic. It is possible that the mandates may be amended as the situation changes.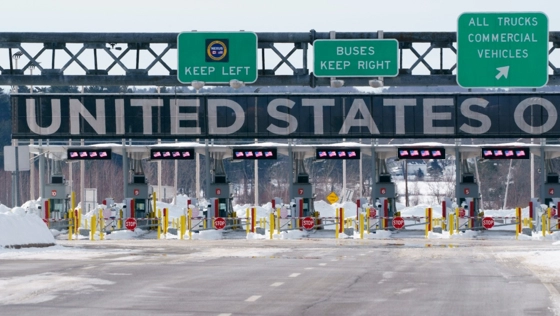 Mexico USA Border Crossings 2022
The implementation of Complemento Carta Porte legislation could change again as the industry awaits the start of new trials of the new version of the Carta Porte. Carriers will continue to be challenged by the in-balance of much greater northbound versus southbound trade and repositioning empty equipment. The vaccine mandate for U.S.-Mexico border truckers may cause some additional issues (as mentioned above).
---
2022: Continuing Shift in Logistics
The long term trends are continuing but it is better - in our view - to be challenged by supply versus demand. The huge increase in cross border e-commerce continues to bring opportunity that innovative companies are embracing.
---

About Jet Worldwide / Contact Jet Worldwide
Disclaimer: All Jet Worldwide online content, including this post, if for general information only. This content is presented as is with no representation that it is error free.
jetworldwide.com