China and Hong Kong cross-border fulfillment is increasingly common to worldwide markets. With the ability to increase supply chain value, this strategy has big advantages for businesses looking for a competitive edge in selling. Benefit from incredible China Hong Kong Fulfillment.
Imagine delivering products directly from your China or Hong Kong to consumers in Europe, America, and Asia. Hong Kong and China fulfillment centres can make that vison a reality. Have your goods stored, packaged, and shipping directly to your customers worldwide!
Redefining cross-border e-commerce
We define cross border e-commerce as direct order cross border fulfillment. Traditional cross border commerce is for large bulk orders transited via ocean to local warehouses for distribution. Direct order cross border enables orders to ship direct.
Having fulfillment closer to the supplier advantages include:
Lower cost warehousing and fulfillment
Faster reaction to market trends and fewer overstocks
Ability to delivery globally including Japan, Europe and the UK
E-commerce processes adopted the model of brick and mortar retail. The only real difference is that goods are warehoused for fulfillment rather than shipped to a store.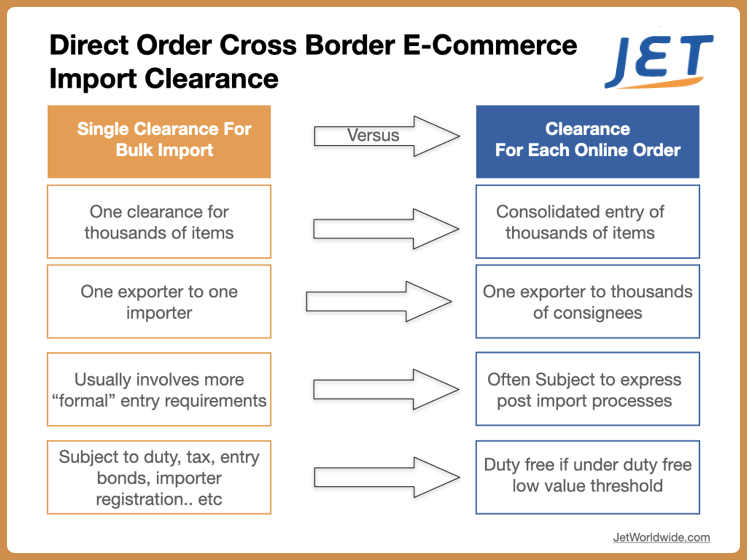 The traditional flow:
Large wholesale order
Single customs entry to importer of record
Ocean, road, rail inland shipping
National, regional and local warehousing
Retail order from final customer
Fulfillment
Final mile delivery
Direct Order Cross Border E-Commerce eliminates the need for local warehousing and container sized order.
Wholesale order
China or Hong Kong warehousing and fulfillment
Retail order from final customer
Fulfillment
Final mile delivery
---
Fulfillment warehousing: China vs Hong Kong
China the advantage of being a bit closer and access to free trade zones to supports export opportunities. Hong Kong has greater at specialty shipping capabilities. Hong Kong also has access to incredible cargo airlift.
Understanding T86, section 321 and import to the USA
Impact on China's taxes
By shipping goods for storage in Hong Kong, Chinese companies can claim back taxes on goods intermediary goods to Hong Kong.
Leading e-commerce fulfillment centres based in Hong Kong and China including Zhenhub, Floship, Easyship, and Shipwire. Contact our team for other options.

Read more: Shipping from Hong Kong to Canada
Hong Kong Fulfillment
An e-commerce solution direct from Hong Kong creates opportunities for expanding your portfolio globally and lower costs.
Fulfilling items in Hong Kong, you can:
Ensure delivery within 1-5 business days to major worldwide markets. All global carriers ship from Hong Kong.
Hong Kong has no import or sales tax and strong legal system.
Hong Kong is the Asian headquarters for the biggest companies in the world.

Optimistic future for e-commerce Hong Kong Fulfillment
Some categories are more challenging to ship via direct e-commerce. For example, certain categories of low value items and high volume products. While shipping direct can have huge benefits, sometimes the shipping costs will be exceed the value of the product. It this case, it more sense to ship such products in bulk and stock the products in a local warehouse.
What's Next for e-commerce fulfillment
Like most logistics process, the best answer is often somewhere in between. The direct order cross border works best in conjunction with other processes.
Can Higher Shipping Costs be a benefit?
Most consider the biggest challenge to direct order cross border shipments is the cost of air transport. The unit costs of ocean shipping versus air is exponentially less. Heavier weight shipments with a lower average cost per kilogram are best shipped via traditional methods. However, in many cases the benefits of air offsets the added cross ocean transit.
Direct order cross border can be applied to ocean shipping processes. While the processes can be game changing, the transit time over 30 days. Most online buyers will not accept waiting 30-60 days for their order to arrive.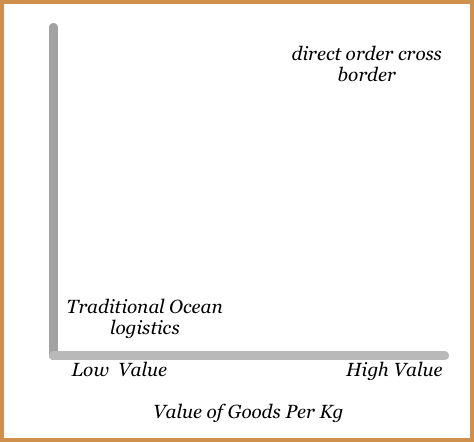 ---
Direct Order Cross Border e-commerce to the USA
The US is the world's leading consumer market. The USA has the most e-commerce friendly import processes with duty free import of most orders valued under $800 USD. Shipments can be labeled with USPS, UPS and DHL labels. Import shipping via USPS is possible via partners or Global Direct Entry. Understanding parcel import to the USA.
Direct Order Cross Border e-commerce to Europe and UK
The European Union is a e-commerce market. Most goods valued under 150 Euros can be imported duty free. The main issue for Europe of processing, reconciliation and payment of value added tax. Value added tax averages around 20%. Read more about IOSS.
Most e-commerce goods are imported via the Netherlands. Imports to France and Germany have also grown post Brexit.
Shipping online orders to the UK
The UK offers a duty free threshold (135 UKL) for most shipments. The UK also requires payment of UK value added tax for all orders.
---
From confrontation to adaptation
Traditional retailers and businesses initially resisted the direct order cross border processes. This more direct model is being implemented by companies of all sizes. Most smaller companies embrace full implementation while larger companies use a hybrid model.
---
Dropshipping
Drop shipping is a process in which an online store doesn't keep the products it sells in stock. Instead, when a store sells a product, it purchases the item from a third party and has it shipped directly to the customer. As a result, the merchant is able to operate virtually.
The drop shipping process typically involves the following steps:
A customer places an order on the merchant's website.
The merchant forwards the order and shipping details to a drop shipping supplier, who then ships the product directly to the customer.
The merchant pays the supplier for the product at a discounted wholesale price.
Drop shipping allows merchants to offer a wide range of products without having to invest in inventory upfront. Its challenges, include lower profit margins, and difficulty in ensuring customer satisfaction.
---
Coexisting cross-border e-commerce with traditional distribution
Coexisting cross-border e-commerce with traditional distribution is common in today's global market. Cross-border e-commerce offers many advantages. The advantages include access to a wider customer base and lower costs. Traditional distribution channels remain important for bulk scale.
By combining these two approaches, companies can take advantage of the strengths of each to create a more effective and efficient supply chain. For example, companies can use traditional distribution channels for large-scale and bulky products, while using cross-border e-commerce for smaller and lighter items.
---
Shipping
Leading fulfillment centres are connect with online marketplaces. Platforms like Amazon (which also operates its fulfillment centres), Shopify, and eBay, make it easier for merchants to manage inventory and delivery products.
Sellers or e-commerce merchants can directly send their inventory from their China supplier to a local fulfillment center.
A fulfillment center offers e-commerce merchants storage and shipping services.
---
It is increasingly important to understand cross-border E-commerce retail
Retail imports sold directly to end consumers is a new era for retail.
This 'new retail' makes use of big data and cloud computing technology to improve the consumer's shopping experience and provide real‑time, accurate sales analysis.
In order to meet the demand for more personalized products, businesses need experience in operating e‑commerce. Analytics tools to keep sellers abreast of their market. As businesses have to cope with market changes within shorter time frames, their logistics capabilities are a key differentiator.
Enterprises should give priority to data analysis in their decision‑making process at every stage. Enterprises can store their goods in Hong Kong centres and complete orders in the form of direct parcel shipping. Storing inventory closer to suppliers gives faster reaction with lower warehousing cost.
At the moment, a lot of sellers will use Hong Kong as a fulfillment hub. Fulfilled orders then ship via air to North America and Europe via cross-border channels.
Being that it is a free port, Hong Kong provides flexibility to consolidate and move goods around with stable lead times worldwide.
Consult with Logistics Experts