Canadian supply chains are being impacted by the changing trading relationship between the United Kingdom, the European Union and, by extension, Canada. E-commerce retailers are building direct parcel logistics processes to the EU, separate from their UK processes.
Free Trade Between Canada and the UK: From CETA to TCA
The Canada-U.K. TCA has been ratified providing Canadian and UK businesses with continued preferential access for goods shipped between both countries. Canada and the U.K. are engaging in future negotiations on a more permanent bilateral free trade agreement that could include the U.K. potentially joining the Comprehensive and Progressive Agreement for Trans-Pacific Partnership (CPTPP).
See section below regarding information required for a shipping quote
---
The Effect of Brexit for Canadian Companies
By virtue of a shared history, including membership in a Commonwealth of Nations, the UK and Canada have strong cultural and economic connections. The status of Canadian imports will continue to be treated via CETA provisions via the Trade Continuity Act (see below).
---
Duty Free - but VAT- for Online Orders to the UK and EU
Canadian companies can take advantage of duty free access for low value online orders shipped to the UK. However, the British VAT for online orders must be paid in advance at time of checkout. Contact our logistics team for updates direct shipping options for online orders to the UK.
Shipments shipped to European Union countries enjoy similar duty free status but also are subject to payment of VAT. Read about VAT requirements to the EU for online orders shipped from Canada.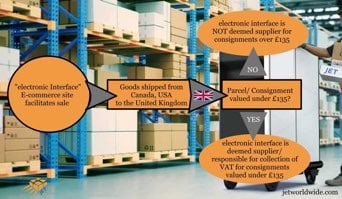 ---
Shipping Canadian Shopify Orders to the UK and the EU
Jet Worldwide is building international shipping solutions for Shopify, Canada's leading e-commerce platform. Building on Jet Worldwide's decades of Canadian cross-border parcel shipping experience, our team is currently developing Shopify-integrated solutions for shipping to the UK and the entire European Union, allowing businesses to "self-fulfill" their orders.
For updates on the latest international shipping solutions for Canadian online orders, connect with Jet Worldwide's e-commerce team.
---
Direct Import and Last Mile Import to the UK and EU
SEE SECTION BELOW: INFORMATION REQUIRED FOR A SHIPPING QUOTE
---
Most Favoured Nation: Canada and the UK
Canada and the UK have agreed to essentially continue the benefits of the European Union Comprehensive Economic and Trade Agreement (CETA) via the UK Trade Continuity Act (TCA). There is a mutual agreement to abide by these rules as the agreement awaits final legislative approval.
The UK Most Favoured Nation (MFN) tariff rates are the default duties applied to imports from all countries to the UK, including Canada. Under the Canada-UK Trade Continuity Agreement (UKTCA) Canadian origin goods may qualify for a preferential -duty free - tariff.
Tariff preferences under UKTCA apply to goods imported from Canada that meet the rules of origin under this agreement.
The MFN tariff rates of The European Union apply to goods imported from Canada that do not meet the rules of origin (non-originating goods) under UKTCA.

---
EU Distribution for Canadian Companies
North American companies and retailers have traditionally relied on the United Kingdom as their base for EU operations. HM customs was viewed as generally more favourable than their EU counterparts and the UK itself is often the largest EU market for Canadian goods.
In traditional flows, the bulk of European exports from Canada were imported to the UK home market. From the UK, goods were then transited freely within the EU.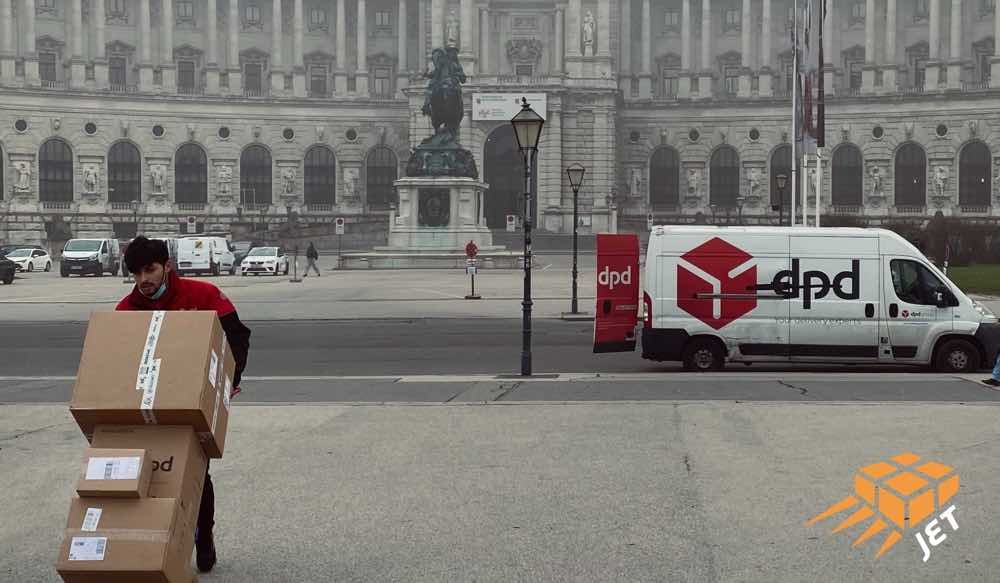 Canadian retailers are now looking for news ways to ship directly the EU. The growth of online orders from the EU opens up new direct routing possibilities with innovative processes.
---
E-commerce Orders to the EU
Collectively being among the world's top economies, the European Union (EU) presents great opportunity for Canadian online orders. Individual European customs authorities are looking to attract e-commerce import hubs by developing parcel import processes.
The major points of entry for e-commerce parcels to the EU include France, Germany and The Netherlands. France and Germany are among the EU's largest economies and The Netherlands has traditionally served as the logistics hub for Western Europe.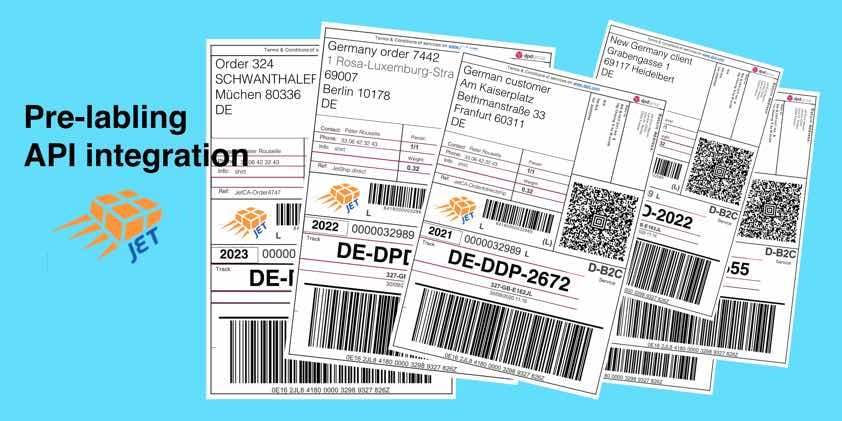 Delivery between the UK, EU and Canada via Jet Worldwide
Jet Worldwide: A trusted brand offering international shipping for over 35 years!
Jet Worldwide offers options for shipping between the UK, EU and Canada for parcels, pallets, and online orders (with Shopify integration)
Jet Worldwide offers transparency and logistics support. We are not shy to recommend alternative options that are better suited for your needs.
SEE SECTION BELOW: INFORMATION REQUIRED FOR A SHIPPING QUOTE
---
Individual Parcel Clearance to the EU
The two biggest challenges for Canadian e-commerce retailers shipping to Europe are efficient high volume parcel clearance processes, last mile delivery and reverse logistics processes. Jet's team can provide various solutions for shipping the UK and the EU that are secure, durable and scaleable.
---
Getting a spot quote for shipping between the EU, UK and Canada.
Jet Worldwide gives access to all companies seeking shipping quotes from Canada to the EU and UK for parcels, pallets, and online orders. For a quote, please provide:
Your company name and contact details

Ship from Address

Ship To Address

Weight and dimensions of each piece

Item(s) being sent

Value
For a quote for shipping online orders, provide details including shipping volume, item(s) being shipped, average value and weight of each parcel. The more details the better :).
---

Learn more from Jet's Logistics Experts :
Disclaimer: The information in this blog is for general information only. Producers, shippers, exporters, importers should confirm their processes with their customs brokers, carriers and regulating authorities.