Best Worldwide Shipping to Canada from Poland
Shipping to Canada from Poland
Businesses rely on low cost shipping costs when sending goods from Poland to Canada. Trade between Poland and Canada continues to grown. It is stronger thanks to the CETA free trade agreement. Low cost shipping to Canada from Poland combines with low cost shipping. This equals great opportunity.
Economic Relationship between Canada and Poland
The Canada-Poland relationship is has a strong historical foundation. Bilateral trade between Canada and Poland exceeds $3.8 billion per year. Canada imports over $2.5 billion from Poland per year. The Embassy of Canada is in Warsaw. Poland's embassy in Ottawa joins with consulates in Calgary, Edmonton, Montréal, Toronto, and Vancouver.
This shipping guide explores the different options from Poland and provide. We review both the modes of shipping and choices of carriers.
---
Tips for Smooth Shipping to Canada from Poland
Polish Export Declaration
Review of best ways to ship cargo from Poland to Canada
Common carriers for international packages and parcels shipping from Poland
Review of Canadian Import regulations and fees
How to benefit from CETA with duty free import of Polish goods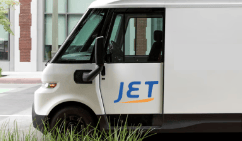 Note: All information in this post and all Jet Worldwide online content is for general information only.
---
Common requirements for export from Poland
Exporting Polish Business Identification Numbers
Verifying the Identity of the Polish Company
There are for several identifiers used by most businesses in Poland: KRS, NIP, REGON, and EORI. The company exporting from Poland should be well aware of the export requirements.
KRS (Krajowy Rejestr Sądowy): The KRS assigns to companies, partnerships, and associations.
NIP (Numer Identyfikacji Podatkowej): A NIP (or VAT number) is necessary for tax purposes. It can apply to both self employed individuals and corporate entities. Issuance is via the tax administration (Ministerstwo Finansów). It is 10 digits and starts with PL (e.g., PL1234567890).
REGON (Rejestr Gospodarki Narodowej): A REGON number assigns to organizations for statistical purposes.
EORI : The Economic Operators' Registration and Identification (EORI) number is necessary for EU cross border trade.
Most sole proprietorships only have REGON and NIP numbers. But those participating in cross border trade also have an EORI number.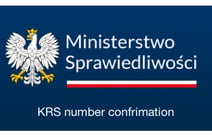 ---
Export Declaration from Poland before Shipping Cargo to Canada
Export of goods from Poland can direct from the Polish border. However, cargo from Poland commonly transfers with EU border prior to export. In either case, an export declaration is necessary to ensure proper VAT treatment.
Customs Komunikat IE-599 from Poland to Canada
An IE-599 is the electronic submission proving the export of goods outside the EU with a 0% VAT rate.

---
Import to Canada and complying with customs regulations and authorities.
Familiarize yourself with the Canadian Border Services Agency (CBSA) and their rules.
Importing Goods to Canada Shipped from Poland
Goods imported to Canada valued over CA$20 are subject to duty and taxes. Consignments valued under CA$3,300 via courier can import via Canada's low value system (LVS).
Polish origin goods may qualify for preferential duty free entry under Canada EU free trade agreement (CETA) regardless of value.
---
Duty Free Import via CETA
Goods of Polish origin can benefit from duty free import to Canada. The items must qualify via the origin rules of the Canada European free trade agreement (CETA). Read more about CETA.
Simpler origin statement for shipping Canada from Poland
For imports not exceeding CAD 3,300 to Canada, the requirement for proof of origin is not necessary. The requirement on the importer to maintain records (for example, commercial invoice and B3) still applies. Understanding a certificate of origin.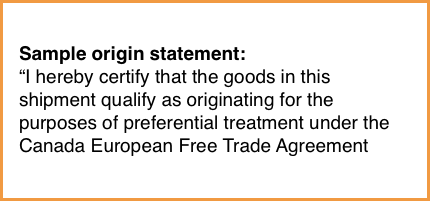 ---
Choosing the Right Shipping Method to Canada
The right shipping method depends on the necessary transit time along with the size of your cargo. Personal packages best ship via the local post. Larger commercial parcels benefit the most from air courier. Pallet freight can ship via either economy air or ocean. And containers best ship via FCL (see below).
Air Freight shipping International from Poland
Air freight is the fastest transit for shipping international from Poland. It is suitable for time-sensitive or high-value cargo. It is cost-effective up to around 100 kilograms chargeable weight.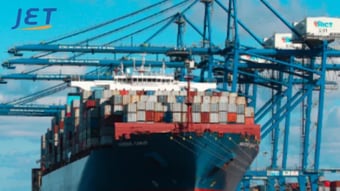 International Shipping from Poland via Ocean Freight
Sea freight is the most cost effective for pallet and container cargo. The much longer transit times compensate with a much lower cost than air freight. Ocean is ideal for non-urgent bulk cargo. The surface transport combines road and rail along with ocean. Door to door transit times average between 1 to 2 months. Fill in form below for a price to ship Poland to Canada.
Learn more about shipping via ocean freight to Canada.
LCL shipping from Poland to Canada
Less than container load (LCL) is useful when sending one to several pallets to Canada. Via this method, various shipments share space in a container. Allow for extra transit time for packing and de-consolidation of the various shipments from the container.
FCL Shipping Poland to Canada
Full container load is the fastest ocean shipping option from Poland to Canada. The ocean cargo can ship in either a 20 foot or 40 foot container.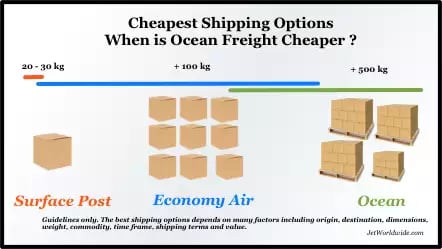 ---
Shipping Packages to Canada from Poland
Shipping individual packages or several boxes have different options than larger cargo. The carrier choses include the Polish post office (Poczta Polska), global couriers and their partners.
Cheapest Courier Service from Poland to Canada
The cheapest way for an person to ship personal packages to Canada is via the local post. Businesses can benefit from faster transit for larger packages by shipping via FedEx, UPS or DHL. Fill in form below to get a price estimate from our team.
Shipping to Canada via Poczta Polska
Poczta Polska has two main service options to Canada:
Express Mail Service: The faster postal option
Postal parcel: Valid for shipments up to 20 kilograms
The contents the postal parcel should be detailed in the postal declaration.
---
Shipping to Canada via FedEx, UPS Poland
FedEx and UPS are North America's largest carriers. They, along with DHL, offer reliable transport to Canada. Discounts are available directly from the carrier or via one of their authorized resellers. Contact our team for pricing.
---
Shipping to Canada via Jet Worldwide
Jet Worldwide provides low cost solutions for packages, pallets and containers from Poland. Benefit from best in class support. Get a price and support directly from Jet's team.
Get a Price Quote and Logistics Support
....