Ohio and Canada share a strong economic connection with Ohio being among the largest US market trading with Canada. The USMCA/ CUSMA brings greater duty free shipping to Canada from Ohio. Innovative rules of origin will encourage more goods and materials manufactured in Ohio access to Canada. Easier access includes lowered non-tariff barriers. Read more about non-tariff barriers.
Jet Worldwide helps Ohio companies connect with Quebec and Canadian suppliers and customers.
Benefit from having a local Canadian company to serve your needs. Have a Canadian address for returns, and a consolidation point.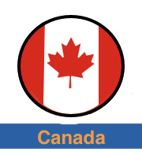 In this post, we review a full range of things to consider when shipping e-commerce, parcels, pallets and LTL to Canada.
Duty free import to Canada via USMCA/ CUSMA
Duty free import of goods valued under $150 CAD
Non-Resident Importer to Canada
Common carrier options for shipping to Canada
Managing returns from your Canadian customers online orders
Canadian customs assessment and revenue management (CARM)
Reverse logistics and Canadian logistics support
Additional resources for shipping to Canada and shipping from Canada
Disclaimer: The information in Jet Worldwide online content, including this post, is for general information only.



Jetship provides shipping quotes, LTL, and Canadian Logistics support
---
What is the Cheapest way to send a package from Ohio to Canada?
The cheapest way for individuals to send small packages and personal items to Canada is usually via the US Postal Service (USPS). FedEx and UPS ground are good options for heavier shipments but do not include customs entry preparation. For shipping pallets, trucking is the best option.
Contact Jet Worldwide for low cost express shipping and LTL to Canada.

Contact our team and benefit from having a local Canadian partner for your Amazon removal orders, returns, consolidations, storage and domestic distribution.
Do duty and taxes apply in Canada for shipments from Ohio and the USA?
Shipments from Ohio, USA to Canada are subject to import duty and taxes. The goods my qualify for duty fee import if the value is less than $150 CAD (around $110 USD). If the items qualify as being US origin under USMCA, they can qualify for preferential duty free import.
Read more about Canadian import fees.
Are shipments from Ohio imported to Canada Duty Free?
Goods imported from the USA generally are subject to import duty and taxes. Just being shipped from the USA does not automatically grant duty free import to Canada.They may benefit from duty free status if they are low value or quality of USA origin under USMCA. All shipments over $40 CAD are subject to sales tax even if otherwise duty free.
Do I need to file an export declaration /EEI
from Ohio to Canada?

Electronic Export Information (EEI)

US Foreign Trade Regulations (FTR) mandates export declarations be done via the Automated Export System (AES). Specified timeframes and shipment data is required prior to export. This information was formerly called the Shipper's Export Declaration (SED). EEI's are used for statistical data collection and to enforce export regulations.

EEI's are not required for most shipments destined to Canada via exception code 30.36. Th exemption does not apply for shipments otherwise requiring an export permit or ultimately destined to a third country.
How can I manage returns from Canada to Ohio USA
If the value of the return is less than $800 USD, the goods can be returned simply via section 321 import processes. Contact Jet Worldwide to get a Canadian address to help manage returns from your Canadian Customers.
Can I consolidate my online orders to Canada and Cross Border Ship from Ohio?
Companies can consolidate their orders via a single customs entry by becoming a non-resident importer. The process involves shipping via LTL or full truck load, single clearance in Canada followed by domestic distribution.
Read more about valuation for non-resident imports to Canada.
---
Confused by the import fees to Canada?No worries, we are here to help. Even with the USMCA/ CUSMA free trade agreement, many consignments imported to Canada are subject to import duty and taxes.
Understanding Canadian Import Fees for your shipments to Canada from Ohio.
Confused by the import fees to Canada? No worries, we are here to help. Even with the USMCA/ CUSMA free trade agreement, many consignments imported to Canada are subject to import duty and taxes.
Shipping from the USA ≠ USA origin goods
While goods made in the USA can benefit from preferential duty free entry under USMCA/CUSMA provisions, this benefit does not extend to goods "shipped from the USA to Canada."
Understanding the difference between goods shipped from the USA versus US origin goods.
Goods shipped from the USA will benefit from duty free entry if they are shipped courier and valued under CA$150.See graphic below.
Read more: USMCA/ CUSMA
---
Managing Canadian Amazon RemovalOrders to Ohio USA
Simplified processing for your customer.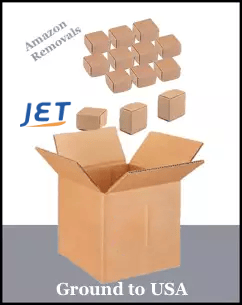 Contact our team to develop solutions for Canadian returns of online orders.
Read more about a solution for your Canadian Amazon removal orders. A Canadian address, consolidation and shipping back to the USA via low cost ground.

---
Goods shipped from Ohio and USA to Canada are subject to the following fees:
All shipments to Canada are subject to duty, taxes and carrier import fees. Useful information regarding most common Canadian import fees.
Below, we provide an extended explanation related to shipping to Canada from Ohio and all the USA.Feel free to contact our team if you need further information or a shipping quote (see below information required for a shipping quote to Canada)
---
Ohio companies becoming a Canadian Importer or Record
Canada's non-resident importer program enables United States exporters to obtain a business number and act as the "importer of record." Being able to act as the importer of record removes the burden of customs clearance from the Canadian customer and can facilitates the sale.
---
The Canadian Customs online portal which is designed to streamline processes and a useful too for Canadian importers.
Read more about CBSA Assessment and Revenue Management (CARM)
---
Common Carrier Shipping Options from Ohio to Canada
Besides the LTL carriers, the most common shipping options when shipping to Canada from Ohio includes mega carriers UPS and FedEx (who offer both ground and express) as well as the USPS (the preferred option for individuals shipping small parcels to Canada). Each carrier is explained in more detail below.
---
Low cost parcel shipping from Ohio to Quebec and all Canada: This blog Explores the Ohio shipping options for delivery to Canada our explains the Canadian customs clearance processes.
Read about the New NAFTA/USMCA/ CUSMA/T-MEC.
As part of the USMCA, Canada has raised their low value duty threshold ( de minimis threshold) to $150 CAD (around $110 USD). Local sales taxes will still apply (but often times, businesses can claim this charge back). This higher duty free threshold helps small businesses and e-commerce merchants in the Ohio ship to Canadian customers.
Read about a certificate of origin and when it is needed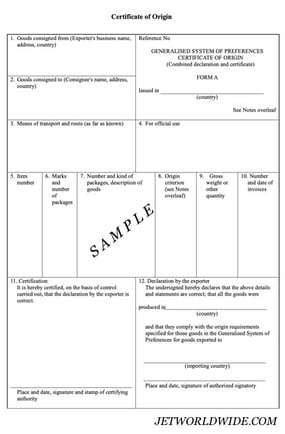 USMCA insures continued connections between Ohio'n Canadian suppliers and customers. Shipments from Ohio to are sent mostly to the main cities in Quebec including delivery to Montreal, Laval, Brossard, Quebec City, Hull, Levis in addition to Calgary.
---
Duty Free to Canada packages from Ohio
Duty free and tax free entry for most US parcels shipped courier valued under CA$40
Duty free entry for most US parcels shipped courier valued under CA$150
Simplified "Certification of Origin" for shipments shipped courier valued under CA$3,300
For low value shipments (under CAD $3,300 to Canada) a certifying statement added to the commercial invoice or any shipping document
"I hereby certify that the goods covered by this shipment qualifies as an originating good for the purposes of preferential tariff treatment under USMCA/T-MEC/CUSMA."
Learn more from Jet's Logistics Experts : USMCA/ CUSMA New NAFTA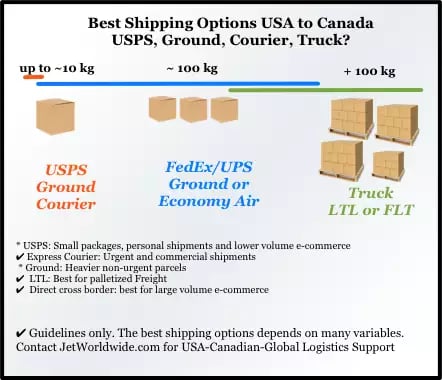 ---
Jet Worldwide provides shipping options Ohio to Canada
Discounted LTL Quotes: Canada from Ohio
Jet's team can generate rates for LTL and large packages over 150 lbs. for shipping Canada from Ohio as well as partnering with the leading parcel carriers - and offering reverse logistics.
---

Delivery between Ohio and Canada via Jet Worldwide
Jet Worldwide provides Canadian and global logistics. Our support refers to the various systems regarding North American and Canadian movement of goods. This can include things like transport, storage, and returns. Our logistics support strengthens your team with insider industry insights and not being beholden to a specific carrier or process.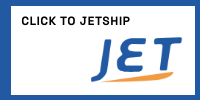 USA Canada Shipping Form
---
Review of the international shipping options between Ohio and Canada.
Local post options are generally best personal shipments
Air freight: This is the fastest option with economy air options
Trucking: A good options for shipping pallets, less than truck load (LTL) and full truck loads between Ohio and Canada,
FedEX , DHL, UPS: Well known brands with that can be accessed directly for via one of their partners.
When choosing a shipping method, you will need to consider factors such as the size and weight of your freight, the time frame in which you need it to arrive, and your budget. It may be helpful to compare quotes from different carriers to find the best option for your needs.
---
Best Shipping Options To Canada from Ohio
USPS (Canada Post), FedEx and UPS
Shipping from Ohio to Canada via USPS
Canada is the largest international destination for US Postal parcels. USPS offers a great choice for Ohions shipping to Canada. Among the most popular US Postal post options to Canada is International Flat Rate Boxes.
Different duty assessment for goods shipped via USPS versus Courier (see above regarding new USMCA/CUSMA duty free thresholds).
For a shipments shipped via USPS for import via Canada Post, duty is assessed differently than for parcels shipped via parcel carriers/ courier:
CA $20 (around US$14.75) and under: duty and tax free
Above CA $20 duties and taxes apply
The USPS is the preferred option for individuals shipping small packages and personal items to Canada.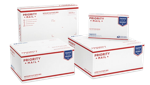 USPS Flat rate boxes to Canada -Delivery within 2-3 weeks
USPS shipments from Ohio are imported to Canada and via Canada Post.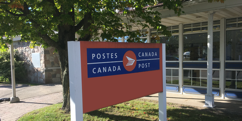 ---
Importing parcels from Ohio to Canada via Canada Post
All parcels mailed to Canada are potentially subject to duty and/or taxes. . Canadian Customs (CBSA) collects provincial sales taxes (PST) and Harmonized Sales Taxes (HST) according to the province of residence on most taxable imports valued at over CA$40. See note above on new duty free threshold under USMCA/ New NAFTA.
Dutiable and taxable items mailed to Canada are subject to a handling fee of CA$9.95 per dutiable or taxable parcel. If charges are applied, the parcel will be delivered along with a CBSA Invoice (E14). Canada Post collects the fees on behalf of the CBSA and accepts payment online via credit card and other methods.
For those who have read about the Free Trade agreement between Canada and the USA (namely NAFTA and USMCA), it often comes as a surprise that their shipments are subject to duty. To qualify for duty free entry under NAFTA, the goods must be accompanied by a NAFTA Certificate of Origin.
Shipping Aerospace industry parts from Ohio to Quebec Canada
Jet assists Ohio shippers with low cost express delivery of urgent aerospace parts and equipment for delivery from Ohio to Bombardier and their suppliers in Canada.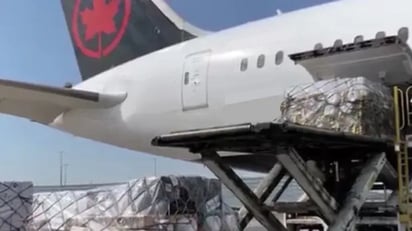 Sending Gifts from Ohio to Quebec and Canada via USPS
The personal connections between Ohio and Quebec are stronger than ever thanks to shared employees, employers, universities and tourists. Gifts between individuals can be considered duty and tax exempt, not otherwise restricted and valued under CA$60. To qualify as tax exempt, the gift must be sent to the recipient personally and include a card or other notice indicating that it is a gift. Advertising material and alcohol cannot be cleared as tax exempt gifts.
---
Shipping from Ohio to Canada via FedEx or UPS
FedEx and UPS are by far the most dominant carriers in North America and have extensive operations throughout Ohio. They also have a sizeable presence in Canada and, along with Purolator, are market leaders in the Canadian Market.
The "shipping from USA to Canada offer" via FedEx and UPS are similar. Both companies offer air express delivery, economy air delivery and ground delivery.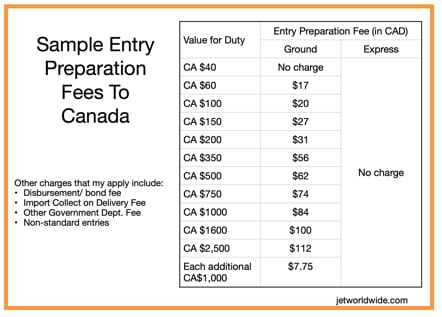 FedEx USA shipping options Ohio to Canada Include:
FedEx International Priority to Canada: 1-2 business days
FedEx International Economy Canada: 2-3 business days
FedEx International Ground Canada from Ohio: Up to 6 business days. See graphic above for sample rates for entry preparation of ground shipments to Canada that may apply.
UPS USA Ohio shipping options to Canada Include:
UPS Worldwide Express: Morning delivery to main cities
UPS Worldwide Saver: End of day delivery to main cities
UPS Worldwide Expedited: 2 Day delivery to main cities
UPS Standard to Quebec: Up to 6 days Ground. See graphic above for sample rates for entry preparation of ground shipments to Canada that may apply.
---

Clearance and Entry Fees to Canada via UPS and FedEx
Carrier clearance fees in Canada vary by the service type. Jet can help Ohio shippers minimize these fees through single entry consolidated entry. Jet Worldwide can receive and store shipments from Ohio in our Montreal facilities for on-demand distribution within Quebec and throughout Canada.
Typically, there are three elements to standard parcel clearance:
Entry preparation
No charge for express shipments
Charge for ground shipments based on value of shipment (see below)
Duty
Calculated using the H.S. classification and can be as high as 20% for clothing
Many are surprised to learn of duties and how NAFTA country of origin duty free is rarely used for parcel shipments from the USA to Canada.
Taxes
GST, HST, PST: Sales tax is applied based on destination of parcel
Prepayment of duty fees
If duty and taxes are paid, FedEx and UPS charge for "prepayment" of these fees.
The charge for payment is usually around 3% of the amount prepaid with minimum charge of between CA$7 and CA$15.
In general, express shipments to Canada are not charged an entry preparation fee by the carrier. However, ground shipments sent via FedEx and UPS to Canada are subject to an entry preparation fee.
The cost advantage of shipping parcels from Ohio to Quebec via ground service is diluted by the Canadian clearance cost and shipping delay.
Exact FedEx ground and UPS ground entry preparation fees can be found online and can be negotiated for high volume shippers.
For Ohion companies with regular volume to Canada, it may be best to establish a high volume parcel import and distribution process. This type of "zone skipping" has the added benefit of lower per shipment clearance cost- especially for shipping from Ohio to Montreal and Quebec. Ohion companies can establish themselves as a foreign importer of record and do one consolidated entry for many individual parcels.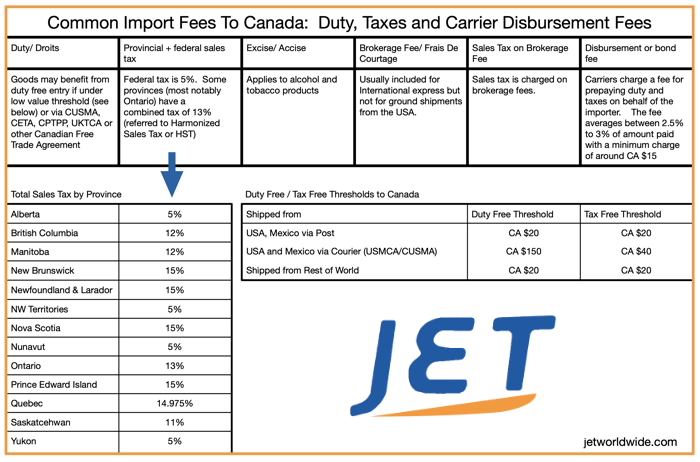 Jet Worldwide works with Ohio shippers for low cost parcel shipping solutions fromHouston, Dallas, San Antonio, Austin and all Ohio to Canada with final delivery via Canada Post and Purolator carrier.

Getting a quote for shipping between Ohio and Canada.
We are happy to help with your shipping to and from Canada. Provide information about the type of goods that will be shipped, shipping volume and restrictions that should be taken into account.

---
The most efficient routing for regular parcel flows is via consolidating parcel volumes for a single shipment for single entry cross border entry. After clearance, the goods can be transferred to a Canadian domestic carrier for delivery across Canada. Get information from our Canadian team on shipping your American parcels to Canada.
Shipping fromOhio to Canada for Quebec and Canadian companies
There is a demand from Canadian companies who are looking for cost effective solutions for receiving goods from their many Ohio suppliers. Often, ground is too uncertain and air is too costly. Contact Jet for a low cost express solution that includes entry preparation and delivery in 1-3 days from the USA to Canada.
---
Canadian storage and distribution from Ohio
For specific items, many shippers in Ohio can find it cost effective to store and distribute their goods stored in Canada for on demand distribution. For information on Canadian warehouse solutions, contact our parcel logistics team.
---

Sending e-commerce online orders from Ohio to Canada
Canada is the largest international market for most US based e-commerce merchants.USPS offers discounts via such e-commerce shipping platforms and is the lowest cost choice for small parcels.
Many shopify orders to Canada can now be imported duty free thanks to CUSMA free trade provisions.
USPS offers a low cost to Canada for shipments under 10 to 20 pounds.
Contact Jet to get a Canadian address to manage your returns.