The U.S. Postal Service is getting an unexpected financial boost from pandemic related parcels business. The COVID crisis accelerate the already declining letter volumes. This was no surprise. But the extent of the surge in parcel volume is.
The Washington Post is reporting that postal leaders recently provided data to Congress showing an increase in parcel delivery increased over 50 percent May 2020 versus the previous year. At the same time, higher profit letter volume fell around the same percentage versus previous periods.

Parcel post volumes are approaching nearly double to volume versus last year.
Cash Flow
As letter volumes declined, the concern at the start of the pandemic was the very viability of the post office. Thanks in part to a $3.4 billion loan from the US Treasury department, the USPS actually improved their cash position by around $4 billion dollars.

If package volumes persist as in the "new normal volumes" the expected solvency crisis could be delayed until the third quarter of 2021. The agency also can access an additional $10 billion via a loan from Treasury but doing will certainly be fraught with further political rancour.
A major payment due this September of $7.8 billion will be a test of sorts postal leaders (will they be able to make this payment) and political leaders (what if they cannot make this payment). The payment to Treasury Department is mandated by an 2016 act of congress that requires the USPS to pre-fund its retiree health benefits.
However, with years of monumental loses, a liquidity crisis at USPS is never that far away. The business model of the USPS - especially with respect to legacy costs and prepaid retirement issues - is simply not sustainable. The most recent financial report show a monthly loss of $1.2 billion in May 2019 a projected loss of $225 million in May 2020. This is largely due to an over 50% increase in package revenue.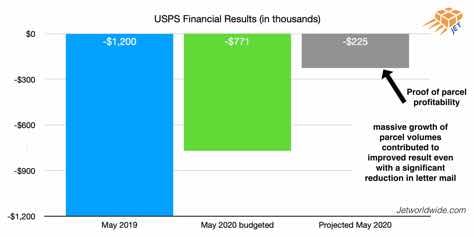 Proof of Parcel Profitability
There is a political debate as to if the USPS postal service is subsidizing parcel shippers (namely Amazon/ Washington Post owner Jeff Bezos) by delivering at a loss. The issue is not so much about gross margin on direct costs but rather how fixed legacy costs are assigned.
Critics claim the post office is assigning an unfairly high portion of fixed costs to letter mail delivery which - as the argument goes - allows for below cost pricing for parcel delivery.
The recent surge in volume and improved financial result seems to support the argument that the USPS does, in fact, make money on parcel delivery.
USPS largest parcel customers include UPS, FedEx and Amazon. All three companies use USPS Parcel Select Service which essentially provides larger discounts for more direct entry into USPS final mile delivery options.
Using Parcel Select, shippers can send pre-paid, pre-labeled and pre-sorted goods directly to the nearest postal delivery station.
Free Market Competitor VS Public Utility
The duopoly of FedEx and UPS complain about USPS, but the three main players are part of a co-dependent ecosystem. USPS, FedEx and UPS are competitors and partners who essentially control the US market. Amazon has broken into this ecosystem and leads a disruption caused by massive growth of e-commerce parcel volumes.
The growth of e-commerce parcels are opening up new regional options and other delivery niche carriers.
USPS supporters point out the value of the universal mandate and broad access to all shippers. Poll results consistently show Americans support and value the role of the postal service.
An Odd Dynamic
Congress has mandated payments the post office cannot afford while, at the same time, giving loans to help it make such payments?
FedEx and UPS complain about unfair competition by the post office yet take advantage of the low cost mile mile solution via their postal subsidiaries (FedEx SmartPost, UPS SurePost).
Amazon depends on postal deliveries for outside areas but is developing a competing service in high density areas.
As is the case for Amazon mentioned above, e-commerce parcel solutions are taking volume from USPS in high density areas while continuing to depend on the USPS for low density/ rural area delivery.
FedEx is the largest provider of air transport for the USPS and manages domestic airlift for US Mail, and Priority Mail via the USPS Air Cargo Network (ACN) contract.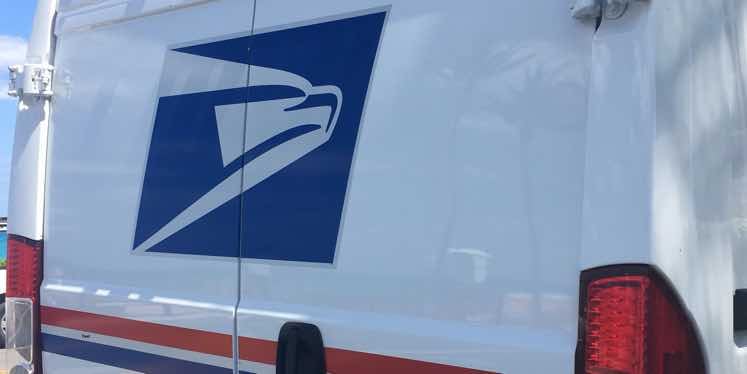 Boost from Foreign Treaty Mail and Direct USPS Connections
The USPS will also benefit from being able to self declare their rates from foreign post offices. Increasingly, international shippers are able to access the US via section 321 (type 11 and type 86) import clearance. Contact our team to develop high volume parcel import programs to the USA.
International e-commerce merchants can benefit from shipping direct to the US via Global Direct Entry and duty free parcel import processes. Shippers are increasingly shipping USPS pre-labeled parcels to the USA and using Express Consignment/ Part 128 clearance processes that are faster than postal clearance.