Clearance notes for sending parcels to Trinidad and Tobago,
The Government of Trinidad has imposed an additional seven percent levy on online purchases of goods and services. Please note when reading the information below that your duty costs may include an additional 7%. The other information - which is from a previous blog - remains current.

The Trinidadian Finance Minister, in announcing the 7% levy, said the tax was intended to help manage the increase in foreign exchange outflows from online purchases, reduce revenue leakage, and assist local manufacturers and service companies to compete with overseas retailers
More people are becoming aware of the new 7% levy on goods imported to Trinidad and Tobago.
Jet Worldwide and our partners work closely with local customs to ensure proper classification and correct assessment of fees. Our industry leading blog on shipping to Trinidad is designed to further our mission of connecting people, parcels and businesses around the world.
Have questions regarding clearance cost in Trinidad and Tobago?
Contact our Canadian Caribbean team
The following guidelines can apply to Canadian parcels shipped to Trinidad and Tobago via Canada Post, FedEx Canada, UPS Canada, Purolator and Jet Worldwide Canada.
Estimating import fees when
shipping to Trinidad and Tobago
Valuation and "landed cost"
Trinidad and Tobago Customs and Excise calculate the Duty on the "Landed Cost." Most shippers mistakenly assume that duty is calculated on their declared value.
To calculate duty, customs uses the "C.I.F." value (Cost, Insurance Freight). This is also referred to as the "landed cost."
Calculation of Landed Cost
Cost of the item
+ transport cost
+ insurance
= Landed Cost
Online Purchase Tax
Trinidad Provisional Collection of Taxes Order, 2016
Since 2016, the Trinidadian Government has imposes an additional 7% on goods purchased online and imported to Trinidad and Tobago.
Criteria for the implementation of the import tax include:
Goods purchased online

Parcels i

mported into Trinidad and Tobago by air transportation & "transit shed"
Parcels consigned to a consumer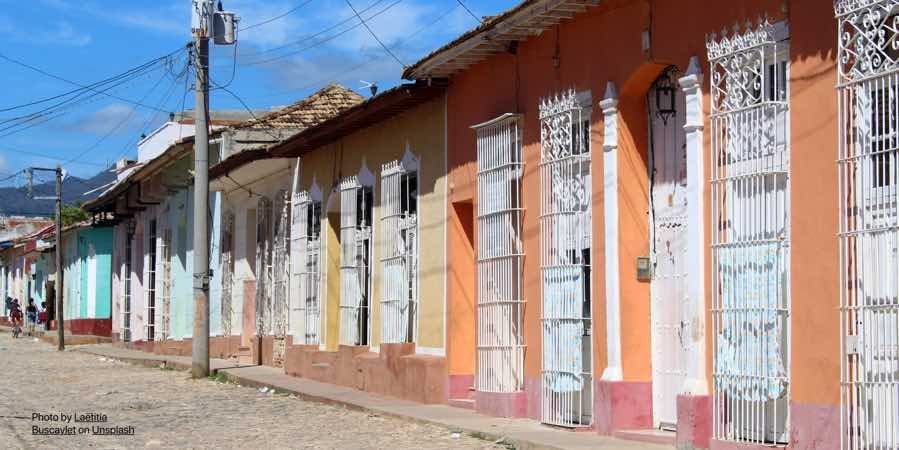 Calculation of Duty for parcels to Trinidad and Tobago:
Duty rates average between 20% and 30% and calculated on the landed cost (as explained above).
Note: As mentioned above, many shipments are being subjected to a 7% levy in addition to the published duty rate.
Although duty rates vary by commodity and subject to change, most consumer commodities (including electronics and clothing) are subject to a 20% duty plus Vat (12.5%).
Example of Duty Assessment
Item: New clothing
Landed Cost: $200 CAD
Amount in TTD$ (using 5.37787): TTD$ 1,075.57
Duty Calculation with online import tax:
Landed cost + 7%: 1057.57 + $75.29 =$1132.86
Duty rate for new clothing = 20%
Duty cost: $226.58 (1132.86 + 20%)
Duty Calculation (without import tax)
Calculation for duty (landed cost x duty rate)
Duty rate for new clothing = 20%
Duty cost: $215.11 (1075.57 * 20%)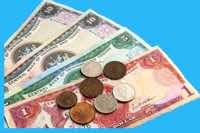 Calculation of Vat for parcels to Trinidad and Tobago:
The Value added Tax (Vat) in Trinidad and Tobago is 12.5%. The Vat is calculated on the total of the landed cost + duty. Trinidadian businesses can often claim back the Vat they have paid.
So, to continue with the example from above:
Vat Sample Calculation
Landed rate + duty (1075.57 + 215.57) = TT$1291.14
Vat rate = 12.5%
Duty cost ($1291.14 * 1.125) = TT$161.39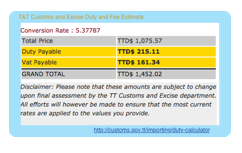 Often, our Canadian clients wish to pay customs fees to ensure cost free delivery to their consignee (who is often a family member or client). Our Delivery Duty Paid service to Trinidad provides the option for the shipper to pay the Trinidad and Tobago Customs Duty and Vat.
Common Duty Rates for Parcels from Canada to Trinidad
Although duty rates vary, the fees generally can be broken down into the following categories:
Consumer commodities (such as clothing): 20%
Automotive parts:

30%
Educational Books for school:

0% (with no Vat)
Computer laptops and tablets:

0%

Restricted Items To Trinidad and Tobago:
The list of items that cannot be sent to Trinidad and Tobago are common to other destinations and include:
- Certain Coins and currency
- Any items that contain Camouflage patterns
- Arms and ammunition
- Pornography
- Toy guns which closely resemble a real firearm
- Goods with trademark infringement
Note: The information provided is for general information only. Customs interpretations, regulations and rates are subject - and often do- change. For up to date information on a specific parcel to Trinidad and Tobago, contact our team.