Amazon took the next step to disrupt parcel logistics and is now beta testing a platform that allows shippers to access their domestic trucking network. The launch is currently limited to full (53 foot/ dry van) truckloads in northeastern states but the expansion is consistent with their ambitions to offset their offer third party logistics.
Amazon is now offering full truck rates in select areas in the USA for 20-30% less than the market rates.
Selling Capacity, Capabilities and scale
Much like Amazon Web Services (AWS) and Fulfillment by Amazon (FBA), the new "Logistics by Amazon (LBA)... so it might be labeled … seems consistent with Amazon's strategy of "disintermediation and the monetization of those capabilities."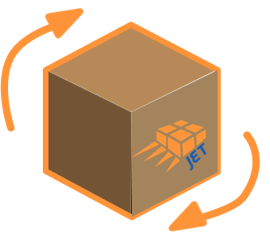 Jet Worldwide helps international companies develop high volume parcel import processes to the USA via Express Consignment Clearance Facilities (ECCF), Cargo (CFS), single importer of record and cross border from Canada (CETA to USA).
Opportunity and Threat
Jeff Bezos has often said that "your margin is our opportunity" and the margin of freight brokers is an opportunity. The tradition bound shipping industry, from parcel delivery to pallets and containers, is ripe for change. E-commerce volumes and technology are fundamentally altering logistics flows. Amazon presents the perfect storm of scale, technical expertise and ambition.
Freight Brokers: How to compete against zero margins?
The value of freight brokers has been to increase efficiency to better match demand with capacity. The challenge for brokers is how to compete with the scale and resources of Amazon who is willing to operate with zero (or even negative) margin?
Analyst say Amazon is more interested in locking up trucking capacity by brokering those services than it is in making money. However, price increases down the line are an inevitable part of the long term plan.
Amazon: Turning costs to an opportunity
The benefit to Amazon in sharing their third-party logistics network provides an opportunity to exert even greater influence on obtaining trucking capacity by turning part of their costs into revenue.
Amazon logistics offer is consistent with their reselling of their IT infrastructure (AWS) and warehouse/pick/pack capabilities (FBA).
Business 101: Profit from market dominance
It is likely that Amazon's is using the textbook strategy of undercutting competitors without regard to margin to build market share. After driving rivals out of business, price increases will achieve a consistent profit position that is protected by scale.
Global logistics are shifting from aggregate units of pallets and containers to managing the individual parcels within those units. Efficient movement and customs clearance of individual orders is the new critical skill for logistics professionals.
E-commerce and Parcel Logistics
From the FedEx/ UPS duopoly to USPS last mile dominance, e-commerce disruption is a reality. Although often led by Amazon's scale and ambition, parcel delivery is undergoing fundamental change that includes high volume parcel import processes from overseas suppliers (ECCF and CFS), "uberization" of delivery networks, parcel shops and countless other innovations.
The new challenge for parcel delivery is managing "direct order/ cross border e-commerce" shipments.