In working with many companies on international cross border high volume parcel flows, we are often asked for the lowest cost e-commerce delivery solution for companies sending to the USA. Our answer is simple: It is less expensive to use a foreign post office than to send directly via USPS (using a USA gateway).
The lowest cost delivery for parcels under 2 kg is via China Post
The best China Post option is ePacket Service
The USA: The Most Open Market for Cross Border E-Commerce
Below the headlines of a trade war with China is the incredible reality of duty free access for most on-line purchases of $800 USD or less.
In fact, the higher general tariffs for Chinese goods are driving the growth in duty free parcel shipping.
The low value duty free threshold of $800 to the US is often referred to as a Section 321 entry type. And a new "type 86" will expand the use of section 321 duty free entry to the USA.
The vast majority of goods from international e-commerce merchants being imported to the USA:
Clothing, fashion, household goods, electronics and other non-restricted goods valued under $800 can be imported duty free to the USA.

The goods can be entered using simplified clearance processes that do not require and an H.S. Code.

US customs/ CBP offers express clearance processes that ensure timely clearance within hours of arrival at the port of entry (and often cleared prior to arrival) even during the peak holiday season.
Put another way, most orders valued under $800 USD can be imported directly to the USA without duty OR tax!
Following the lead from consumers, businesses are procuring parts and supplies more directly via efficient e-commerce processes.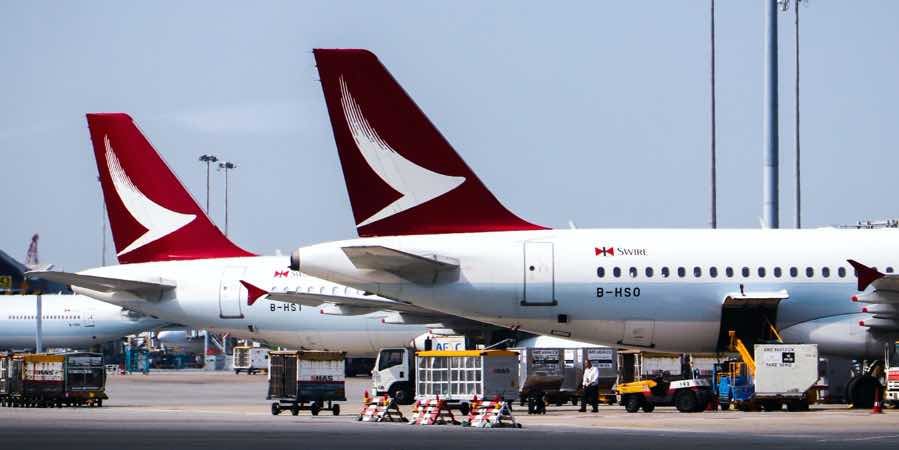 CORONA VIRUS UPDATE: SHIPPING AIRFREIGHT US from CHINA
With the reduction of capacity and increased demand, shippers are looking for ways to reduce air shipping China to the USA. Get a quote for up to 300 kg shipping air US from China.
Jet Worldwide helps companies send directly to the USA for duty free (Section 321) clearance of parcels through an Express Consignment Clearance Facility (ECCF) or Cargo (Container Freight Station). E-commerce shippers can now send direct to multiple ports across the USA for low cost final mile delivery via USPS ground.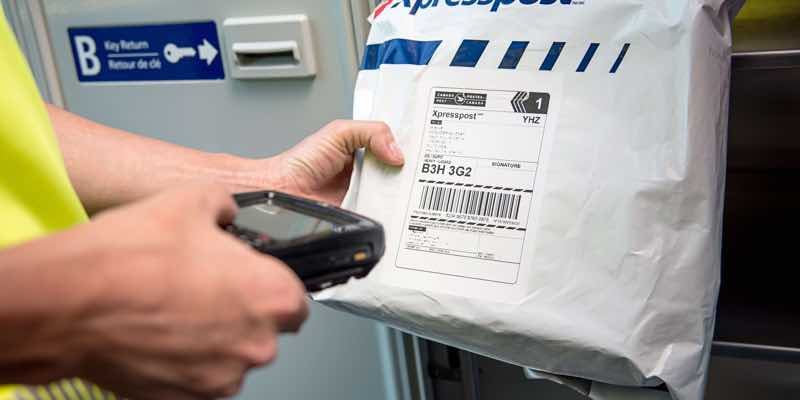 As the United Postal Union adjusts pricing, most notably between China Post and USPS, international on line retailers are seeking solutions for sending e-commerce parcels directly to the USA. Advanced Clearance processes allow for efficient duty free import processing for parcels sent to the USA.
Using advanced high volume parcel import processing, retailers can import items duty free for direct delivery to their customers from their overseas suppliers. The USPS is offering Global Direct Entry and other solutions for international shippers shipping online orders to the USA.
Shippers can now produce USPS labels directly and send their shipments directly to the USPS via Express Consignment (ECCF) or CFS duty free Section 321 entry.
With new United Postal Union (UPU) terminal dues structure, companies are looking for ways to send directly to the USA themselves rather than via China Post. Using ECCF's at multiple ports of entry (LAX, JFK / NY, ORD, Chicago), shippers can benefit from faster transit times and low cost ground shipping via USPS, UPS, FedEx or America's regional carriers.
What is Section 321?
US Customs allows most individual orders valued under $800 USD to be entered and cleared duty free into the USA. This entry type is known as a Section 321 Informal Entry (discussed further below). Using this entry type, importers can consolidate all their qualifying orders under one entry without H.S. Codes and benefit from duty free entry.
Most goods cleared via a section 321 informal entry are imported under Part 128 of the Code of Federal Regulations (CFR). As such, they are imported to facilities with port codes that define them as Express facilities or ECCF's. Many express operators are also able to clear via freight facilities (with section 321 processes) known as a Container Freight Station or CFS.
For importers who have H.S. codes, it may be best to use a Section 321 "type 86" entry. Using this entry type, goods can be imported via traditional methods using the Automated Broker Interface or ABI system. Contact our team to discuss which method of parcel import is best for your company.
Why was sending from China be so cheap?
The United States Postal Service (USPS) charges to China Post are defined under United Postal Union rules.
With its 192 member countries, the UPU is the primary forum for cooperation between postal sector players. The mantra of the UPU includes a mission to ensure universal service everywhere within a domestic postal network.
Note: The perceived need for "universal service" for letters is considered outdated as the majority of critical communications are now via electronic means.
The rates between postal authorities are commonly referred to as "terminal dues." In general, developing countries - referred to "transitional countries" pay lower terminal dues.
UPU "terminal dues" apply only to letters. However, the definition of letters include "bulky letters" or packets which is the category used by the majority of Asian e-commerce merchants.
The UPU estimates that 80% of "mail items" generated by e-commerce weight less than 2 kg and are processed in letterpost streams. Countries designated by the UPU as "transitional countries" enjoy disproportionately low terminal fees. * Despite China's economic success, it is still designated as a transitional country.
New UPU Terminal Dues for parcels will see significant increases in 2020. The increase in in cost to ship via China Post is the reason Asian e-commerce merchants are looking for direct ECCF, CFS section 321 processes for Global Direct Entry to the USA.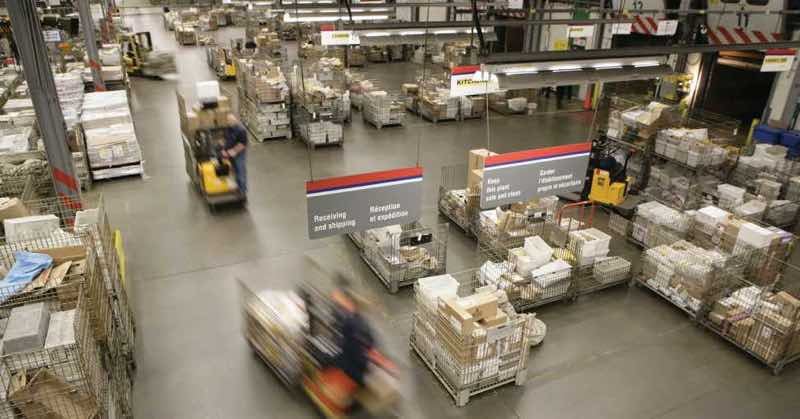 Jet helps retailers who are seeking to adapt their logistics to include direct from supplier to customer: We specialize in helping retailer develop high volume e-commerce parcel import for thousands of individual orders.
Read our blog on importing e-commerce parcels via a express consignment (ECCF) or via Cargo (CFS).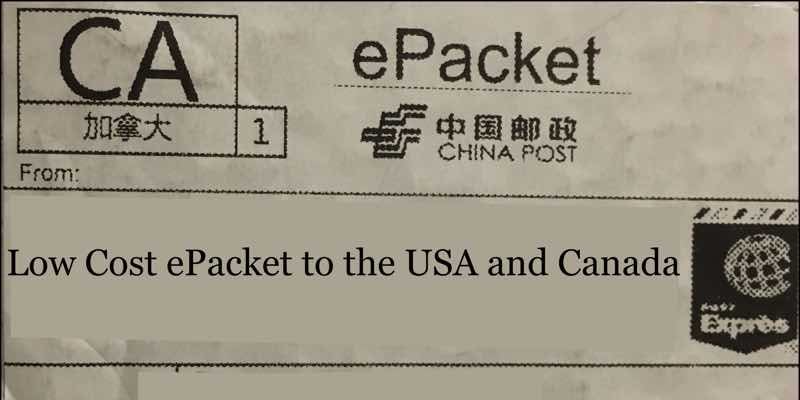 Low cost postal pricing continues to be a cause for controversy:
The delivery rate charged to transitional countries is often often below cost of the destination postal authority (see graphic above).
BUT... low cost postal pricing continues to help grow postal volumes:
The large infrastructure left bare by dwindled mail volumes has found a new purpose in delivering small parcels

The financial struggles of postal authorities would have been insurmountable with out the benefit of e-commerce parcels.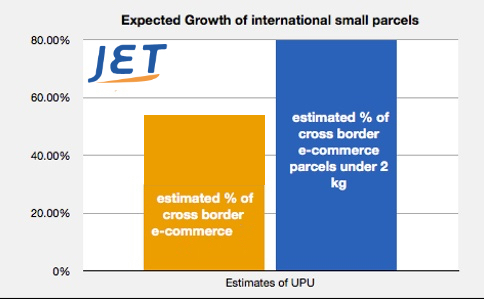 The USPS ePacket... cost a little bit more but with tracking

Being bound by the UPU rules related to "mail / small packets", the USPS developed a ePacket which provides tracking and better service but at a higher rate than the preferential terminal fee. Although the ePacket is outside the jurisdiction of UPS rules, the ultimate price negotiated was influenced by the preferential UPU preferential terminal fees.
The USPS refuses to disclose their ePacket pricing claiming it is "commercially sensitive" information.
Countries that have ePacket agreements with USPS include China, Hong Kong and Korea Post.
Merchants selecting the ePacket through Hong Kong Post are able to ship small packages weighing up to two kilograms (4.4 pounds) using co-branded shipping labels. Upon arrival in the United States, these packages receive First-Class Mail service with Delivery Confirmation service.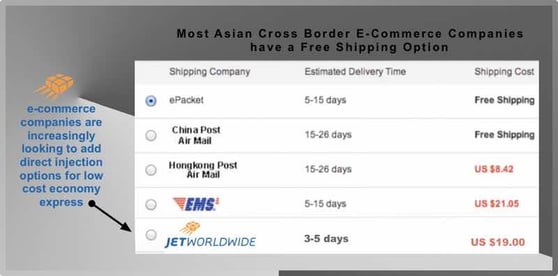 ePacket, e-Bay and Amazon
Amazon's rival, eBay, is benefiting tremendously from ePacket deals. Cross border trade is extremely lucrative for eBay and its (former) payment processing subsidiary PayPal. In fact, eBay has struck trilateral deals with the USPS and postal services in Asian countries including China, Hong Kong, and Singapore.
Nearly half of eBay sellers in China are using the ePacket service to ship to the U.S., with over 80% of items delivered in five to 10 days. The service offers up to a 50% discount compared with comparable services.
Amazon, has been a vocal critic of the low cost ePacket service as it has affected their US based re sellers.
Check out our industry leading e-commerce blog on shipping to the USA: USA Express Consignment Clearance Facilities for sending e-commerce parcels import to the USA.
Note: The official term for an ECCF is Express consignment carrier facility but often the terms "Express Consignment Clearance Facility" and "Express Consignment Courier Facility" are used interchangeably when referring to an ECCF.
Duty free Parcel clearance to the USA
With regulatory changes in March of 2016, it is possible to import many items valued up to $800 USD duty free. Via express consignment clearance processes, shippers to the USA can take advantage of section 321 entry for efficient consolidated clearance of parcels.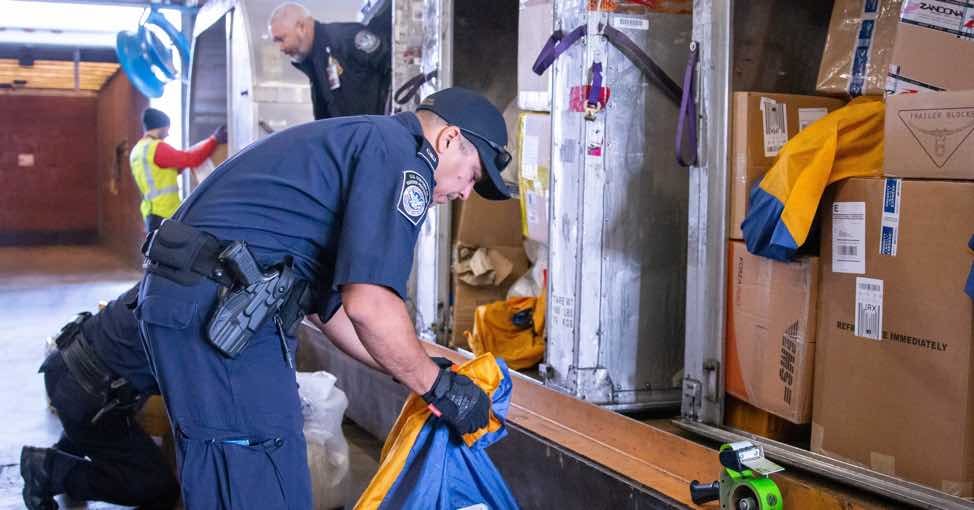 Sending Direct to the USA
Shippers of ePackets from China are increasingly interested in establishing direct parcel import processes from China. Jet can help American, Chinese and European retailers set up parcel logistics processes for duty free imports. Having direct access via high volume parcel import processes gives retailers / e-tailers more control and more consistent delivery times.
Jet Worldwide can help you develop secure parcel import solutions to the USA via Express Consignment Clearance Facilities (ECCF's) and Container Freight Stations (CFS).
New type 86 entries are expanding the ability to clear under section 321 provisions to the US
Using Section 321 clearances via Express Consignment Carrier Facilities (ECCF's) allow cross border e-commerce merchants to bypass the traditional logistics flow. Using efficient high volume parcel clearance processes, American retailers can react faster to market trends and take advantage of duty free processes.
Conclusion
ePacket will continue to define low cost e-commerce shipping from Asia but significant cost increases have already been announced and more are expected. E-commerce merchants should develop alternative parcel flows that include the integrators and direct injection into high volume target countries.
With the increase in the low value threshold to the USA (section 321 de minimis) to $800, e-commerce companies are seeking duty free parcel import solutions to the USA. Jet provides express consignment clearance (via our ECCF's) across the USA.
Jet Worldwide's recommendations for high volume parcel flows from Asia to the USA:
Continue to take advantage of the ePacket pricing from the USPS for low weight parcels.

Develop alternative high volume parcel flows into the USA for direct injection for heavier parcels and to protect against clearance and service delays of high volume postal networks.