We get many requests from the thousands for French persons who are considering moving to Montreal every year. Many French business persons and students are moving to from Paris, Lyon, Marseille, and all of France to enjoy the vibrant cultural and economic activity in Montreal.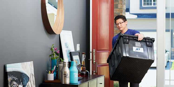 An increasing number of French students are attending Montreals many Universities (including McGill, Concordia, University of Montreal, University du Quebec a Montreal, and Polytechnique).
For rates on shipping personal effects from Paris, Lyon, Marseille and all France to Montreal, Quebec and all Canada
Personal goods shipped from France can be imported duty free to Canada when the necessary conditions are met.
Paying excess baggage versus shipping your personal effects
In many cases, bringing your goods with you as excess baggage is the best method. The cost of excess baggage is usually less expensive than shipping separately. Items shipped as excess baggage are easily cleared upon your arrival to Montreal's Pierre Elliot Trudeau Airport (YUL) - or other Canadian entry point.
Air France and Air Canada are the largest air carriers from France to Montreal
Shipping a couple of boxes of personal goods from France
For many persons moving from France to Montreal, they have more boxes than are practical to ship as excess baggage. Often, traveling with so much excess baggage can be a burden - especially when traveling alone.
Jet Worldwide helps persons in France ship their personal goods from France to Montreal and Quebec when excess baggage is not a practical option.
Jet's economy express shipping service provides a solution for French persons and businesses who want a door to door shipping solution.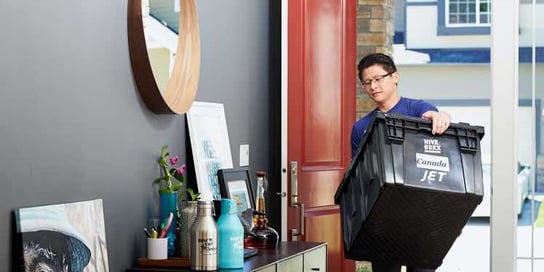 When shipping an entire household from France to Montreal
Some individuals in France - especially those working for corporations or government - they are seeking a solution for shipping an entire household of goods to Montreal and Quebec.
Jet Worldwide has partnered with a moving specialists to help employees located in France to move to Montreal, Quebec and across Canada.
Large household moves are best sent via ocean freight to a local port in Montreal. The goods can be cleared at the ocean port and then placed on a truck for final delivery, unpacking and placement of the items in the persons new home.
"Self Clearing" personal effects to Canada from France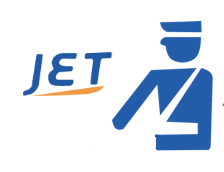 In order for your personal effects to benefit from duty free status, they must meet Canadian Customs guidelines. Although companies - including Jet Worldwide - can provide the necessary door to door transport, personal effects imported to Canada must be "self cleared" by the importer them self.
Personal effects can qualify for the duty free provisions of tariff item No. 9807.00.00.
Requirements to qualify as tariff item 9807.00.00 include:
You must qualify as a "settler" with the intention of living in Canada for the first time for at least one year.
Former residents moving back from France to Canada can qualify if they were absent for more than one year or after being a resident in another country for more than one year.
A complete list of the items you are sending as personal effects must be prepared. The list should indicate the value and make, model and serial number where applicable.
Wedding Gifts?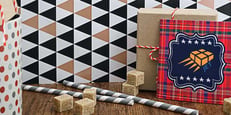 If you got married within three months of coming to Canada or if you plan to marry within three months after arriving in Canada, you can bring in your wedding gifts free of duty and taxes. However, you must have owned and possessed the gifts before you arrived in Canada.
What are considered as Personal Effects?
The basic rule to qualify as duty free personal goods is that the items must be used.
Must not be otherwise restricted for import
Must be owned at least 6 months
Canadian customs (CBSA) my require additional supporting documents such as a bill of sale to prove the requirements are met.
Declaring your goods upon arrival in Canada
If your goods are not with you as accompanied baggage, you must give your list of goods to the border services officer upon arrival to Canada. It is recommended that you download and complete a Form BSF186 (Personal Effect Accounting Document) before arriving. The customs officer will then assign a file number and give you the completed form as a receipt.
Jet Worldwide Canada can assist companies and individuals move from France to Montreal - and vice versa with door to door service for several boxes to large containers.
International customs laws and regulations are subject to change and varying interpretation. The information contained herein is for general information only.