In an age of ecommerce, mega platforms are being countered with buy local directories such as Quebec directory, Panier Bleu. Such directories play a useful role in educating Quebec shoppers about the importance of buying locally made goods. And, via Jet, selling to markets that have an affinity for Quebec goods: Most notably, selling to France.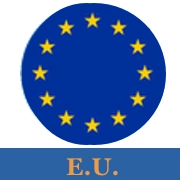 While the the EU recognizes all 27 member countries as a single digital marketplace with new rules (see below), targeting France from Quebec simplifies both the marketing and import processes.
---
Disclaimer: The information in Jet Worldwide online content, including this post, is for general information only and is not intended to, constitute legal and/or tax advice. All liability with respect to actions taken or not taken based on the contents of this site are hereby expressly disclaimed. The content on this posting is provided "as is"; no representations are made that the content is error-free.

---

Selling and Shipping Direct to European Union and UK
Canadian online merchants can grow their sales to Europe by developing direct shipping solutions. Jet Worldwide helps Quebec and Canadian online sellers ship direct to major global markets including the European Union, UK, Japan and China. See our PDF presentation (below).
Ship direct to France and European Union
Lower cost than postal options with tracking and delivery within 7 days
Jet facilitates IOSS registration for prepaid VAT and no import charges for your customer
API integration
A way to scale your sales to the E.U. and UK.
---
Quebec sellers can ship direct to France without IOSS
What has been lost in all the discussions of IOSS is the fact that it is, in fact, optional. It has a true benefit for shipping across Europe but not needed if shipping to France only. At Jet, we actually recommend that Quebec ecommerce sellers focus on single markets and build regular sales and volumes. From Quebec, France represents a natural market to target as Quebec branded sites are attractive to French buyers.

Prepayment of Value Added Tax to European Union Countries
---
Ecommerce to France from Quebec
There has been an explosion of cross border ecommerce shipments to France and Quebec sellers can naturally service this market via Jet's direct shipping options. Using platforms, such as Shopify, sellers can easily apply and charge VAT at checkout.
Using Jet's direct import processes, all Panier Bleu sales to France can be imported with VAT prepaid and no charges to the buyer in France.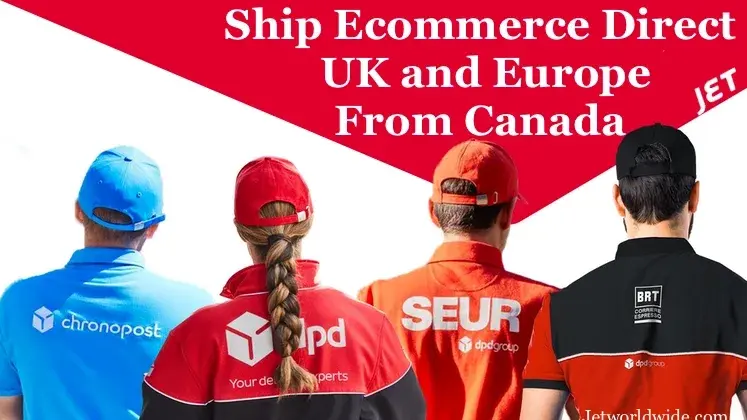 Using France as a hub and IOSS, your ecommerce shipments from Quebec to all EU countries! Contact Jet's team for details.
---
IOSS not needed for shipping direct to France
For Canadian merchants who ship only to one EU country, registration with IOSS is not necessary. Quebec sellers can sell direct to France, ship direct to France and - via Jet's clearance processes - prepay the VAT at the time of import.
Canadian sellers can meet the requirement to collect and pay VAT by paying the VAT at the time of import.
Jet Worldwide provides assists Canadian companies to register for IOSS
Facilitating IOSS registration
Direct shipping to France and European Union
Tracking, returns management and lowest delivery cost
---

Shipping Panier Bleu Beyond Quebec, From Quebec
E-commerce sales for Canadian retailers are are hitting all-time highs and continue to grow. Statistics Canada reported online sales more than doubled this year. Quebec set up the Panier Bleu in April as a means of showcasing provincially owned merchants which essentially serves as a search engine.
Panier Bleu has already recorded over a million page views and serves as a directory to thousands of Quebec retailers. A significant portion of the page views are from French consumers.
Quebec retailers need logistics companies to develop integrated international solutions to build sales volumes. Jet's goal is to help local entrepreneurs and large Quebec retailers to sell internationally direct from Canada.
---

Shipping ecommerce online orders direct to France from Canada
Jet Worldwide has best in class solutions for shipping ecommerce orders direct from Canada to France. Delivery within 5 business days, tracking and no charges to the consignee. Minimum volumes are required. Contact Jet's Canadian logistics team for details.
---

No Postal Clearance Advantage to France and EU
Quebec sellers need an alternative to the classic postal options. The traditional advantage of "postal clearance" have been mitigated with new rules. The new import processes for ecommerce to France are designed to enable better risk analysis and VAT collection by mandating compliance for both postal and commercial carrier clearance.
New "7+1 processes" and preloading security and risk analysis have been implemented. These requirements will be expanded from express and postal consignment via air to other methods of import (namely, ocean).
---

What does not change for shipments to the EU?
There is no change in duty, only VAT. Goods valued over €150 are still subject to duty. Keep in mind that Canadian origin goods may qualify for duty free import under CETA (contact our team for details).
IOSS is only for business to consumer sales. Business to business shipments import processes remain the same.
Additional things to know about IOSS and shipping ecommerce to Europe
If you register for IOSS, then all your shipments must be sent using this IOSS processes
Only one IOSS is needed when importing to all EU members
Non EU companies need to appoint an intermediary to register on their behalf
Security of IOSS number. It is important to protect your IOSS number and monitor potential fraud.
Data quality is important with using IOSS including transparency in reporting VAT collected and paid. It is recommended to show VAT breakdown for consumers.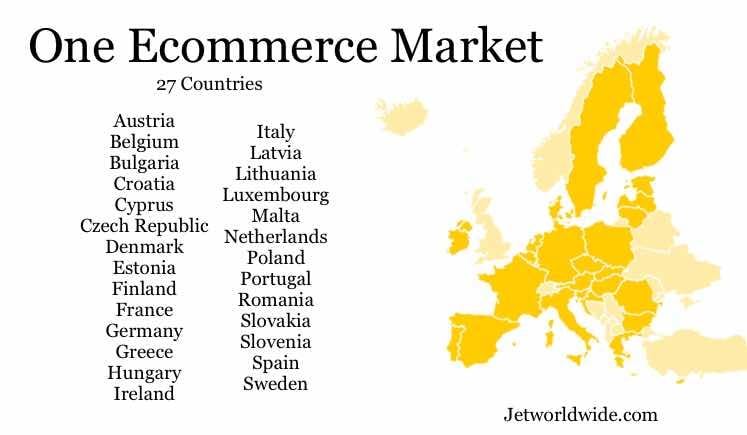 ---
Excise Tax to EU and IOSS:
Important to note that goods subject to excise goods (such as alcohol) are excluded. VAT and excise remain to be collected at border. However, Canadian and Quebec wines and spirits can benefit from duty free import under CETA (Canadian European Free Trade Agreement).
---

Prepaid VAT for Panier Bleu to France
A few quick points to consider regarding VAT for shipments to France from Quebec:
French consumers expect to pay VAT: Adding VAT charges actually provides a benefit as it shows the seller is compliant with French regulations.
VAT is captured at time of sale and - via Jet Worldwide import processes - paid at time of import.
For goods over €150, Jet can provide processes to ensure no charges forward to the consignee.
Goods made in Canada can qualify for duty free entry.