Paris and Montreal share a strong economic connection that Jet helps service with our parcel delivery options to Paris - and all of France. And Canadian online Shopify sellers are searching for parcel shipping solutions to France.
Shipping a parcel to Versailles, Le Vésinet, Maisons-Laffitte andNeuilly-sur-Seine Clichy-sous-Bois, Bondy and Corbeil-Essonnes.. and all of Paris?
Jet Worldwide offers parcel delivery to Paris from Montreal, Laval, Quebec City, St Foy, Toronto GTA, Canada
A few quick points to consider when shipping international between Canada and France
Canada Post is the preferred option for individuals shipping small parcels and personal items to France (see Canada Post international shipping options below).
Market dominant carriers, such as UPS, FedEx have crazy high base pricing. Discounted shipping can be obtained via "comparison quotes reseller sites" but discounted retail can still be expensive and such sites often lack support and logistics expertise.
Jet's logistics professionals will personally respond to your inquiry within 1 business day sharing our expertise and helping you find the right solution (we freely recommend alternative carriers and methods that may better suite your needs). Ask Jet.
Ecommerce shippers usually need a much lower cost than can be provided by traditional shipping methods and need direct shipping solutions (visit our ecommerce page).
---

This post provides a deeper dive and explores of the main elements of international shipping between Canada and France:
Historical economic connection between France, Canada and Quebec
Carrier options when shipping France from Canada
Shipping of Shopify and other online orders from Canada to France
Consolidated entry, storage and distribution in France and the EU
CETA duty free entry of Canada origin goods to France
Carrier options for Shipping Canada FROM France
Canadian Import and Fees for Shipments from France
Information required for a shipping quote between France and Canada
Disclaimer: The information in this blog is for general information only and is not intended to, constitute legal and/or tax advice. Producers, shippers, exporters, importers should confirm their processes with their customs brokers, carriers and regulating authorities. All liability with respect to actions taken or not taken based on the contents of this site are hereby expressly disclaimed. The content on this posting is provided "as is"; no representations are made that the content is error-free.
---
Shipping Canadian Shopify Orders to France and the EU
Jet Worldwide is building international shipping solutions for Shopify, Canada's leading e-commerce platform. Building on Jet Worldwide's decades of Canadian cross-border parcel shipping experience, our team is currently developing Shopify-integrated solutions for shipping to France and the entire European Union, allowing businesses to "self-fulfill" their orders.
Read about prepayment of VAT for online orders to France and the EU.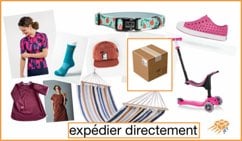 For updates on the latest international shipping solutions for Canadian online orders, connect with Jet Worldwide's e-commerce team.
---
The French Connection: Delivery from Montreal to Paris
The Paris and Montreal regional economies are largely based on services, economy including financial services, government, education, and health care. Our parcel delivery to Paris reflects this trend as the parcels to Paris tend to be smaller weights that contain samples & personal items with a transit time of 2 days.
Paris and Montreal share deep cultural and historic links and our parcel delivery to Paris helps serve the fundamental economic element in this relationship. Jet Worldwide has been providing delivery to Paris for over 35 years!
Franco-American Connection: Delivery from the USA to Paris
Increasingly, the French communities in the USA - most notably New York and Miami - are sending more parcels to Paris and Ile de France. Much of this business is for persons who send online purchases from ebay merchants who do not send international. Our Montreal based customer service provides incredible bi-lingual support and offers both express and economy parcel delivery to Paris - and all of France.
Jet Worldwide offers parcel delivery and last mile delivery solutions to Paris, France and the European Union for parcels.
---

Cheap delivery to Paris and France via Canada Post
For individuals shipping small parcels, cheapest delivery option to Paris and France is via the US Postal Service or Canada Post service.
Canada Post Shipping Options to France Include:
Canada Post Small Packet to France: Surface, air and "tracked"
Canada Post Parcel to France: Surface and "Xpresspost"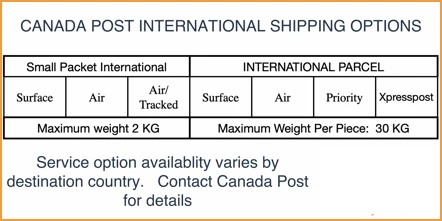 ---
Delivery to Paris via FedEx and UPS
FedEx and UPS are Canada's largest international carriers and, along with DHL, offer reliable transport to France from Canada.
Canada shipping options to France via FedEx and UPS include
International express priority to France from Canada
International economy air shipping to France
---
Delivery to France via Purolator Courier
Purolator is a division of the Canadian Post and offers international shipping to France from Canada via Partners, such as UPS
---
Delivery to France via Chronopost
Chronopost is a leading domestic carrier in France (and uses FedEx for their international shipping) but does not offer shipping from Canada to France. Get a rate for shipping from Canada to France.
---
Delivery to Paris & France via Jet Worldwide
Jet Worldwide is a trusted brand that has been providing international shipping solutions for over 35 years.




Jet Worldwide provides options for shipping between Canada, France and the EU for parcels, pallets and ecommerce orders.




Jet Worldwide offers transparency and world class logistics support. We are not shy about recommending alternative solutions as necessary.
---
Warehousing and delivery in Paris for distribution in France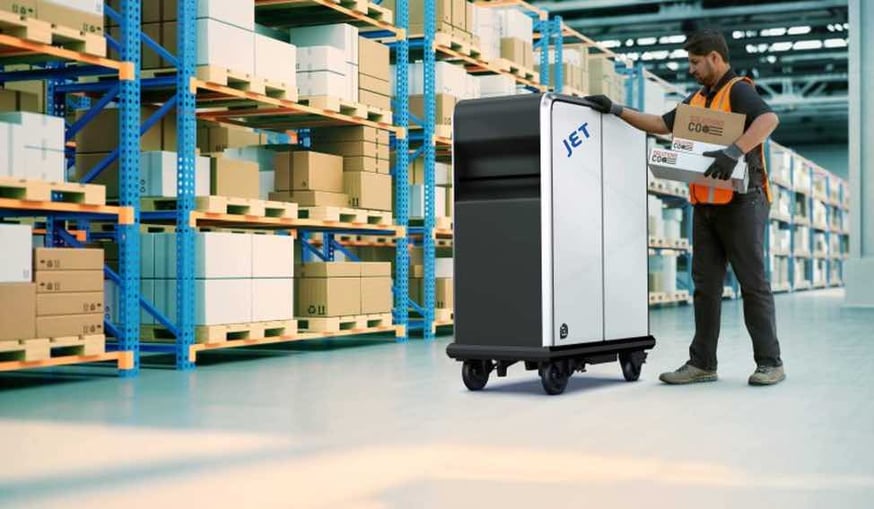 Jet Worldwide has warehousing in Montreal and Paris that helps Quebec and French companies effectively deliver their products with a next day delivery time and low delivery cost. Companies can send their bulk shipments via low cost air freight or ocean freight to our distribution facility.
E-commerce companies are seeking local distribution solutions for delivery in Paris and France. Goods are transited and cleared in bulk for warehousing and delivery throughout France.
---

Duty free clearance in Paris and all France for goods shipped from Canada
Canada-EU Comprehensive Economic and Trade Agreement (CETA) allows for duty free entry of Canada origin goods. To be considered for duty free entry, CETA rules don't require a formal certificate in order to obtain tariff benefits. A declaration on the invoice or any other commercial document accompanying the shipment is enough.
The good news for shippers is that CETA rules don't require a formal certificate in order to obtain tariff benefits. A declaration on the invoice or any other commercial document accompanying the shipment is enough.
Regarding duty free eligibility under CETA:
Country origin rules are associated with factors used to determine if the product is eligible for preferential duty free treatment under CETA.
The CETA country of origin declaration has a specific wording, which is fairly straight forward (check with up to date regulations before shipping).

Take advantage of Canada's Free Trade Agreements
---
Common Carrier Options for Shipping Canada from France
The common carrier options for shipping Canada from France include La Poste (preferred option for individuals shipping small parcels and personal items), DHL, FedEx and UPS.
FedEx and UPS Shipping Services to Canada from France Include:
International Priority Air Express to Canada

International economy air shipping from France
---
Importing Goods to Canada Shipped from France
Goods imported to Canada valued over CA$20 are subject to duty and taxes. Consignments valued under CA$3,300 can be imported via Canada's low value system (LVS).
French origin goods may qualify for preferential duty free entry under Canada EU free trade agreement (CETA) regardless of value.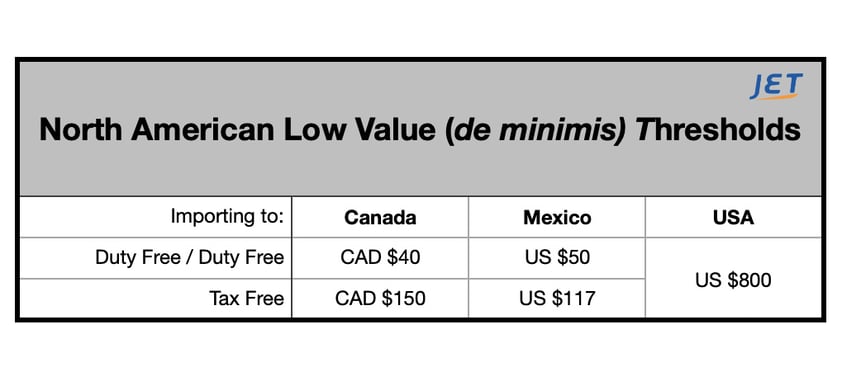 Canadian Import Fees for Shipments from

France
Common import fees for consignments shipped via air to Canada can include:
Duty: Items that do not otherwise qualify for preferential duty free import are assessed duty.
Tax: Consignments imported to Canada are subject to both federal and provincial sales tax.
Entry preparation fee: This fee is included for most shipments sent via express courier to Canada but consignments that require non-standard entries may be subject to additional preparation fees.
Disbursement Fee: When duty and taxes are assessed, carriers charge a fee for prepayment of such fees prior to final delivery. This type of fee averages between 2-3% of the fees paid on behalf of the consignee with a minimum fee between CA$10-$20.
---

Getting quote for shipping between France and Canada.
Jet Worldwide gives access to all companies seeking shipping quotes between France and Canada for parcels pallets, and online orders. For a quote, please provide:
Your company name and contact details




Ship from Address




Ship To Address




Weight and dimensions of each piece




Item(s) being sent




Value



For a quote for shipping online orders or regular shipping volumes, provide details including shipping volume, item(s) being shipped, average value and weight of each parcel. The more details the better :).
---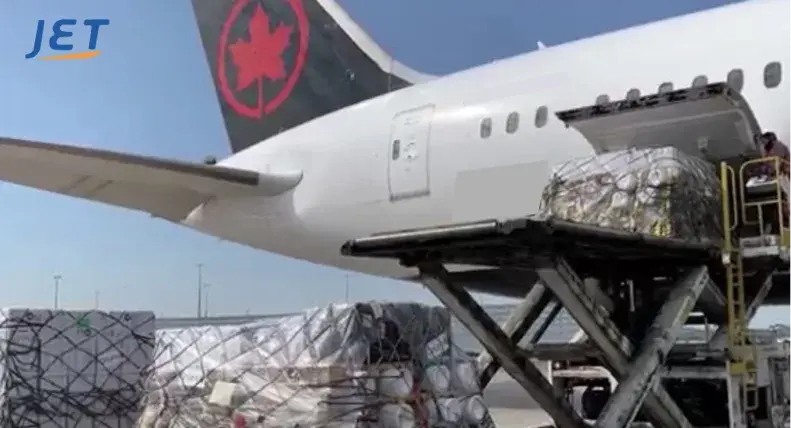 International parcel shipping to France from Montreal, Quebec, Laval and across Canada


International parcel shipping from Paris /Île-de-France, Lyon, Marseille, Toulouse to Montreal and all of Canada

France domestic warehousing and e-commerce last mile delivery

Canadian domestic warehousing and distribution
---
About Jet Worldwide