Australia and the United States have a strong economic relationship based on trade and investment. The Australia-United States Free Trade Agreement (AUSFTA) agreement has helped to increase trade and investment flows between the two countries.
In terms of trade, the United States is one of Australia's largest trading partners, with two-way goods and services trade totalling over $70 billion per year. The main exports from Australia to the United States include minerals and energy products, while the United States exports mainly manufactured goods to Australia.

Jet Worldwide provides Australian, North American logistics. Our support refers to various services to facilitate the international movement of goods. This can include things like transport, rate comparisons, storage, and supporting your team with expertise and transparency.
A Complete Shipping guide to Australia from the USA
Choose from Standard, Express, and Freight Shipping Options
US Export declaration
Shipping terms to consider delivery duty paid or unpaid
Australian import process and fees
Australian Import Duty and tax
AUSFTA duty-free shipping between Australia and USA
Get a shipping quote between Australia and North America
Disclaimer: The information in Jet Worldwide online content, including this post, is for general information. It is not intended to, constitute legal and/or tax advice. All liability with respect to actions taken or not taken based on the contents of this site are hereby expressly disclaimed. The content on this posting is provided "as is"; no representations are made that the content is error-free.
---
Shipping terms to consider when shipping to Australia
The default option for shipping internationally from USA is Delivery Duty Unpaid (DDU). Common carriers use the term Ex Works (EXW) which essentially assigns all import-related costs (duty, taxes and other fees) to the receiver/importer. Shippers from USA can choose to pay the import fees on behalf of the receiver. Shipping term DTP enables duty and import fees paid by the shipper.
The disadvantage of the shipper paying import fees is that the bulk of the import fees are often from Australia Goods and Services Tax (GST). The importer may be able to claim back the GST added they paid to import the goods.
---
Affordable Shipping Rates and Options
There are several shipping options available for sending goods from the USA to Australia. The best option for you will depend on your specific needs and preferences, such as the type and size of the goods you are shipping, how quickly the shipment is needed and other characteristics.
Shipping to Australia via US Postal Service/ USPS

The US Postal service shipping options to Australia are generally best for individuals sending small packages and personal items. USPS shipments to Australia are imported and delivered via the Australian Post.
USPS shipping options include:
Priority Mail
Priority Mail Express
Global Express Guaranteed (service via FedEx)
Australia Post may charge a disbursement fee for handling the payment of customs duties, taxes, and other fees on behalf of the recipient. This fee is in addition to the cost of the duties and taxes themselves, and is used to cover the administrative costs of processing the payment.
Shipping to Australia via FedEx or UPS
FedEx and UPS services are well known options that - if you reading this post - you have already researched. They can be used directly or via one of their partners. FedEx and UPS service options to Australia include:
International express to Australia
Economy international air from the USA
Shipping to Australia via Jet Worldwide
Jet Worldwide offers transport and delivery to Australia from the USA. We also offer Australian logistics support including international shipping from Australia. We have North American , Australian and New Zealand shipping options.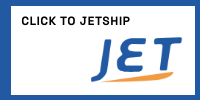 ---
Choose from Standard, Express, and Freight Shipping Options to Australia
Beyond specific carrier options, consider the broader shipping options.
Air freight: This is the fastest shipping option with door to door integrated solutions.
Ocean freight: Best option for large commercial orders with several months lead time
Commercial carriers such as FedEx and UPS offer a range of international shipping services.
Postal service options are generally the best option for individuals shipping small shipments and personal items to Australia.
How much does it cost to ship to Australia?
The cheapest option to Australia for small packages is usually via USPS flat rate boxes. USPS flat rat box to Australia 2 kg/ 4 pounds costs around $47 for standard priority service.
The cost to ship via commercial carriers depends on your level of discount.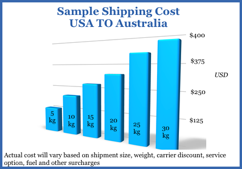 Get our best shipping quote available to Australia.
What is the cheapest way to ship to Australia?
Start by exploring the cheapest option to Australia via USPS. FedEx, DHL and UPS offer discounts directly but often the best prices are via one of their partner carriers.
Get started with a fast, affordable and hassle-free shipping experience from Jetship!
---
Export Reporting Requirement from the USA
A Shipper's Export Declaration (SED) is required for exports over $2,500 (or otherwise restricted) and must be filed with the U.S. Census Bureau.
Shipping Terms to Consider before shipping to Australia
The default option for shipping internationally from the US is Delivery Duty Unpaid (DDU). Common carriers use the term Ex-Works (EXW) which essentially assigns all import related costs (duty, taxes, and other fees) to the receiver/importer. American Shippers can choose to pay the import fees on behalf of the Australian receiver via a Delivery Duty Paid (DDP) options that many carriers offer.
The disadvantage of paying import fees on behalf of the receiver is that Australian GST (see section below) can often be claimed back by the importing business.
Importing Goods to Australia from USA
The import charges to Australia depend on several factors, including the type of product being imported, its origin, and the applicable tariffs under Australia's trade agreements.
The level of tariff applied to a specific product depends on the product's classification under the Harmonized system of the World Customs Organization. Goods from the USA are classified under the most favoured nation rate of duty. The specific charges that apply to a particular shipment will depend on the product being imported, its value, and its origin.
Australian Imports from the USA are charged GST
In addition to tariffs, other import charges that may apply to goods imported into Australia include goods and services tax (GST). The Goods and Services Tax a consumption tax applied to most goods and services in Australia. The current rate of GST in Australia is 10%.
GST is levied on the final consumption of goods and services within Australia and is paid by the end consumer.Many Australian businesses are eligible to claim credits for the GST paid for goods imported for their business.
The Australian USA Free Trade Agreement
Goods that qualify as USA origin may benefit from duty free import under AUSFTA free trade agreement. It is important to note that just be purchased or shipped from the USA does not qualify the goods for preferential import. The goods must qualify under the rules of origin of the agreement.
The Australia-United States Free Trade Agreement (AUSFTA) rules of origin are designed to determine whether a product qualifies for duty-free treatment under the agreement. To receive duty-free treatment, a product must meet the specific criteria outlined in the AUSFTA rules of origin.
In general, the rules of origin for AUSFTA require that a product be wholly obtained or produced entirely within the territories of Australia or the United States. Alternatively, a product may qualify for duty-free treatment if it is produced entirely from originating materials and meets certain other requirements, such as a minimum level of processing.
The specific criteria for each product are outlined in the product-specific rules of origin section of the AUSFTA. It is important for businesses to understand these rules in order to take full advantage of the benefits of the agreement and avoid any potential trade compliance issues.
---
It is important to verify compliance with the consignee/ importer and regulatory authorities prior to shipping to Australia from Canada.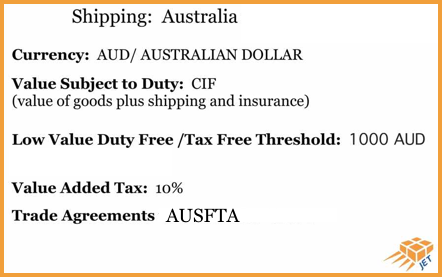 Formal entries for items sent from USA to Australia
For formal entries, Australian customs applies a processing fee to goods that require formal entry of around AUD 75.
Importers should have an Australian Business Number (ABN). The owners ABN number (which is linked to the importers' owner code) may be approved for deferral from payment of GST. Having an ABN number allows for easier clearance and to ensure application of payment of GST.
Australian GST is levied on most transactions in the production process. Australian GST is refunded to all parties in the chain of production other than the final consumer.
Clearances can process without an ABN number, but it could result in the incorrect application of GST. Whenever possible, it is best to ask your Australian partner for their ABN number. The ABN should be included on the commercial invoice when sending international shipments to Australia.
When assessing GST tax, customs considers:
The total of the above items is known as the Value of Taxable Importation or VOTI.
Important note: Check updated regulations to ensure compliance prior to shipping. The information is presented only for general information purposes.
---
Shipping Options from Australia to USA North America
The carrier options for shipping from Australia to North America include the Australian Post, Jet/ DHL, FedEx and UPS.
FedEx and UPS shipping options from Australia to the USA include
Export Declarations, EDEN from Australia
All goods valued over AUD $2,000 that are being exported from Australia must be reported to the Australian Border Force (ABF).
Personal effects do not require an Australian export declaration.
---
Getting a quote for shipping between Australia and North America
Jet Worldwide gives access to all companies seeking shipping quotes between Australia and USA for parcels pallets, and online orders.
Get our lowest shipping quote between USA, Canada and Australia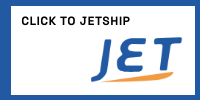 Information and Rate Request form

Jet Worldwide, A beautiful heritage:
Jet Worldwide North America and Jet Worldwide Australia are separate companies that share a beautiful heritage (industry legend Peter McPaul). We continue work together to find Australian logistics solutions for Canadian and American companies.