Shippers should be prepared for a potential strike at UPS - especially UPS customers. Despite a smattering of new options, the USA parcel delivery market continues to be dominated by USPS, FedEx and UPS. While Amazon is certainly more of a "smattering" it is - for now - proprietary to their platform. Most newer online "shipping services" use some combination of the three dominant carriers.
So both sides are correct: UPS has the highest pay level and best benefits among all major carriers. The union has every right to bargain for a better deal in light of concessions made in the last contract and record profits over the last several years.
No one is hoping for a work stoppage but everyone should prepare for this possibility.

---
UPS, FedEx and USPS market dominance
While the specific market share of each company and product type can be debated, UPS, FedEx and USPS control the parcel delivery market in the USA. UPS alone delivers over 19 million packages a day in the USA.
The only nationwide competition with the necessary scale is Amazon which, as mentioned above, remains exclusive to products sold via their platform.
August 1st: UPS Strike Timeline
The official Negotiations are scheduled to begin on April 16. The existing contract expires at the end of July. The contracts are for 5 years.
Issues To Be Resolved in a New Contract
There is a feeling amongst many workers that the union capitulated to the company in the previous 2018 negotiations. The key issues that will be addressed include:
Split shifts: Employees can now be given split shifts. Rather than a straight eight hour day, for example, a worker can be told to work for four hours in the morning and four at night.

Two Tier Pay Structure: The union want to eliminate the two tier pay structure referred to as "22.4s" (named after the 2018 contract provision that created this lower-paid category).
Personal Vehicle Drivers (PVD's): UPS incorporates a fleet of personal-vehicle drivers (PVDs) during peak delivery season. This effectively creates an ad hoc workforce similar to those used by Amazon subcontractors and regional carriers.
Driver Support: The negotiations will also cover such things as adding air conditioning and limiting the use of surveillance cameras in delivery vehicles.
Why a UPS Strike is more likely in 2023 than in 2018
In the 2018 negotiations, union leaders agreed to the contract with the company despite the fact that a majority of union members voted against it. A vote among the members was considered binding only if there was a quorum. This so called "two thirds rule" was removed in 2021. Another change is that strike benefits will start on day one of a strike versus on day eight. The Teamster's President Sean O'Brien seems geared up for a strike and views a victory at UPS as a way to win support for recruiting other large worker groups (namely Amazon).
---
Logistics Support from FedEx and USPS during a UPS Strike
It is impossible for USPS and FedEx Corp. to handle the volume from UPS's customers in the event of a strike. For international imports to the USA, DHL will also be resource constrained.
UPS Strike Impact on Amazon
Despite Amazon's growing logistics network, it still relies heavily on UPS. Estimates vary but most analysts estimate that Amazon accounts for around 10% of UPS's revenue.
The expansion of Amazon's delivery operations has coincided with a slowdown in e-commerce volumes. Amazon having excess capacity could be fortuitous should a key supplier such as UPS goes on strike.
Amazon anyway is continuing to divert volumes away from UPS towards their own network. UPS hopes/expects to replace step down of Amazon's volume with higher margin business from smaller shippers.
What a Difference 5 years makes: UPS 2018 vs 2023
Although the boom in e-commerce home delivery has faded, industry sales and margins have soared over the last couple of years. UPS has embraced the strategy of "better, not bigger" yet remains a Goliath. The impact of a strike versus five years ago will be much greater with e-commerce being such an important aspect to the total economy.
Even as new delivery alternatives appear, UPS remains an irreplaceable part of the parcel delivery market in the USA.
Secure Logistics via Diversification
Secure logistics processes build in alternative options via multiple carriers. What you may lose in some negotiating leverage you gain via more durable processes. Jet provides alternative access to different carriers with low volume thresholds. This serves to add capability and alternative options to better serve your clients.
Some logistics processes are calling for spreading stock across a greater number of warehouses to access to more local and regional carriers.
For international parcel imports, we recommend building capabilities via express consignment, multiple ports of entry, various section 321 entry types and a diverse mix of carriers and modes.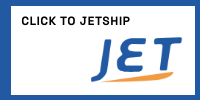 Shipping Support Request Form