Canada and Italy enjoy strong trade of over $2 billion per year. The Canadian European free trade pact (CETA) will grow the trade between Italy and Canada even further. Canadian companies rely on low cost parcel delivery options to Italy.
Canadian companies can ship their orders duty free to Italy for qualifying Canada Origin goods under CETA Free Trade.
Carrier Delivery options from Canada for shipping to Italy
Corona Virus Update and shipping to Italy
With the Corona Virus disrupting travel plans, we are seeing a greater demand for shipping samples from Italy to Canada. The increased shipping of samples helps assist buyers who would normally travel to Italy to see samples.
More companies are shipping samples Canada from Italy - and vice versa - as travel is restricted.
Shipping Italy from Canada via Canada Post
The lowest cost- and often the best option - for Canadians shipping small parcels to Italy is via Canada Post packet services.
Shipments sent to Italy via Canada Post are imported and delivered by Poste Italiane.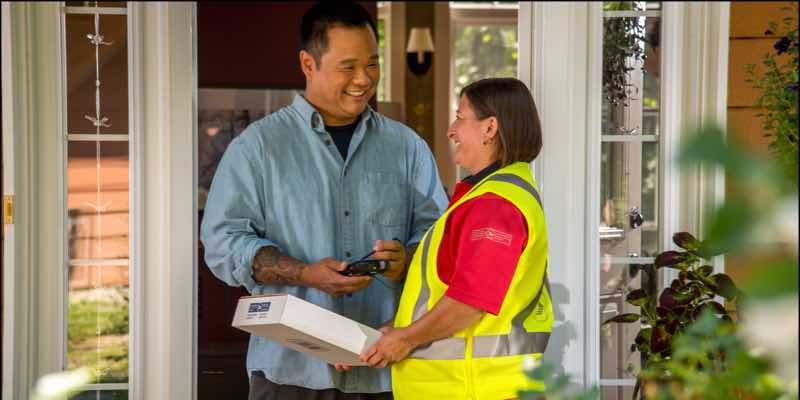 Shipping options to Italy from Canada Post:
Low cost parcel shipping from Canada to Italy for small postal parcels
International "packet" to Italy: Surface and Air
Canada Post Tracked Packet to Italy: delivery in 2 weeks
Shipping to Italy from Canada Post International Parcel options
International parcel post to Italy via surface
Xpresspost to Italy from Canada: Delivery within 14 days
Contact our team for a quote shipping Italy from Canada
Shipping to Italy via FedEx Canada and UPS Canada
FedEx and UPS are the largest international carriers from Canada and , along with DHL, provide reliable shipping to Italy from Canada.
FedEx and UPS Canada shipping options to Italy include:
International Air express/ Priority shipping for delivery to Italy in 2-3 day.
International Air Economy shipping to Italy in 3- 4 days
Get a comparison quote for low cost shipping to Italy.
Parcel shipping for delivery to Italy via Purolator Canada
Purolator is a leading domestic parcel delivery company in Canada. For international parcel shipping to Italy from Canada, they use partner carriers such as UPS.
Shipping to Italy via Jet Worldwide
Jet provides low cost shipping to Italy from Montreal, Toronto and across Canada. Using our network of global agents, Jet Worldwide can arrange for time specific pickups and delivery Italy and EU parcel distribution.
Parcel clearance for Parcels shipped Italy from Canada:
Parcel shipping to Italy is similar to most other European countries. Some restrictions and items of note include:
Sending Audio/video cassettes and tapes to Italy? The length and width of the tape, a brief synopsis of the content and the reason for exportation;
For sending clothing and other textiles to Italy: - the fabric breakdown, whether knit or woven and, for clothing articles, the gender. When sending textile samples, the words "mutilated samples" or " marked samples, not for resale" must be marked on the goods themselves and noted on the commercial invoice.
Sending Software on flash drives to Italy: The value of software must be shown separately from software support.
How are duty and taxes assessed for parcels sent from Canada to Italy?
As Canada is outside the EU, formal customs processes apply for parcel importing to Italy. Canadian goods being imported to Italy may benefit from lower duty when the Canada-European free trade pact is fully implemented.
There are three general value thresholds that apply for most shipments to Italy:
Importing parcels to Italy from Canada valued under €22: No duty or VAT is accessed but VAT can be assessed for e-commerce orders imported to Italy.
Sending parcels to Italy valued over €22 (but less than €150): Duty Free but VAT is applied. Parcels valued over 10 kilograms, even if valued under 22 euros, are not considered to low value.
Duty and VAT are applied to shipments valued over 150 Euros.
The standard VAT rate to Italy is 22%. Lower VAT rates may apply to certain items (such as books).
Effective in 2021, parcels valued below 22 euros imported to Italy EU from Canada will be assessed value added tax.

Shipping Commercial Samples to Italy from Canada
Samples sent Italy may qualify for duty free entry if they are valued under 22 euros and under 3 kg in weight.
No more than 5 items can be sent and they must be for a solicitation of an order represented by the sample.
Shipping Textile and Designer Samples to Italy from Canada
Fabric samples/ swatches are a common item sent from Montreal to Italy. The samples can be imported free of duty and VAT. The commercial invoice for sending apparel samples should include:
The style number of each sample appear on the commercial documents.
The product description
The intent of the shipper that the goods are intended as samples.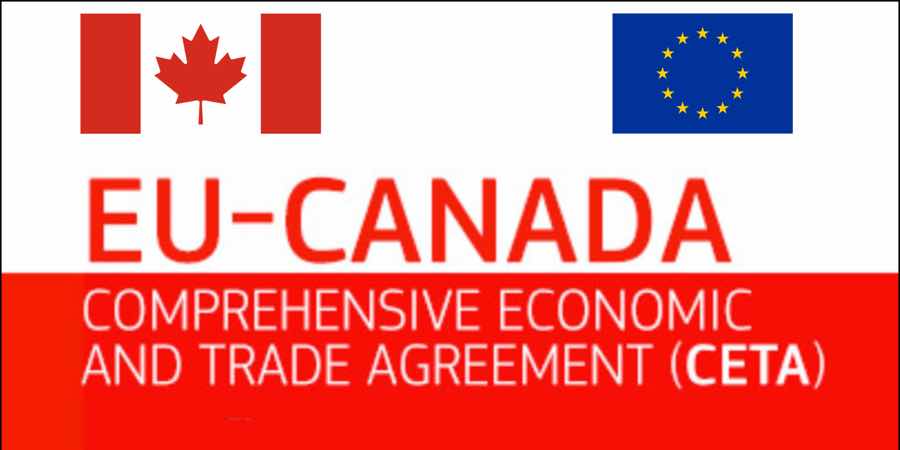 Canadian Goods shipped Duty Free to Italy using CETA

Country origin rules are associated with factors used to determine if the product is eligible for preferential duty free treatment under CETA.

Canada origin goods to Italy can claim duty free CETA benefits using a certification of origin. This declaration can be on any shipping document - most commonly on the commercial invoice.

The CETA country of origin declaration has a specific wording, which is fairly straight forward (check with up to date regulations before shipping).
Required CETA country of origin declaration can include the following:

The CETA origin declaration to Italy from Canada must include the following wording. Footnotes are provided for explanation (but do not meant to be included in the required wording). The origin declaration, the text of which is given below, must be completed in accordance with the footnotes (see below).

CETA Country of Origin Declaration
As mentioned above, there is no Certificate of Origin / COO required for goods shipped from Canada under CETA. An origin declaration can be shown on the commercial invoice . If shown on a separate document, the invoice number and other shipping information should be referenced.
When an invoice lists separate items, the declaration of origin must clearly identify the goods in in which preferential duty treatment is requested. Canada customs/ CBSA recommends that the origin declaration states "Canada/EU" as per footnote 3 of the declaration (see below). It is best to check with Italian customs importing country to understand their preferences are met.

(Period: from___________ to __________(1))
The exporter of the products covered by this document (customs authorization No ...............(2)) declares that, except where otherwise clearly indicated, these products are of ...................(3) preferential origin.
…………………………………………………………….............................................(4)
(Place and date)
...……………………………………………………………………..............................(5)
(Signature and printed name of the exporter)

Footnotes: Shipping Italy Canada Origin

These notes are used to explain the fields required above. They do not have to be included in the actual origin statement.
When the origin declaration is completed for multiple shipments of identical originating products within the meaning of Article 19.5, indicate the period of time for which the origin declaration will apply. The period of time must not exceed 12 months. All importations of the product must occur within the period indicated. Where a period of time is not applicable, the field can be left blank.
For EU exporters: When the origin declaration is completed by an approved or registered exporter the exporter's customs authorization or registration number must be included. A customs authorization number is required only if the exporter is an approved exporter. When the origin declaration is not completed by an approved or registered exporter, the words in brackets must be omitted or the space left blank. For Canadian exporters: The exporter's Business Number assigned by the Government of Canada must be included. Where the exporter has not been assigned a business number, the field may be left blank.
"Canada/EU" means products qualifying as originating under the rules of origin of the Canada-European Union Comprehensive Economic and Trade Agreement. When the origin declaration relates, in whole or in part, to products originating in Ceuta and Melilla, the exporter must clearly indicate the symbol "CM".
These indications may be omitted if the information is contained on the document itself.
Article 19.3 provides an exception to the requirement of the exporter's signature. Where the exporter is not required to sign, the exemption of signature also implies the exemption of the name

Jet Worldwide: Parcel shipping to Italy from Canada:
Shipping and Courier Italy from Montreal, Toronto, Canada
Shipping import from Italy from Canada
Special pickup and delivery services to Italy and EU delivery