The volume of shipping US from Hong Kong is a vital connection to both economies. Companies ship samples and other smaller more urgent shipments via a variety of methods. Despite trade frictions of politicians, business connections remain strong as they navigate the best way to ship their parcels to the US.
Hong Kong is the among the top three largest export market for goods with over 40% of Hong Kong trade being for intermediary parts for goods that will then be re-exported to the US.
American businesses depend on low cost shipping to get their samples and parts shipped from Hong Kong to the US. Shipments sent via air tend be smaller and more time sensitive.
CORONA VIRUS COVID19 UPDATE: SHIPPING US FROM HONG KONG
Jet can assist with providing all cargo air freight from Hong Kong to the US. However, restrictions and conditions change daily. We prioritize shipping critical goods such as masks, gloves and other personal protective gear. Contact our team for details on shipping air cargo Hong Kong to US.
---
Jet Worldwide provides low cost air delivery for shipping Hong Kong to the US.
Sending from Hong Kong to the US
Carrier options
Shipping US via Hong Kong Post:
Hong Kong Post offers "Speedpost" delivery service from Hong Kong for delivery to Canada via Canada Post. The service via such parcel post services from Hong Kong is for delivery within 2 weeks ("2 to 9 business days").
Hong Kong Post offers the lowest cost for individuals shipping small parcels or packets to the USA.
Shipment sent via Hong Kong Post to the USA are imported and delivered by the US Postal Service (USPS).
Shipping from Hong Kong to Canada via FedEx and UPS
FedEx and UPS are Americas flag carriers and, along with DHL, offer express delivery from Hong Kong to Canada. Their services, however, can be expensive for small and medium sized customers who cannot get large discounts.
FedEx and UPS shipping USA from Hong Kong options include:
International express priority air to the US
International economy air shipping from Hong Kong
Shipping from Hong Kong via Jet Worldwide
Jet Worldwide offers low cost express delivery from Hong Kong to California , New York and all of Canada for parcels above 50 kg.
Jet offers a full range of service options including special services using both local partners and global carriers. Jet provides Canadian delivery and distribution services.
Clearing Goods shipped to the US from Hong Kong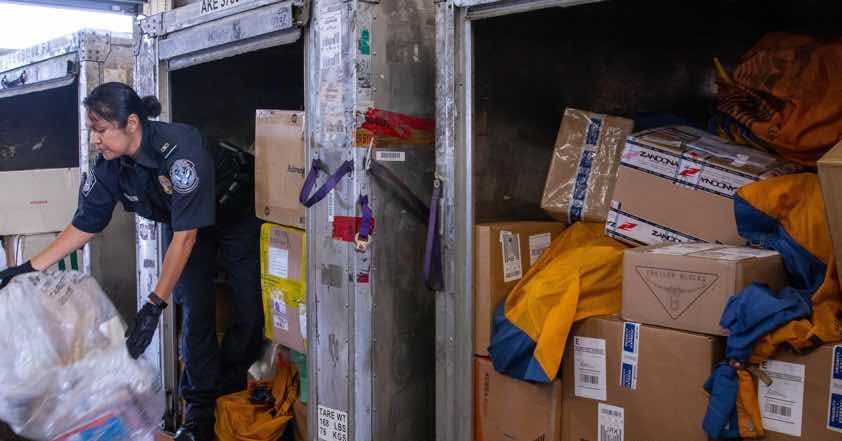 Here are a few import notes for shipping to the US from Hong Kong
$800 duty free low value threshold to the US from HKG
For any commodity that does not require "partner government agency" such as food and drugs can be imported duty free to the USA as long as the value is under $800 USD. The goods are cleared by duty free and tax free. See our blog on valuation.
Shipments valued over $2,500 USD
These shipments valued above $2,500 US must be cleared by the importer of record. Commonly the carrier give power of attorney for a broker to clear the goods on their behalf.
High Volume Parcel Flows from Hong Kong to the USA
As mentioned above, most parcels imported to the USA valued under $800 USD can be cleared duty free. Also, no H.S Code is needed (although a clear product description is). The clearance process of parcels to the US valued under $800 USD are cleared via a "section 321 informal entry."
The clearance of individual orders to the US from Hong Kong are largely cleared through Part 128 regulations of the Code of Federal Regulations. Using these methods in conjunction with an express clearance Facility (ECCF) and / or a container Freight Station (CFS).