Parcel delivery to Germany has grown with the expansion of e-commerce orders - including from Canada and the US. Sellers across digital platforms, including Shopify, eBay, and Bigcommerce are searching for solutions for shipping their online orders to Germany and the European Union.
Shipping Online orders via Shopify, eBay and other Online Platforms to Germany
Parcel carrier options for shipping online orders to Germany
Customs clearance processes for online imported to Germany
CETA duty-free treatment of online orders for Canada-origin goods to Germany

---
Shipping Online Order to Germany via Canada Post
Packet, Surface and Xpresspost Options
Canada post is the first place to start when searching for delivery of online orders to Germany. In particular, Canada Post's "international small packet" options are the most common service for online orders. Canada post surface options are affordable but too long in transit and their Xpresspost too costly.
---
Shipping Online Order to Germany FedEx and UPS
FedEx and UPS are North America's largest carriers and, along with German owned DHL, offer reliable shipping Germany from Canada. Their two service options generally include express and economy air options. Jet Worldwide offers shipping options to and from Germany. See below: Information required for a shipping quote between Germany and Canada.
---
Shipping to Germany via Purolator
Purolator is a leading Canadian carrier (part of Canada Post) and uses partners - such as UPS - for their international parcel delivery options.
---
Jet Worldwide: A trusted brand offering international shipping for over 35 years!
Jet Worldwide offers options for shipping between Germany and North America for parcels, pallets, and online orders (including shopify integration).
Jet Worldwide offers transparency and logistics support. We are not shy to recommend alternative options that are better suited for your needs.
SEE SECTION BELOW: INFORMATION REQUIRED FOR A SHIPPING QUOTE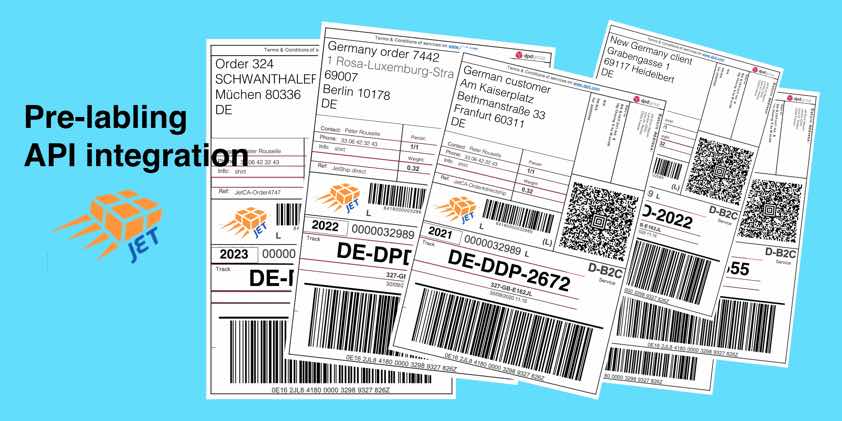 ---
Duty Free - But VAT - for Low Value Online Order
While orders shipped to Germany (and the Europe Union) valued under €150 (around CA$220) can be imported to the EU duty free, Value Added Tax (VAT) will be assessed. VAT (19%) for online orders must be paid prior to import to Germany. Read our blog on payment of VAT for online orders shipped to Europe.
A commercial shipment less than 150 Euros: VAT is collected
A commercial shipment over EUR 150: duty and VAT are collected.
---
Duty Free Import to Germany for Canada Origin Goods
Many Canadian goods can be imported to Germany duty-free under the Canada European Free Trade Agreement (CETA). To qualify for duty-free entry, online orders sent from Canada to Germany must be accompanied by a certification of origin.
---
Shipping terms for online orders shipped to Germany
The default option for shipping internationally from Canada is Delivery Duty Unpaid (DDU). Common carriers use the term Ex Works (EXW) which essentially assigns all import related costs (duty, taxes and other fees) to the receiver/importer.
For online orders, prepayment of VAT is necessary even if the goods might otherwise qualify for duty free preferential import.
---
Get a Spot Quote for Shipping Economy Air between Germany and Canada
Jet Worldwide makes it easy for companies seeking for spot quotes for economy air shipping between Germany and Canada.
The information required for a quote includes:
Your company name and contact details

Ship from Address

Ship To Address

Weight and dimensions of each piece

Item(s) being sent

Value
---

Learn more from Jet's Logistics Experts :