We have been many urgent requests we are getting regarding shipping surgical masks, gloves and other personal protective equipment from Hong Kong and China. Jet can assist for shipping from Canada to Hong Kong and China as well as vice versa. Recently, the demand for airfreight from China to Canada and the US has been extraordinary.
Shipping Masks from Hong Kong and China to Canada
Masks are relatively inexpensive to purchase and ship. Many are surprised at the cost to ship as masks are subject to volume weight. In our experience, the volume weight is at least double the actual weight. See our blog on volume weight. The formula used by many air carriers to calculate volume weight in kg is: (Length x width x height in cm) / 5000 = volume weight in kg'
Jet Worldwide can provide air freight shipping from China and Hong Kong but restrictions and capacity change daily. Contact our team for shipping personal protective gear and other goods from China, Taiwan and Hong Kong to Canada.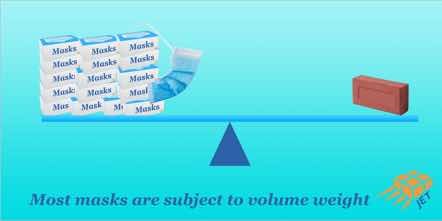 Shippers sending masks from Hong Kong and China are subject to volume weight.
It is best for shippers to consolidate and pack the masks at tightly as possible in order to reduce the chargeable weight.
Shipping from Canada to Hong Kong and China
As the COVID-19 crisis has shifted from China, so has the airfreight demand. With China manufacturing nearly fully recovered, the challenge is in securing air cargo capacity to North America in Europe. The air freight capacity from China has plummeted with the reduction in "belly cargo" of passenger flights.
Shipping Hand Sanitizer and wipes:
We are not able to accept hand sanitizers the common active ingredient is Isopropyl Alcohol: a flammable chemical compound with disinfectant qualities.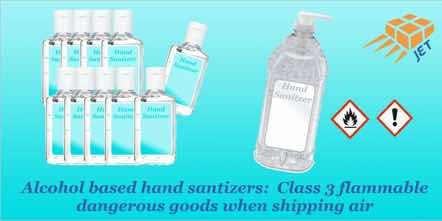 Creating Hand Sanitizers at home versus buying a brand
The active ingredient in most hand sanitizers (and what makes them difficult to transport via air) is alcohol. The American health regulatory authority, the CDC, recommends using hand sanitizer with at least 60% alcohol content.
This recipes that makes a sanitizer that slightly exceeds that alcohol content above 60% can be effective and adding a moisturizer - such as aloe vera - can provide some moisturizing properties. Of course, also according to the CDC, the most effective method is to properly wash your hands.
Important Note: We are shipping experts and not hand sanitary experts. But our work has always involved helping the international community bu connecting people, parcels and businesses. We offer this tidbit of information with the hope of finding solutions to the many inquiries we receive on shipping much needed medical support and related supplies.
Carrier choices for urgent air freight s from Hong Kong and China
The issue today for shipping air freight from China and Hong Kong to the US and Canada is capacity. To help get capacity, shippers are looking at alternative all cargo carriers. The extreme demand and lower capacity has created price spikes and we are doing all we can to keep the costs low during this critical time.
For express shipping via FedEx and UPS
FedEx and UPS , along with DHL, shipping from Hong Kong and China to Canada for masks and other protective gear.
Shipping with Jet Worldwide
Jet Worldwide has partnerships with the above mentioned carriers and can offer air freight rates for shipping from China and Hong Kong to Canada and the US.