We have been many urgent requests we are getting regarding shipping surgical masks to Hong Kong and hand sanitizers. Here are things to consider when shipping masks and sanitizers to Hong Kong. Masks are in short supply and being used an anti-viral tool for protection.
Shipping Masks to Hong Kong:
Masks are relatively inexpensive to purchase and ship. Many are surprised at the cost to ship as masks are subject to volume weight. In our experience, the volume weight is at least double the actual weight. See our blog on volume weight. The formula used by many air carriers to calculate volume weight in kg is: (Length x width x height in cm) / 5000 = volume weight in kg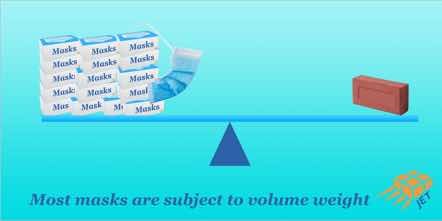 Shippers sending masks to Hong Kong via air pay charges based on volume weight.
It is best for shippers to consolidate and pack the masks at tightly as possible in order to reduce the chargeable weight.
Shipping Hand Sanitizer and wipes:
The active ingredient in most hand sanitizers is Isopropyl Alcohol. Isopropyl alcohol is a flammable chemical compound with disinfectant qualities. As such, hand sanitizers are considered a dangerous goods and that must adhere to strict processes in order to ship via air to Hong Kong.
Jet Worldwide has developed special procedures for shipping hand sanitizers via express air to Hong Kong and Singapore from Canada and the USA.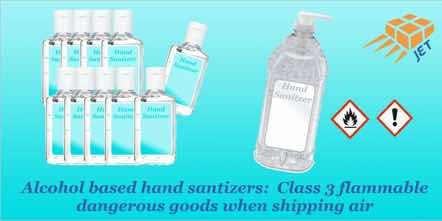 Jet has a solution for shipping hand sanitizers Hong, Singapore and other locations. This is specialized service for urgent orders seeking fastest delivery.
Carrier choices for shipping masks and sanitizers to Hong Kong
For sending a small box of masks to Hong Kong, and if time is not of the essence, Canada Post small packet service is probably the best option. Canada Post does not accept dangerous goods.
For express shipping via FedEx and UPS
FedEx and UPS , along with DHL, offer solutions for shipping to Hong Kong from Canada for masks. For shipping hand sanitizers, it is necessary to have a dangerous goods approved account.
Shipping with Jet Worldwide
Jet Worldwide can receive your online order of masks and ship direct to Hong Kong from Canada. Our service provides delivery in 2-4 business days.
Shipping Hand Sanitizer
As mentioned above, we are able to ship hand sanitizer to Hong Kong for our Canadian and American customers. We have developed a specific process for hand sanitizer products with an accompanied by the material safety data sheet. While providing a solution, this solution is rather involved and is expensive.