With Florida serves as a home away from home for thousands of Canadians with many looking for ways to ship Canada from Florida. In addition, there are more businesses in Florida seeking the best options for shipping to Canada. In addition, more businesses in Florida are seeking alternative delivery options for distribution to Canada.
Parcel shipping Canada from Florida options include the US Postal Service, FedEx, UPS and Jet Worldwide.
Carrier Shipping Options Canada From Florida
Shipping Canada from Florida via US Postal Service USPS
Canada is a top international destination for the US Postal Service (USPS) international parcels.
The USPS offers the lowest cost for small parcels (under 2 kg) which are imported and delivered by Canada Post.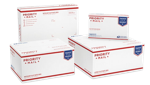 USPS Flat rate boxes to Canada from Florida
Delivery within 2-3 weeks
Up to 20 pounds
Priority Mail International Large Flat Rate Box
Priority Mail International Medium Flat Rate Box
Up to 4 Pounds
Priority Mail International Small Flat Rate Box
Priority Mail International DVD Flat Rate priced box
Priority Mail International Large Video Flat Rate priced box
USPS Global Express Guaranteed to Canada
Delivery via USPS partner FedEx Canada
Delivery in 1-3 business days
Can be less expensive than using FedEx Directly
USPS Priority Mail Express International from Florida
Delivery in 3-5 business days to most of Canada
Estimated average cost
USPS Priority Mail International
Delivery in 2-3 weeks to Canada from Florida
Estimated average cost varies with weight
For e-commerce sellers using Shopify shipping from Florida and need a lower price for larger shipments from the Florida to Canada, contact our team.
Jet Worldwide low cost economy express shipping for heavier parcels and when complete tracking and faster delivery is needed.
Parcel shipping to Canada from Florida via FedEx and UPS
FedEx and UPS are the largest carriers in the USA and, along with DHL, offer economy and express delivery options Canada from Florida.
Ground delivery is the most popular option for shipping to Canada with FedEx and UPS having retail locations across Florida.
FedEx and UPS shipping options Canada from Florida include
Ground/ expedited
International priority
International economy air
Shipping to Canada from the USA via Jet Worldwide
Jet Worldwide provides low cost economy express shipping from Florida to Canada via our partner carriers and a full range of logistics support. Get a quote for shipping from our team.
Shipping Ground versus Express to Canada
Most shipment to Canada are subject to duty and taxes. In addition, ground shipments are subject to an entry preparation cost. Often, the cost of ground can be less of a good deal when the entry preparation costs are considered. See note below on entry fees.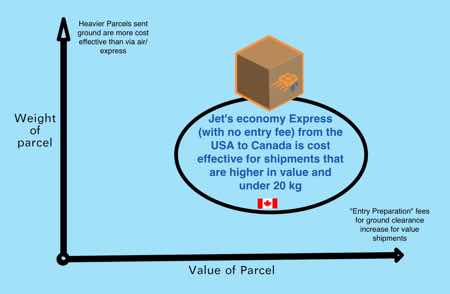 Need a Canadian address to receive your goods and for returns?
Using our Canadian Receiving and Shipping Service, we can receive your package and send it you in Florida for delivery in 1-2 business days.
Have your order sent to our Canadian address for delivery to you in the USA, and anywhere in the world.
Shipping ground from Florida to Canada?
Beware of "entry preparation fees."
Although shipping parcels via ground to Canada is a popular option, shippers should take note that Canadian customs clearance is not included. UPS and FedEx Canada charge "entry preparation fees" that can be significant for higher value parcels. It is not uncommon for the CBSA entry preparation fee to be over $50.
Shipments sent from Florida to Canada sent via Jet Worldwide are charged $15 import processing fee plus applicable duty and taxes. Items sent via USPS and cleared by Canada post are subject to a fee of $9.95 (plus duty and taxes). See graphic above on Canadian customs entry preparation fees for items sent via FedEx and UPS ground from Florida.
Ship from Florida for duty free entry in Canada.
Most parcels shipped to Canada are subject to duty and taxes. Jet's Delivery Duty Paid Service (DTP) is a way for shippers in Florida to pay for the import fees and taxes on behalf of the Canadian recipient of their package.
Sending gifts from Florida to Canada.
Gifts sent from an individual to an individual * that are valued less than $60CAD are exempt from duty and taxes. Gifts valued over $60CAD will be assessed duties and taxes.
Gifts must be noted as such on the customs paperwork
Restricted items cannot be sent as gifts (such as wine)
Advertising material are not considered as gifts by CBSA
Items sent to / from a business are not considered as gifts by CBSA
Shopify shipments from Florida and the US to Canada.
For most Shopify small parcels from Florida to Canada, the USPS offers the lowest cost. For a price on heavier shipments when low cost express service is needed, contact Jet's Canadian shipping experts.
Importing parcels via Canada Post versus commercial clearance:
Importing parcels via Canada Post are subject to unpredictable delays, they also can benefit from easier clearance processes (than commercial clearance).