The concerns regarding the spread of the Corona Virus has highlighted both the risk and benefit to our global interconnectivity. Cross border travel and commerce has been challenged as passenger restrictions affect cargo capacities for cross border e-commerce parcel shipments.
At Jet Worldwide, our mission of connecting people, parcels and businesses around the world has never been more clear. Even if connecting people means help finding ways to mitigate community contact.
Cross Border Parcels: Major Carries Continue to Operate
March 17, 2020 Coronavirus UPDATE: FedEx, UPS and DHL are continuing service with little disruption. The natural challenge is that their courier and flight operations are onsite jobs and - along with all industry professionals - feel a responsibility to serve their customers as best they can.
We are getting many requests from companies that usually send their goods via commercial flights. Air freight capacity remains with the large carriers via their own cargo only aircraft.
At the moment, over 95% of our air cargo (non passenger carrier) operations from China, Korea, Vietnam, UK and the EU to Canada are functional.
Get a quote for shipping international airfreight to Canada.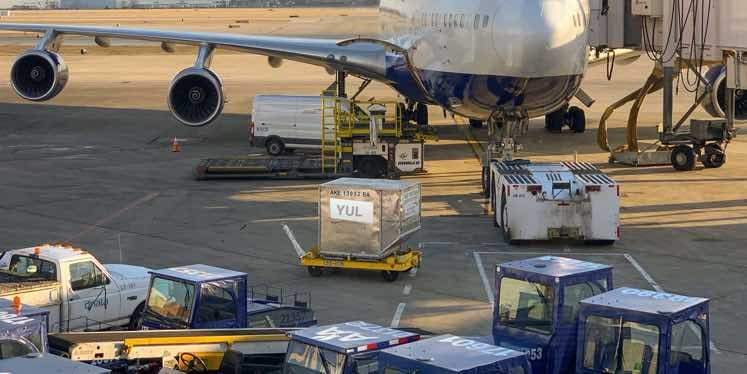 Can COVID 19 be Spread via the Mail or on Parcels?
The director at the National Institute of Allergy and Infectious Diseases, Doctor Fauci, was asked about the likelihood of the coronavirus being transmitted via the mail. He emphasized the recommendations for wiping down/ sanitizing all surfaces, he speculated that any such transfer would likely be unlikely.
It seems the risk of transmission of the coronavirus via parcels is low. But hand washing and sanitizing in the course of receiving and handling a package is advisable.
Disclaimer: We are shipping experts, not medical experts. For more detailed information, best to contact government and other leading experts in this field.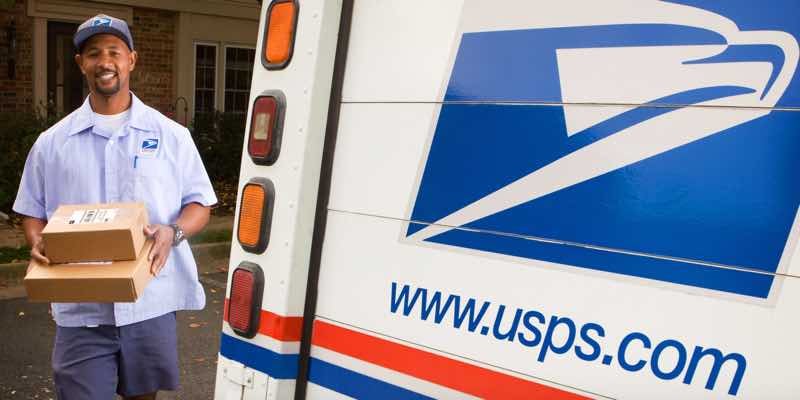 Last Mile Delivery: Front Line Service Providers
The term last mile delivery is most often associated with how to reduce costs. The real life carrier drivers, independent contractors and postal workers are essential for connecting the "socially distanced" with the supplies they need. It is time to recognize the last mile providers for the incredible community connections they serve.
March 16, 2020 UPDATE: The USPS has had minimal impact on their domestic US delivery but has a temporarily suspended the guarantee on Priority Mail Express International to China and Hong Kong from the USA
Logistics professionals - from drivers and warehouse workers to management and executives - are stepping up the challenge of delivering parcels to re-connect the globe with critical supplies.
The ability to ship online orders of critical supplies is especially important as ocean ships and port traffic has been deeply curtailed.
Community mitigation and Flattening the Curve
Efficient last mile home delivery of everything from groceries, medical equipment and medications facilitate community mitigation by making it easier to stay home away from crowded markets and the sort.
The dual challenge of managing the COVID 19 pandemic is getting people to understand that only a few cases in their local area matters.
Although around 85% of the cases are mild, an exponential spread of of the remaining 15% with severe cases will overwhelm emergency Emergency rooms, ICU's and medical resources.
The exponential characteristics of viruses spreading, when graphed, shows a steeply inclined curve. Social distancing / community mitigation is an important aspect to managing the spread of the virus.
The idea is to reduce the number of sick persons at the peak of the virus's spread, so as to not overwhelm the health care system.
When the Curve Heads Straight Up, Look Around!
The COVID 19 has shown a 1.15 to 1.25 growth of cases each day versus the previous day. This is referred to as the R0 or R naught value.
March 15 updated: Health experts now believe the R0 / R naught value of infection rate can be as high as 2.15!
Left unchecked, this can quickly overwhelm a countries health care system (as shown in chart above). The challenge for public officials was getting the general public motivated to take actions when only a couple of cases appear. Now, the public is understanding the fear.
Health care officials recommendations include:
Isolating people who are ill
tracing contact to find out others who might have come in contact with a sick individual
quarantining people who may have been exposed (mostly self quarantining)
closing schools and cancelling public sporting events
closing work places and working from home when possible
avoiding non-essential travel
avoiding crowds
As COVID 19 is challenging traditional logistics, cross border parcel logistics can help urgent orders get delivered via express import processes at major US Ports for domestic distribution.
Secure Parcel Import Processes
It is critically important that imports and express consignment operators maintain integrated control of their parcels imported to Canada and the USA. There has been seizures of false COVID-19 testing kits recently at LAX and there will likely be many more attempts. The security of parcel import processes has increasingly been under scrutiny due to lack of controls. In fact, The White House issued an executive order in January to address the issue of the integrity of the parcel import processes to the United States.
Direct order - cross border logistics bypasses traditional ocean shipping/ container shipping for urgent express delivery of critical goods during the COVID 19 pandemic. Jet Worldwide works with individuals, NGO's and government agencies, and companies seeking direct parcel import solutions to the Canada and the USA via LVS, Section 321, ECCF and CFR Part 128 regulations.