Germany's economy is the fourth largest in the world and alone represents around 25% of the European Union's GDP. With over 80 million consumers, Germany represents a significant opportunity for shipping to Germany from Canada. The volume of trade, number of consumers, and Germany's logistics infrastructure make it an ideal place to launch your European sales.
Shipping to Germany provides a gateway to the other 27 nations of the EU, which is now easier and less expensive than ever.
In post, we provide an outline for American and Canadian retailers on the best way to ship online orders to Germany economically. We also discuss the basic clearance process for online orders including payment of valued added tax.
---
Lowering your delivery cost to Germany
The price of the shipping depends mainly on the dimensions of the package, its weight, and the delivery method you choose. To get the cheapest shipping from Canada to Germany, select slower delivery methods like Canada Post surface option. It takes a long time but, hey... its cheap!
The next place it start is the the major carriers themselves. They all have web portals with price estimates. Keep in mind that a substantial discount does not mean a lower price!. The "sticker price" so to speak or base tariff of the carriers are almost always discounted at least 20% - especially for express air shipping.
After getting a base from the carriers, you can continue your google search for resellers of FedEx and UPS.There are several in Canada with impressive web technologies that provide a way for you to get a greater discount than from the carrier directly.
Finally, you can submit a spot rate request from Jet's team for either regular volume or heavier packages and pallets.In addition to competitive pricing, Jet provides our logistics expertise to support your team with transparency and industry insights.Get a quote from Jet. For all businesses, we offer a call back.Request a call to support international shipping project.
---
What is the Cheapest option to Ship to Germany from Canada?
Canada Post surface parcel option is the cheapest way for individuals shipping small parcels to Germany. Businesses and small companies can find lower costs for regular volumes and heavier parcels via major carriers and their partners.
What does it cost to ship to Germany from Canada?
The cost for shipping to Germany depends on the size and weight of your package and where in Germany you are shipping. The costs range from around $39 for up to 4 pounds/ 2 kg via Canada Post packet option to around $150 for up to 10 pounds /4.5 kg via major carriers.The actual cost depends on your level of discount.
What are the Import fees to Germany from Canada
All goods imported to Germany from Canada are subject to duty and taxes. Goods valued under 150 Euros (around $200 CAD) can be imported duty free. Goods the qualify as Canadian origin via the Canadian European Free Trade Agreement (CETA) can benefit from duty free import.
Why Import fees for duty free to Germany
All consignments imported to Germany are subject to German value added tax. There may also be carrier import processing fees.
---
Carrier Options for Online Orders to Germany
The carrier options for shipping to Germany can be broken down into two main categories: Postal and commercial. The best Shipping for E-commerce to Germany usually involves a hybrid of both.
Shipping to Germany via USPS and Canada Post
When your average parcel size and weight are under 2 kg (4 pounds), both Canada Post and USPS have a compelling offer. The postal small packet options can include value-added features for additional fees, including tracking.
A postal customs declaration can be made via CN 23 customs declaration for each parcel. Information on this form includes enter a description of goods, quantity, and total value of the contents.
Shipping to Germany via FedEx, UPS and DHL
The world's major integrated carriers are well known brands that offer reliable shipping options to Germany from the USA and Canada. The drawback to these mega carriers are often their high costs and their inability to tailor their import processes to your specific needs. All the inquiries we get are from retailers who are deeply familiar with FedEx and UPS and seeking alternative solutions.
Get best spot quote shipping to Germany.
Shipping to Germany via a European Postal Reseller
European post offices offer American and Canadian retailers the ability to airfreight their orders directly to Europe and benefit from postal clearance. The leading postal authorities with such subsidiaries include La Poste, Belgium Post, and the Dutch postal service. These carriers are able to offer fast export processing via air freight along with postal clearance and final mile delivery.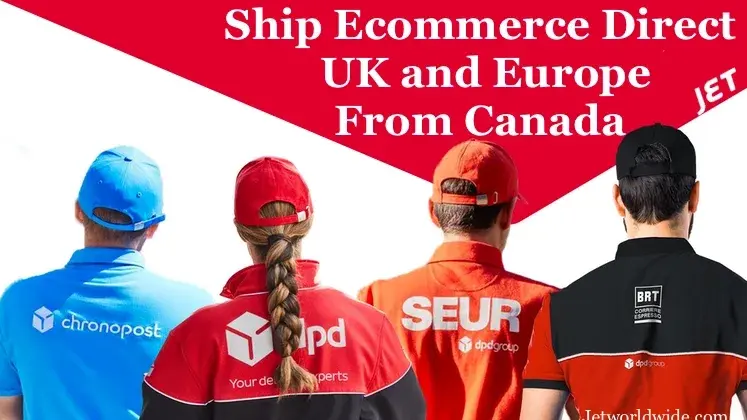 Shipping Direct to Germany via DPD
DPD is a leading European carrier and a market leader in Germany. They offer global access via direct import processes. It is useful for American and Canadian logistics professionals to familiarize them self with DPD. In addition, each country has national carriers and there are other pan-European carriers such as GLS (a subsidiary of Royal Mail). Jet Worldwide helps connect American and Canadian retailers directly with DPD.
The best Shipping for affordable E-commerce to Germany usually involves consolidations shipped via air freight. Retailers can arrange for direct shipping from EWR, YYZ, YUL, ORD, JFK or other major gateway. Contact our team to get information on shipping direct to Germany.
---
Import Clearance for e-commerce orders to Germany
Generally speaking, all products entering the EU need to be declared to customs according to their classification. The rules for individual orders to individuals can benefit from duty-free import if valued €150.
The challenge for the import of online orders to German has to do with payment of value added tax. All online orders to Germany are subject to value added tax. American and Canadian retailers are best to calculate and charge their German customers at the time of check out.
Most important for all online orders to Germany is to eliminate all import fees that may otherwise be charged to your customer.
Calculating Duty for high value orders to Germany
Customs duties and value added tax are expressed as a percentage of the value of goods being declared for importation. It is important that values and classification of your orders are accurate to ensure the proper collection of import duties and taxes in Germany.
Orders shipped to Germany valued over €150 Higher value orders that are most valued by the retailer but also can present the biggest challenge. There are three main aspects related to calculating the duty cost for your German orders: Value, commodity, and country of origin. Some of the best shipping for E-commerce to Germany targets low value purchases.
Germany and other European countries have an allowance for lower value imports that are exempt from customs duties or tax (low value duty-free threshold).
How to Determine Value for Shipments to Germany
Usually the value used by customs is the transaction value: What you sold the item for (including transportation) is the declared value. Read more about how to properly value international shipments.
Classification and customs tariff
One of key additional data points for cross border e-commerce is the addition of the HS code for each SKU. Read more about understanding HS Codes.
Country of Origin
Another key data point related to each item in your catalog is the country of manufacture or origin. The country of origin is often mistaken by shippers to be from where the goods were shipped. If, for example, an American retailer sells and ships to Germany that made in China, the country of origin is China (not the USA).
Why does Country of Origin matter?
Beyond for statistics reporting, the main reason country of origin matters is if the goods qualify for duty-free import via a free trade agreement. Goods made in Canada, for example, can benefit from preferential duty-free import to Germany via the Canadian European free trade agreement (CETA).Read about CETA.
General Shipping to your Customers Germany
For many companies, their shipments to Germany are related more to business purchases rather than general business to consumer (B2C).
In general, businesses need the services of integrated carriers and support. To find the cheapest rate, it is best to check directly with the carrier or one of their qualified partners.
We recommend you contact Jet after getting a price directly from the carriers and an online "comparison site." Jet provides the cheapest option for businesses via our spot quote processes. Get a quote for shipping to Germany from Canada.
Shipping Goods to Germany for Repair
Depending upon on if the item is being repaired under warranty or incurs a cost, there are specific processes for shipping to Germany. Shippers need not pay duty for the importation of an item being repaired in Germany. Repaired items returned to Canada from Germany will be charged GST on the value of the repair including parts required to complete the repair.
Shipment Paperwork
Goods to Germany should be accompanied by an invoice for customs. Read more about customs invoices for customs. It is important to understand the process of determining the correct declared value. The German government uses the CIF Value (cost, insurance, freight) for the purpose of calculating the rate of duty and VAT.
The most important document you need to clear customs is the commercial invoice. It describes the goods and their value and is needed when shipments are imported to Germany.
German VAT
For Germany, VAT is payable on shipments of any value - there is no de minimis value. However, the duty free de minimis value for duty is €150 CIF. For goods over €150 CIF, duties are calculated based on the duty rate of the commodity being imported.
German customs will check packages to ensure items have been declared correctly. Ensure you provide an accurate description and value for your items.

International Shipping Platform
Jet Worldwide can provide low cost international Express to Germany in 2-3 business days. Fully tracked and available as a courier collection for no extra charge. This service offers great value for express shipping to Germany from Canada and USA. Check in with Jet's team to get a quote and information.
---

Read more details about shipping to Germany
Disclaimer: The information in all Jet Worldwide online content, including this post, is for general information only and is not intended to, constitute legal and/or tax advice. All liability with respect to actions taken or not taken based on the contents of this site are hereby expressly disclaimed. The content on this posting is provided "as is"; no representations are made that the content is error-free.
JetWorldwide.com