Although Canada's economy is fundamentally driven by commodities, economic growth is increasingly dependent upon the million plus small businesses with fewer than 100 employees. Jet Worldwide - being one of those small companies with specialized expertise - is uniquely qualified to help Canadian small businesses expand globally.
2021: New International customers via Online Orders
Besides the benefit of finding new customers for export there is an equal opportunity to find new global suppliers. Jet assists Canadian companies to provide international delivery from overseas companies that only serve their domestic market.
Canadian companies can benefit from duty free access the USA, Mexico, European Union, Japan and other CPTPP countries.
2021: Canada Trade Agreements and parcel shipping
New NAFTA -CUSMA - USMCA: Continuing to connect Canada with the USA and Mexico. Furthermore, the US$800 duty free low value threshold to the USA is a game changer for e-commerce shippers from Canada to the US. Read about the New NAFTA/USMCA/ CUSMA/T-MEC EFFECTIVE JULY 2020
Learn more from Jet's Logistics Experts :
CPTPP, CETA and TCA Connecting Asia pacific countries with Canada. Duty free entry of Canada origin goods is available for individual orders.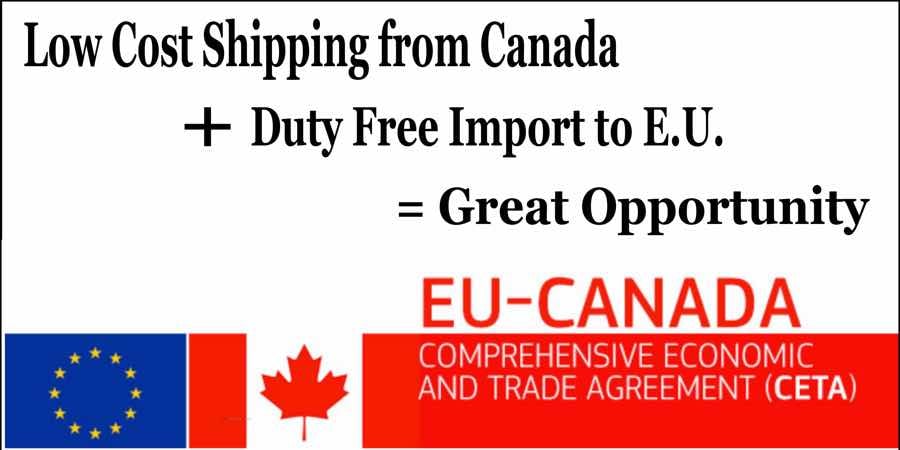 CETA: Connecting the entire European Union market with Canada. Duty free import of Canada origin goods can be obtained for individual parcel shipments.
2021: Canadian e-commerce platforms for International Orders
Online platforms, such as (Canada based) Shopify, and are more available than ever for small businesses. Read about the requirement for prepayment of VAT to the UK and European Union:
Canadian businesses Orders from the rest of the world
Currently, over 80% of Canadian small businesses DO NOT export goods to the "other 99% of the world. The opportunity is huge and Jet continues to assist a record number of small companies connect globally. Contact Jet's team for updates on new direct shipping options to the UK, European Union, Japan and all major economies.
For over 35 years, Canada international parcel remains our core business and serving the needs for cross border online orders has never been greater.
Parcel, pallets and regional distribution from Canada
Whether to Mexico, the EU, UK, Australia and New Zealand, Jet assists companies with parcel shipping solutions and consultations.
Disclaimer: The information in this blog is for general information only. Producers, shippers, exporters, importers should confirm their processes with their customs brokers, carriers and regulating authorities.